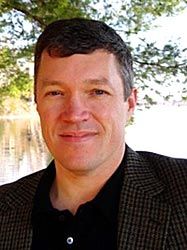 Frederick Lane
CONTACT: Bill Fargo, Jodi Solomon Speakers, bill@jodisolomon.biz
Lisa Lacher, (515) 271-3119, lisa.lacher@drake.edu
Frederick Lane, an author and expert on issues of technology and privacy, will present the Hawley Foundation Lecture at Drake University on "Lost in MySpace: Social Networking, Student Privacy and Self-Protection." The lecture, which is free and open to the public, will start at 8 p.m. Wednesday, April 26, in Sheslow Auditorium in Old Main, 2507 University Ave.
Lane is an expert witness, lecturer and author who focuses on the impact of technology on society. In 2000, he combined his technical interests and legal training to write his first book: "Obscene Profits: The Entrepreneurs of Pornography in the Cyber Age." That was followed in 2003 by publication of "The Naked Employee: How Technology is Compromising Workplace Privacy." He recently finished his third book, "The Decency Wars: The Campaign to Cleanse American Culture," which is scheduled for publication in August by Prometheus Books.
Over the last five years, Lane has provided expert testimony, computer forensic analysis, and consultation in both civil and criminal trials. His clients have included the U.S. Department of Justice, the city of Charlotte, N.C., assorted businesses and individual defendants. He has been a guest on a variety of national news programs, including ABC's "Nightline," CBS's "60 Minutes" and NPR's "Marketplace." Lane lives in Burlington, Vt., where he is a member of the local school board.
In addition to giving the Hawley Foundation Lecture, Lane will visit Joseph Schneider's honors class on Culture, Power and Knowledge at 2 p.m. Wednesday, April 26. That evening he will have dinner with a small group of honors students.
Lane's visit to Drake is sponsored by the Honors Program, Honors Student Council and the Office of the Provost. For more information, call (515) 271-2999.
– 30 –