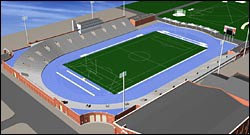 Drake Stadium
The IMT Des Moines Marathon announced today that it is partnering with Drake University to add the school's campus and venerable Drake Stadium, home of the Drake Relays, to the course of the Full Marathon. The route will take athletes into the stadium where runners will complete one loop around the renovated stadium and track during the race set for Saturday, Oct. 15.

"We are thrilled to announce this partnership with Drake University," said Chris Burch, Director of Racing and Events. "It is the vision of the Des Moines Marathon to attract a larger number of athletes to our event by offering the premier racing experience in Des Moines. Today is another step towards making that vision a reality."

"To go around the new Drake Stadium track in a setting rich with traditions will be a very exciting day for our race, our athletes and greater Des Moines," Burch said.

Drake is completing a $15-million revitalization of Drake Stadium, which includes new seating, a new track that meets international standards, press box renovation, lighting and a new artificial FieldTurf surface large enough to accommodate Drake's football and men's and women's soccer programs. The majority of the upgrades will be ready in time for Drake Relays on April 27 to 29, which will be the 80th year for America's Athletic Classic to be held inside Drake Stadium.

The revitalized stadium will host Des Moines Roosevelt High School home football games as well as continue to host the state's boys' and girls' high school track meets – all part of Drake's continuing commitment to partner with its neighbors and friends to be a resource for the community and the state.

"The addition of Drake's campus and Drake Stadium to the Des Moines Marathon is another extension of our efforts to be an active leader and partner in the success of this community," said Drake President David Maxwell, who also runs recreationally for fitness and enjoyment. "We are pleased to host these athletes on our campus during this great event."

For more information about the Des Moines Marathon, visit http://www.desmoinesmarathon.com/.