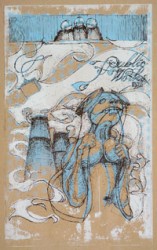 "Public Works Poster," a pronto plate (litho process) print by John Vogl, a senior from Des Moines.
Drake's 35th Annual Juried Student Art Exhibition opened Feb. 26 and continues through March 17. The show is free and open to the public.

Thirty-three student artists from Drake University's Department of Art and Design had their work selected for the exhibit by Des Moines-based architect Jason Alread. He selected 61 of 132 submitted works from the areas of drawing, graphic design, interactive media, painting, printmaking, sculpture and video.

The exhibition is sponsored by Friends of Drake Arts, including student awards made possible by the Thad Archie Memorial Fund. The Anderson Gallery is open from noon to 4 p.m. Tuesday through Sunday. For more information, call x1994 or visit www.drake.edu/andersongallery.