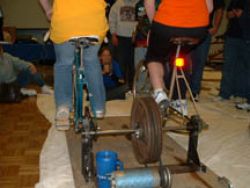 Physics Olympics
CONTACT: Professor Jack Gerlovich, (515) 271-3912, jack.gerlovich@drake.edu;
John Stiles, Heartland Area Education Agency, (515) 270-9030, jstiles@aea11.k12.ia.us
The annual Physics Olympics, hosted by Drake University, will not – repeat not – feature any snowboarders falling on their rumps while showboating or petty infighting among speed skaters. There will, however, be competition to put the Nagano games to shame – plus lasers.
The annual showcase of area high school brainpower and scientific know how is set for Wednesday, March 29, from 8:30 a.m. to 12:30 p.m. in Parents Hall, in the upper level of Olmsted Center, 2875 University Ave. The event, which is free and open to the public, is sponsored by Drake University's School of Education and the Heartland Area Education Agency.
This year's event features a new competition: the optical slalom. Participants will manipulate a laser beam by bouncing it off five plane mirrors so that the reflected beam hits a specified target. The winner will be based on the judges' measurement of the shortest radial distance from the center of the target.
Also on tap for this year's games are classic events including:


Mousetrap Car. Students build a toy race car powered only by a mousetrap spring. The winning car will be selected on the basis of a formula that rewards the greatest distance traveled and the greatest speed in the first 5 meters of the course.

Student-Powered Water Heater. Each team is given a measured amount of water and has five minutes to raise its temperature using human power only. The team whose technique raises the temperature the most wins this event.

Falling Mass-Powered Car. Students raise a 1,000-gram mass 50 centimeters above a car, then drop it and try to harness the energy created by the falling mass to power the car. The car that travels the farthest wins.

Toothpick Bridges. Students construct a bridge to limited dimensions from toothpicks and Elmer's glue. The bridge that flexes least when stressed with weight wins.

Ping-Pong Catapult. Students create and construct a catapult that must move along a marked course, carrying a Ping-Pong ball 2 meters. Then, within the third meter of the course, it must stop and launch the Ping-Pong ball toward a circular target. The device that does not default on the course and that places the ball closest to the center of the target wins.

Soda Straw Arm. Each team of two receives 20 jumbo plastic straws and 20 straight pins. The team then has 30 minutes to construct an "arm" that holds a weight while protruding from a table. The winner is the longest device that can hold a suspended 100-gram weight for at least 10 seconds.
Team and individual winners from 15 central Iowa high schools will receive prize ribbons and advance to the state competition, which is set for April 29 at Drake.