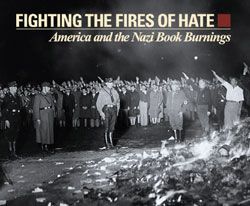 Fighting the fires of hate
CONTACTS: Susan Breakenridge, Cowles Library, (515) 271-3994, susan.breakenridge@drake.edu
Andy Hollinger, United States Holocaust Memorial Museum, (202) 488-6133, ahollinger@ushmm.org
The United States Holocaust Memorial Museum's traveling exhibit "Fighting the Fires of Hate: America and the Nazi Book Burnings" will visit Drake University's Cowles Library beginning Sunday, March 26.
The exhibit provides a vivid look at the first steps the Nazis took to suppress freedom of expression and the strong response that occurred in the United States both immediately and in the years thereafter. The exhibit focuses on how the book burnings became a potent symbol during World War II in America's battle against Nazism and concludes by examining their continued impact on our public discourse.
The Nazi book burnings provoked immediate strong reactions in the United States among writers, artists, scholars, journalists, clergy and others. Newspaper editorials and political cartoonists denounced the bonfires. Writers whose books were consigned to the flames wrote open letters condemning the burnings. The American Jewish Congress organized massive street demonstrations in more than a dozen U.S. cities to protest Nazi persecution of Jews.
President Franklin D. Roosevelt evoked the book burnings as a vivid example of the difference between a democratic America and Nazi Germany. The exhibit concludes in the postwar years, exploring how the book burnings have continued to resonate in American politics, literature and popular culture.
Cowles Library is also planning other events and programs around this exhibit's run at Drake.
The James M. Collier Heritage Room will feature additional exhibits related to local Holocaust Survivors and modern-day book banning and censorship.


March 26 – Exhibit opens, 1 p.m., Cowles Library

March 27 – Opening ceremony, 4 p.m., Reading Room. Pomerantz Lecture, room 101, Meredith Hall, 7:45 p.m., featuring Judith Gerson, scholar from the Center for Advanced Holocaust Studies and associate professor in sociology at Rutgers University. She is a visiting fellow in residence at the United States Holocaust Memorial Museum, having been awarded the Center's prestigious "Life Reborn" Fellowship for Research on Displaced Persons. Her research project focuses on the topic of German-Jewish immigrant identities, in particular the assimilation of Jewish refugees fleeing Nazi Germany, and is titled "By Thanksgiving We Were Americans: Hidden Legacies of the Holocaust Among German Jewish Immigrants."

April 19 – Book discussion, Cowles Library, 1:30 to 2:30 p.m., featuring Ruth David, Holocaust child survivor and author of "Child of Our Time: A Young Girl's Flight from the Holocaust."

April 24 – Holocaust Commemoration Program, Levitt Hall, Old Main, 7:30 p.m., sponsored by Des Moines Jewish Federation and the Iowa Jewish Historical Society.

May 20 – Exhibit closes, Cowles Library only open 1 to 5 p.m.

More information about the exhibit can be found at the United States Holocaust Memorial Museum: http://www.ushmm.org/museum/exhibit/online/bookburning.
More information about the types and locations of this exhibit and other United States Holocaust Memorial Museum exhibits can be found at http://www.ushmm.org/museum/exhibit/index.php?content=traveling/%23bburning (Scroll down about half-way on this page to see the "Fighting the Fires" exhibit.)