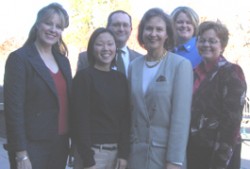 These friendly folks are here to serve your every need as a member of the Drake alumni family. From the left: Dot Johnson, Kelli Turner, John Brown, Barb Dietrich Boose, JO'83, GR'90, Melisa Brynsaas and Betty David.


Bulldog Bashes are confirmed or in the works in cities nationwide for this May/June. Check out the full list on the alumni page of upcoming events, https://wwww.drake.edu/alumni/events.html, or call the Drake Alumni Office at (515) 271-2500 with questions.


Drake will host alumni and fan parties prior to the Drake men's basketball games in the Missouri Valley Conference Tournament in St. Louis March 2-5 and prior to the first Drake women's game in the MVC Tournament in Springfield, Mo., March 9-12. The men's pre-game party will be held at 14th and Clark, inside St. Louis' Savvis Center; the women's pre-game party will be held at the Holiday Inn North, Springfield. Watch your mailbox for details, and check the Drake athletics Web site, https://wwww.drake.edu/athletics/, for game dates and times.


It's Reunion Time. If you are in the classes of 1995, 1996, or 1997, or in the classes of 1965, 1966, or 1967, then mark your calendars now for Relays Weekend 2006 (April 28-29, 2006) for your 10-year cluster and 40-year cluster reunions!


Members of the Drake classes of 1956, 1946, and 1936 – and all alumni who graduated 50 years or more – will reunite during Commencement Weekend 2006 (May 12-14, 2006). If you are in these classes, please return to campus so that Drake University, your fellow alumni and the entire Drake community can honor you.


Attending your reunion is a great way to reconnect with old friends and classmates, visit your former haunts, check out changes on campus and enjoy your alma mater during one of the most festive times of our year. More details on each reunion will be coming soon. In the meantime, we are looking for alumni from these classes who would like to help plan their reunions. To sign up, click here https://wwww.drake.edu/alumni/volunteer.html.


Music alumni Thompson Brandt, Diane (Patterson) Hanselman, and Dan Kingkade have organized a reunion for music majors from the Drake classes of 1973 through 1977 and music faculty on campus on Saturday, April 22, with a reception, dinner, and the Drake Opera Theatre performance of Gilbert and Sullivan's "The Pirates of Penzance." The fun will continue with a Sunday brunch. For information, contact the Alumni Office at (515) 271-2500.