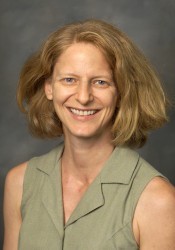 Leslie Marrs
Leslie Marrs, assistant professor of music, will present a flute recital entitled, "Tapas: New Music Under Spanish Influence" on Wednesday, March 14 at 7:30 p.m. in Sheslow Auditorium. The event is free and open to the public.
She will collaborate with pianist Christa Pearson, members of Salsa Vibes and the Salsa Des Moines dance team. Music on the program will include Spanish composers Joaquín Rodrigo and Cristobal Halffter, Argentinian Astor Piazzolla, Brazilian M. Camargo Guarnieri and British composer Mike Mower. Mower's Sonata Latino will incorporate musicians from Salsa Vibes and the Salsa Des Moines dancers to illuminate the specific dance music that makes up each movement.
"The music presented on the program "˜Tapas' gives a diverse perspective on Spanish influences in contemporary classical music," says Marrs. "From the more traditional Aria antigua of Rodrigo to the duende in the Halffter's Debla and dances in the compositions by Piazzolla, Guarnieri and Mower, the evening promises to introduce the audience to powerful and exciting compositions with Spanish flavors."