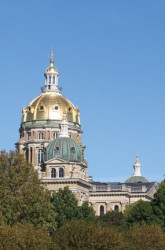 Two bills expanding children's rights in Iowa will take effect on July 1, thanks largely to the efforts of Drake law students involved in the Law School's Legislative Practice Center and Middleton Center for Children's Rights.The students drafted the bills, presented them in subcommittee and committee meetings, lobbied legislators and even wrote letters to Iowa Gov. Chet Culver outlining why he should sign the bills and the benefits that the bills provide for children.The legislation was among four children's rights bills that the law students worked on during the 2010 legislative session. All of the bills were developed through a survey of current or former foster children in the Des Moines area by the Middleton Center in cooperation with Elevate, a nonprofit group devoted to helping foster children.
Julie Smith, director of the Legislative Practice Center, supervised the law students and United Way of Central Iowa provided financial support for the advocacy efforts.
The two bills that take effect July 1 were passed unanimously by both the Iowa House and Senate and then signed into law by Gov. Culver. They are:
Senate File 2298,

which mandates that youth in the foster care system 14 years of age or older be allowed to attend family team meetings and other meetings involving discussions of placement options or services to be provided to the youth. This is required unless the Department of Human Services finds it is not in the best interest of the child. The bill also creates a presumption that any child age 14 or older has a right to attend a juvenile hearing involving that child.

Senate File 2200,

which amends section 232.104(7) to allow the juvenile court judge who has placed a child in a guardianship with a relative or other suitable adult to transfer the case to probate court and close the juvenile case. This allows the youth to have the courts and social workers "out of his or her life" after a permanent placement with a relative or other adult.
The students who shepherded these bills through the legislative process describe the experience as valuable and rewarding.
Jonathan D. Law, who recently completed his third year of law school, first worked on a bill that didn't survive the "funnel" process, then switched his attention to the bill transferring guardianships from juvenile to probate court.
He presented that bill at the House subcommittee hearing and answered questions about the bill and its potential impact.
He also stayed in close communication with sponsoring legislators Rep. Kurt Swaim and Sen. Keith Kreiman as they guided the bill through the House and Senate, respectively.
"The most important thing I learned was that you can't let a defeat get you down," Law said. "We had a few bills that didn't make it out of funnel, which was disappointing, but that gave us more time to focus on the remaining bills, which did get passed."
Law also said the transfer of guardianships to probate court "will help children because it should reduce the number of visits the guardian and child have to make to the courthouse and simplify the process for them."
Andrew M. Phillips, who also recently completed his third year of law school, wrote the essential elements of the bill ensuring that children age 14 or older are allowed to attend meetings regarding their placement options or services. He also went to all committee and subcommittee hearings and worked closely with his colleagues and legislators to pass the bill. In addition, he drafted a letter encouraging Gov. Culver to sign the legislation.
"The most important lesson I learned from this experience is the need to be concise and prepared for anything that might be thrown at
you," Phillips said.
"Legislators often have diverse interests and views on a piece of legislation and it is vital to understand the best way to alleviate any concerns that they may have and to outline the best points of your legislation."
Phillips said the bill regarding meeting attendance for children 14 or older is important because it gives these children the opportunity to be involved in their life decisions.
"Children did not have a right like this previously and it will have a very positive impact on their lives," Phillips added. "This is something that the Elevate children requested as being important to them, and I think I speak for my classmates when I say that we are proud to have been a part of making children's lives better."