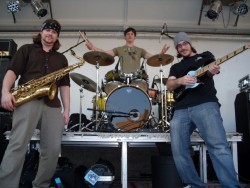 Brandon Clark and his band, Blue Island Tribe.
Brandon Clark, a third-year Drake Law School student, recently spent
three weeks traveling to Africa and the Middle East with his band,
performing rock concerts for U.S. troops stationed overseas.
Clark plays bass guitar in Blue Island Tribe,
a reggae and rock fusion band that was formed in Iowa seven years ago.
The band has released several albums and regularly tours throughout the
United States.
"We were contacted by Armed Forces Entertainment and they asked if
we would be interested in touring the Middle East," said Clark, of
Oskaloosa, Iowa.
"It was a fortunate coincidence that the tour fell
during winter break."
The band left the United States on Dec. 15 and toured for 20 days.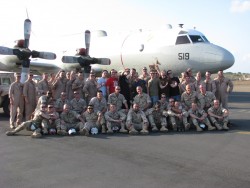 Brandon Clark and his bandmates pose for a photo with U.S. troops in Qatar.
The band was interviewed earlier this month in a news highlight that aired on WHO-TV Des Moines Channel 13. The interview as well as photos of the trip can be viewed on the band's blog.
Clark described one especially memorable show that took place on New Year's Eve at a military base in Kuwait.
"It was an amazing experience to see these men and women having such a good time while they had machine guns strapped to their sides," he said. "The troops were a very appreciative audience, and we could definitely tell that they were having a lot of fun."
The band's goal, Clark said, was to bring to audiences a reminder of home during the holidays. "We wanted them to forget that they were in the middle of a desert fighting a war."