The Drake University Class of 2027 was given a warm welcome to campus—both literally and figuratively—as they moved their boxes into University residence halls last week.  
With temperatures nearing 100 degrees Fahrenheit on move-in day, more than 600 first year students and their families endured the heat in preparation for the new semester that started Monday.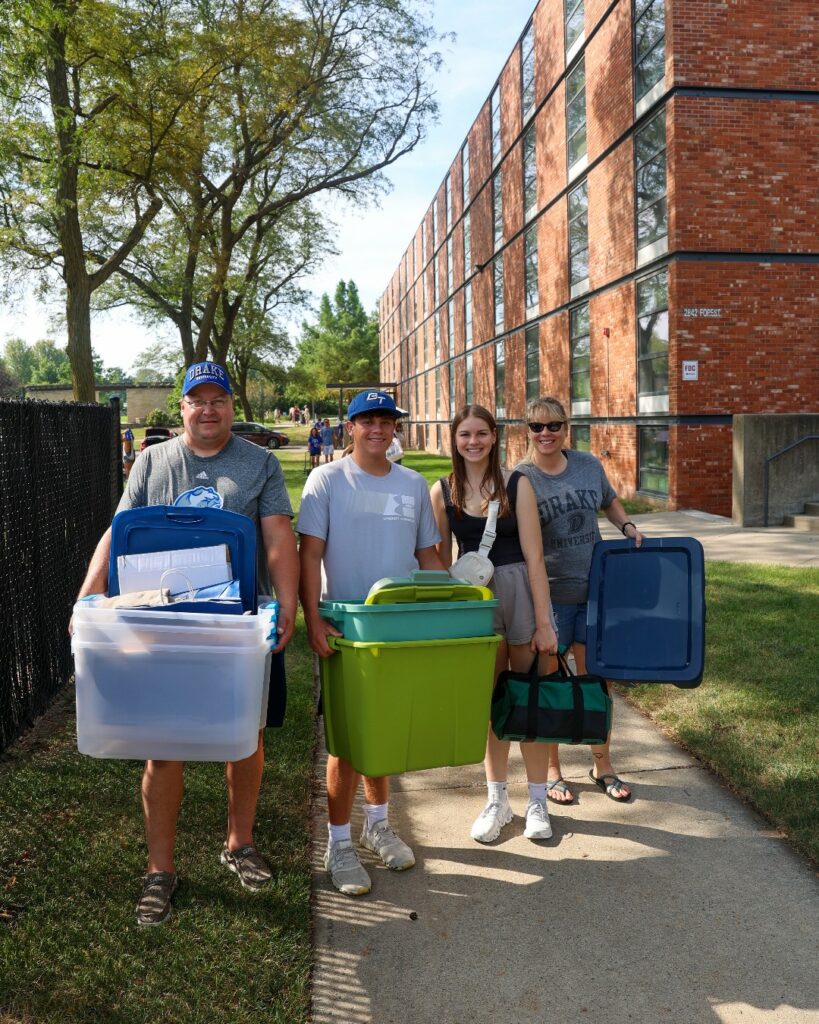 For the first time since 2019, Drake brought back the longstanding tradition of Move-In Crew. Dozens of current students from various organizations and athletic teams, along with faculty, staff, and administrators, volunteered their time to help with the unloading process. Extra hands and extra cooling towels were in abundant supply.
Following move-in, new students participated in Welcome Weekend activities led by current students serving as Peer Mentors and Academic Consultants.
This year's admitted class hails from 33 states with an additional 32 countries represented by 54 international students. More than one-fourth of all incoming first year and transfer students are first-generation students—those who are the first in their family to attend a four-year institution. In addition, Drake has continued maintaining its commitment to eliminating barriers to a college education for outstanding students from all economic backgrounds. Nearly 100% of the class was awarded a scholarship or need-based grant to help cover the cost of tuition.
Overall, the class reflects the growing diversity of the University's applicants, with a 3.8% increase in racial, ethnic, and citizenship diversity compared to 2022. The transfer population experienced an even greater jump, with a 9.1% increase. 7.5% of all incoming students identify as African American/Black, 4% as Asian American, 10.4% as Latinx, and 0.3% as Native Hawaiian.
"We are incredibly proud to welcome the Class of 2027 to campus and witness the excitement and richness they bring to our community," said Joel A. Johnson, dean of admission. "We look forward to getting to know this class and discovering the unique talents they possess to inspire and shape the future of Drake and our society."
— Story written by Lizzie Murphy, Drake University senior in the School of Journalism and Mass Communication