New Standards-based Ecological Restoration program provides valuable project funding
One of West Des Moines' most popular parks could play a role in mitigating the impacts of climate change in Iowa. Drake University and Polk County Conservation are partnering together on the Brown's Woods Restoration and Oak Regeneration Project. The initiative seeks to increase carbon sequestration and biodiversity conservation through ecological restoration in Brown's Woods, a 486-acre forest located in West Des Moines.
The project is being funded through a collaboration between Microsoft and the Society for Ecological Restoration that provides technical and field support to organizations seeking to implement ecological restoration projects in communities where Microsoft datacenters are located. Eight other projects have been funded to date.
"We're excited to be co-leading this project with Polk County Conservation. We are taking a rigorous, science-based approach that aligns with standards-based best practices for ecological restoration," said project lead Keith S. Summerville, Director of the Jay N. Darling Institute for Rural Sustainability at Drake University. "This project is a great opportunity to empower students to create sustainable change through collaboration and action. They will play an active, hands-on role in executing and monitoring the progress of the project."
The Brown's Woods, Iowa's largest urban forest, features a canopy of oak and hickory trees stretching from Brown's Woods Drive to the Raccoon River. It is one of the most heavily used parks in the metro area, seeing 178,000 visitors annually. It also plays a key role in sequestering and storing carbon. However, invasive species and non-native, shade-tolerant trees are limiting the forest's ability to sequester carbon.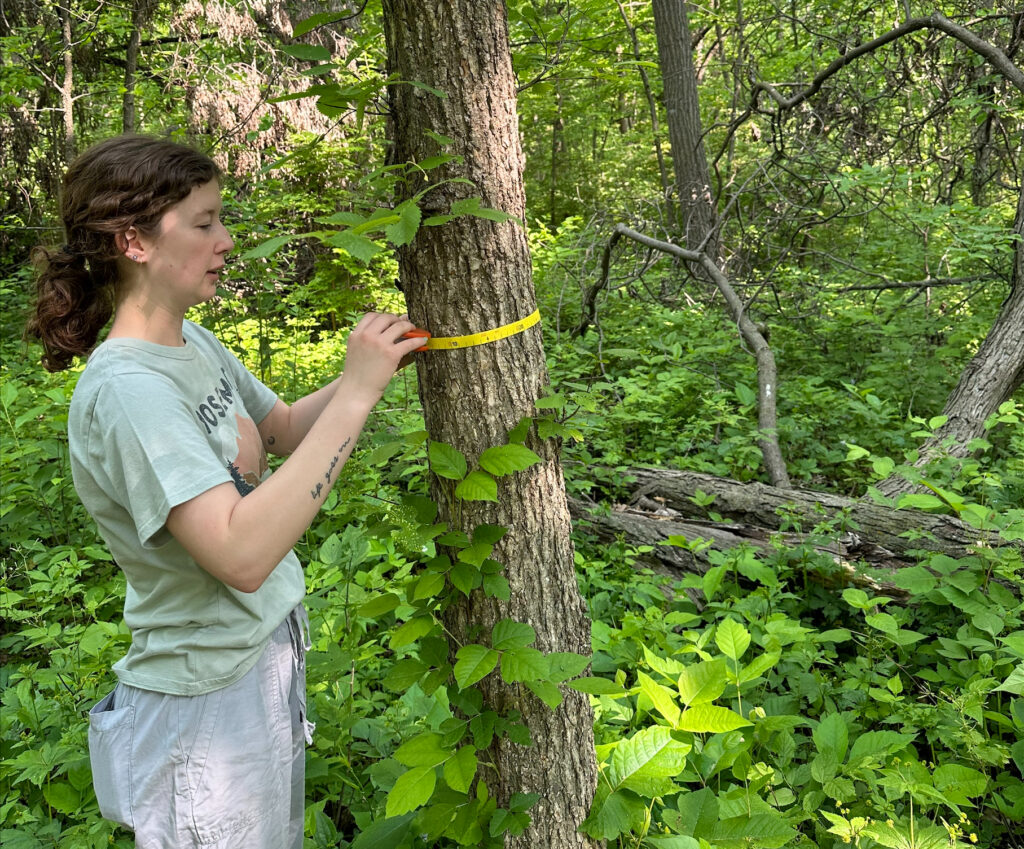 The ecological restoration project aims to restore the Brown's Woods to its native ecosystem, oak woodland, which, in addition to enhancing biodiversity and habitat for native species, will also increase overall carbon sequestration capacity. Overtime, the regeneration of oak species will lead to a net increase in the carbon stored compared to its current state.
Drake students will help to measure the project's progress throughout the coming year. In 2023, students are creating a pre-management bird, bat, and amphibian inventory and cataloging tree species composition across plots within the Brown's Woods management site. In the winter, students will build a pre-management carbon model. During post-management, students will measure these same variables and detect differences to understand the progress of the regeneration efforts at the site. Students will also coordinate and assist with oak and native understory plantings.
"I'm really looking forward to putting some of the concepts I have learned in my courses into practice. It's great for me to see how restoration projects begin and the work that goes into making them effective long-term," said Nora Mahoney, a junior at Drake pursuing a major in Environmental Science on the Conservation Biology track. "I haven't been part of fieldwork in relation to my major yet, so this is really a great learning experience for me."
With this program, combined with conservation efforts already underway in the area by Polk County Conservation, Summerville anticipates that a total of 100 acres of oak forest will be restored.
Learn more about the Brown's Woods Restoration and Oak Regeneration Project that Drake is leading.