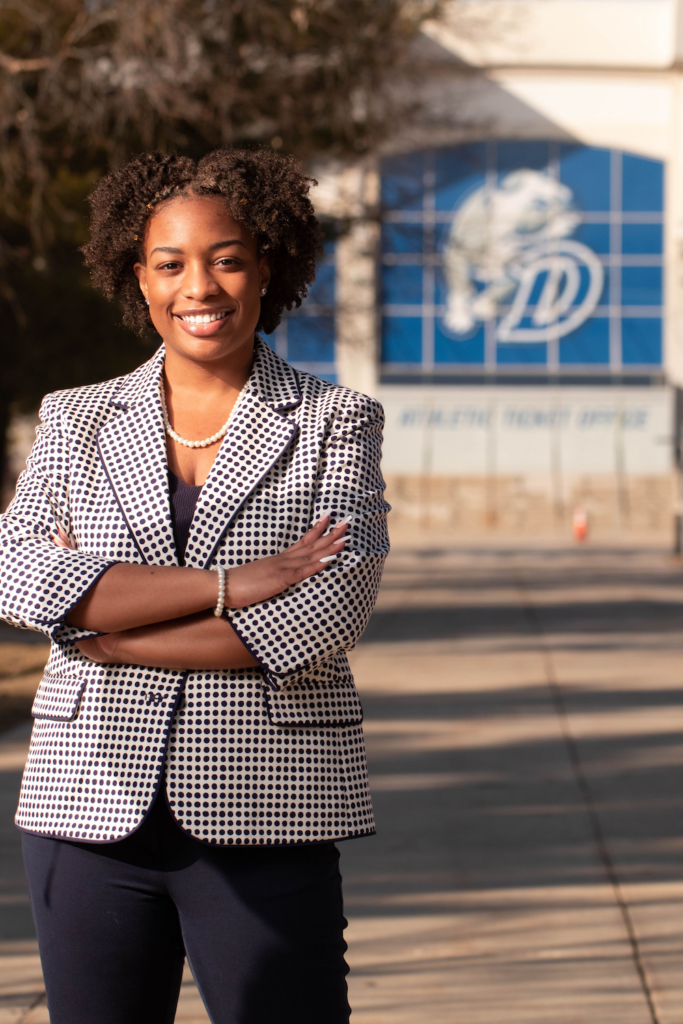 Drake alumna Morgan Coleman was awarded a 2023 Charles B. Rangel International Affairs Fellowship following a highly competitive nationwide contest. A distinguished panel selected Coleman out of almost 900 candidates. The Rangel Fellowship, funded by the U.S. Department of State and administered by Howard University, supports extraordinary individuals who want to pursue careers in the Foreign Service of the U.S. Department of State. The Rangel Fellowship will support Coleman through a two-year master's degree in an area of relevance to the Foreign Service. It will also provide extensive professional development opportunities, including internships, mentors, and skills training.
Currently, Coleman is working for a Member of Congress on issues related to foreign affairs as part of the Rangel Program. In the summer of 2024, the U.S. Department of State will send her overseas to work in a U.S. Embassy or Consulate to get hands-on experience with U.S. foreign policy and the work of the Foreign Service. Upon successful completion of the program, Coleman will become a U.S. diplomat in summer 2025, embarking on one of the most challenging and rewarding careers of service to her country. She will work to promote peace, prosperity, and human dignity around the world.
Coleman graduated with honors from Drake University in 2022 with a bachelor's in international relations and a minor in Spanish and regional concentrations in the Middle East & North Africa (MENA) region. Coleman remained highly engaged throughout her undergraduate career at Drake University—including being the first Black woman to serve as the Student Body President (from 2021–2022) and having her research article, "The Arab Spring Uprisings: Transnational Change-Making," published in Drake University's Social Science Journal. While enrolled at Drake University, Coleman also took advantage of an opportunity to study abroad at a local university in Meknes, Morocco, in 2020; she completed nearly 100 hours of service learning as part of her experience in Morocco. She also thrived outside the classroom as a 2022 inductee of Pi Sigma Alpha Political Science Honor Society, and a proud member of Delta Sigma Theta Sorority, Inc.
Coleman plans to focus her graduate studies on international affairs and human rights while continuing her Spanish and Arabic language studies.
About the Charles B. Rangel International Affairs Program
The Rangel Program is a U.S. Department of State program that aims to enhance the excellence and diversity of the U.S. Foreign Service. Begun in 2003, the Rangel Fellowship Program selects outstanding young people each year from around the country who exhibit the ideal qualities of a Foreign Service Officer. Administered by Howard University, the Rangel Fellowship supports those selected through graduate school and professional development activities that prepare them for their careers as Foreign Service Officers. With the academic, professional, and financial support from the program, Fellows now serve as diplomats around the world, contributing to a more diverse representation and effective execution of U.S. foreign policy. More information can be found online at www.rangelprogram.org.