Ramsey Subaru to sponsor Beautiful Bulldog Contest
Drake University has announced the 30 pup-testants that will compete in the 44th Annual Beautiful Bulldog Contest, an annual competition that kicks off a week-long Drake Relays celebration. This year's Beautiful Bulldog Contest will take place on Monday, April 24, at the Knapp Center from 5–7 p.m.
The 30 English Bulldog contestants will strut their stuff as they aim to impress judges in hopes of being crowned the Most Beautiful Bulldog. The winner of the contest will reign as the Most Beautiful Bulldog for the 2023 week-long Drake Relays (but not replace Griff II as the University's live mascot).
Ramsey Subaru will serve as the presenting sponsor of the event for the first time in 2023.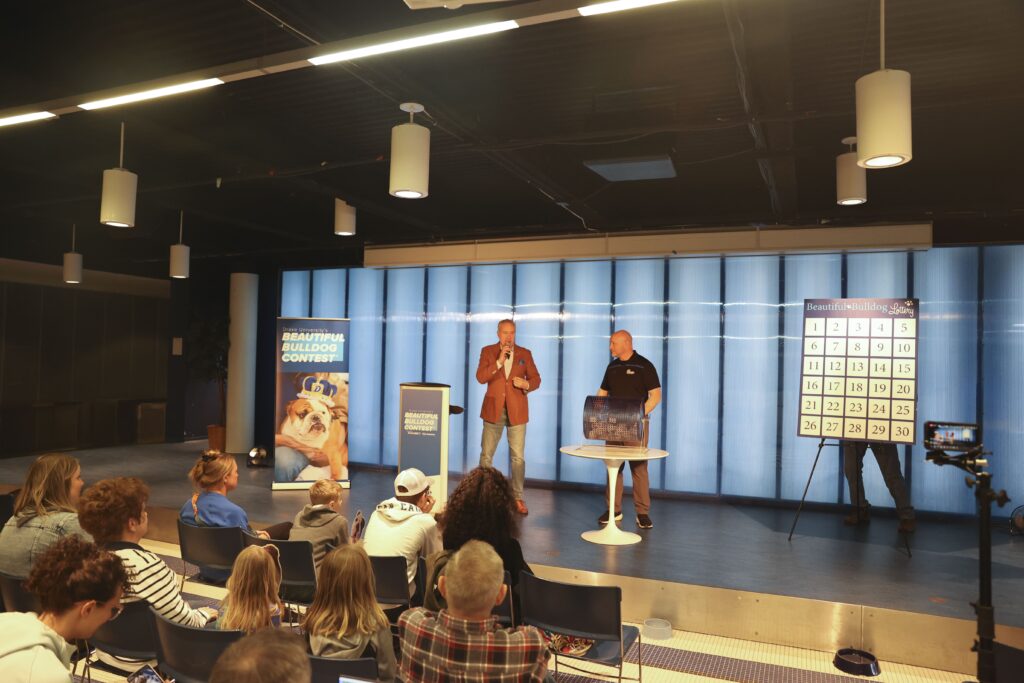 "We've got an excellent field of contestants this year. I expect our judges will have a very difficult time choosing our winners," said Courtney Conrad, director of the Beautiful Bulldog Contest. "I also am excited to welcome Ramsey Subaru as the presenting sponsor for the 2023 Beautiful Bulldog Contest. When choosing a partner to sponsor our event, it was important to us to find a brand that aligned with our values and vision. Ramsey Subaru demonstrates commitment to animal welfare, including helping local shelter animals find loving and caring homes."
During the contest, each contestant will walk the pageant runway and show off their stuff to an adoring Knapp Center audience. Judges will meet each contestant and together determine the winners of each award category, which include Drake Spirit, Best Dressed, Rescue Dog Recognition, Second Runner-Up, Runner-Up, and Most Beautiful Bulldog. The Porterhouse People's Choice award will be selected by audience members via mobile voting.
Last year's winner Bam Bam will be back to cheer on this year's competitors and to hand off his crown.
This year's competitors, listed below, include eight rescues (marked with an asterisk):
*Achilles of Linden, Iowa
Amelia of Polk City, Iowa
Axel of Des Moines, Iowa
*Beef of Chicago, Illinois
Bella of West Des Moines, Iowa
Bentley of Williamsburg, Iowa
Bosley aka Boss of Henderson, Nevada
Bruno of Rapid City, South Dakota
Drake of Lakeville, Minnesota
Duke of Oskaloosa, Iowa
Georgie of Des Moines, Iowa
Gus of Ankeny, Iowa
*Jojo of Lakewood, Colorado
Kirby of Bennington, Nebraska
Loki of Ankeny, Iowa
Lola of Coon Rapids, Iowa
*Lulu of Indianola, Iowa
Mabel of North Liberty, Iowa
*Machete of Des Moines, Iowa
*Marston "Marty" Miglin of Des Moines, Iowa
Millie of Coon Rapids, Iowa
*Patch, of Johnston, Iowa
Poncho of Fonda, Iowa
Princess Leia of Des Moines, Iowa
Pudge of Roland, Iowa
Remi Rae of Des Moines, Iowa
Shania of North Sioux City, South Dakota
Tank of West Des Moines, Iowa
Wally of Johnston, Iowa
*Winkles of Ankeny, Iowa
Click here to see a listing of past contest winners through the years.
In addition to the Beautiful Bulldog Contest, Drake will host a Rescue Festival at the event where local rescue and animal welfare organizations will be in attendance and a Kids Zone with family-friendly activities for all ages.