This Q&A is part of the story series Voices of Drake that highlights the diversity, ambition, and passion of the incredible people who make up our campus community. In honor of Black History Month, we will be sharing a collection of interviews to spotlight Black voices in our community. This week's story introduces Kayla Bell, director of the Student Counseling Center at Drake.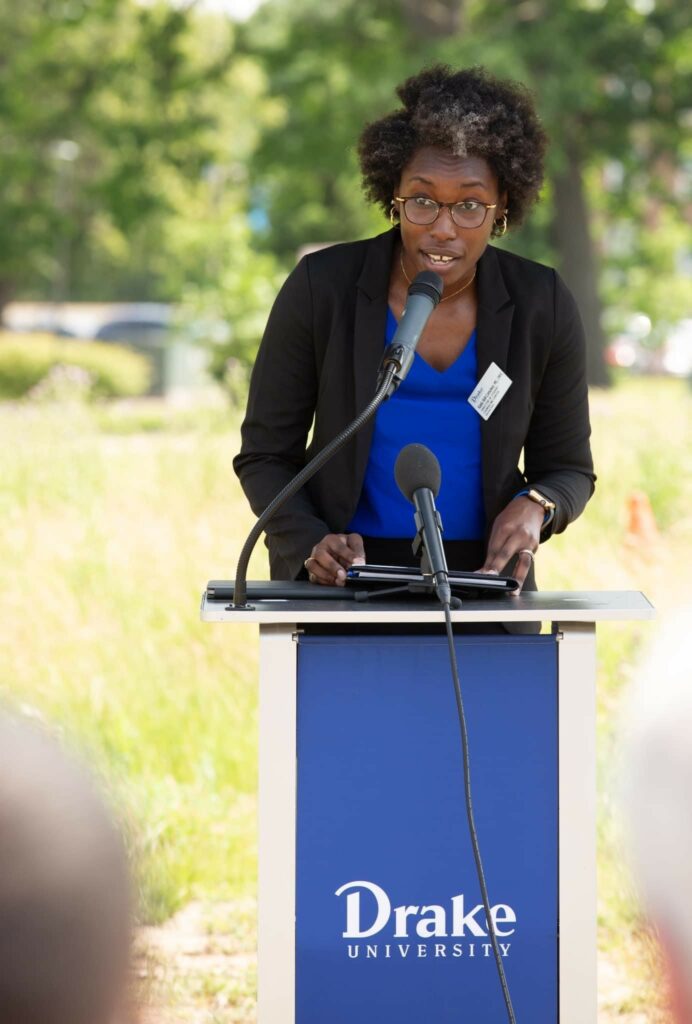 Tell us about yourself.
My name is Kayla Bell (pronouns are she/her), and I'm the director of the Student Counseling Center at Drake. I enjoy weightlifting, connecting with my inner child, and creating content for mental health and self-esteem on social media. I am a double Drake graduate, (BS '16, MS '19) and I am originally from Tampa, Florida. I am a proud member of Delta Sigma Theta Sorority, Inc and crossed during my sophomore year at Drake University. I have the privilege of serving on our sorority's National Physical and Mental Health subcommittee, was a part of One Iowa's 2022 LGBTQ Leadership Institute, and have a small business, Question Kayla, LCC, dedicated to providing mental health education and trainings through an inclusive lens.
What does Black History Month mean to you?
Black History Month is a call to celebrate Black culture and the ways we have influenced our country. It means reflecting on our voices and accessing the strengths and our rich history. It also means reflecting on previous and current marginalization as a call to action and reminder that there is work still to be done. I celebrate Black History Month by embracing the uniqueness and beauty of being a proud Black, lesbian, woman through my voice, hair styles, and advocacy within my community.
What do you do at Drake, and how long have you worked here?
I am the director of the Drake Student Counseling center and I have worked within this role since August 2021. Previously, I worked as a part time therapist on campus and remained involved with Drake in many facets, such as supporting the Coalition of Black Students and Drake Athletic programs.
What is your favorite thing about working at Drake?
I truly love collaborating with our counseling team, Drake faculty and staff, and students to enhance holistic and mental wellness. I have met many individuals that are just as passionate about mental health equity and healing, which makes my job more worthwhile.
Tell us about your education. What did you study, and where did you work before coming to Drake?
I studied psychology, and graduated summa cum lade, as an undergraduate and clinical mental health counseling as a graduate student. Prior to Drake, I worked at a residential facility in Des Moines for adolescents in need of critical mental health care and trauma informed care. I worked as a unit staff counselor, then a therapist for 2.5 years.
What inspired you to study and pursue a career path in mental health counseling?
I have always had a passion for suicide prevention and ensuring that individuals have the best support to enhance their well-being and purpose within life. I also witnessed, and still recognize, a lack of mental health resources within marginalized communities, and that drives me to continue exploring ways to mitigate barriers to equitable and culturally appropriate mental health services.
Similarly, what made you want to work in higher education?
I love the collaborative nature and resources provided in higher education, and I also enjoyed my time as a Drake student. In addition, I thoroughly enjoy working with this population of students as many are exploring their own identity, goals, and reflecting on their purpose. Both aspects provide an opportunity to creatively provide mental health services beyond individual counseling.
Who has been the biggest influence in your life, and what lessons did that person teach you?
This question is difficult as there have been many individuals that have influenced me. One of the biggest influences was my youth pastor in high school. She introduced me to social justice and ways to truly impact communities beyond simple service. She also introduced me to Africa, through a mission trip, and taught me about privilege and how to target and mitigate barriers to wellness and safety. These lessons still stick with me.
What do you hope is accomplished during the month of celebration and recognition?
I hope that Black History Month propels people to not only celebrate Black culture, but to also understand our history to better understand our continued needs for continued support. Black history month is a short month, so it is even more important that we take the knowledge and excitement about our culture beyond February. Most importantly, I hope that Black people, from all backgrounds, feel connected, loved, and valued because unfortunately many of us still struggle with a sense of belonging and safety.
As director of the Student Counseling Center, is there any work you're doing to strengthen the impact of diversity, equity, and inclusion on campus?
I hope that every action that I have taken in this role demonstrates diversity, equity, and inclusion. Every day I think about the ways that we can enhance mental health equity and reduce barriers to mental health access, such as groups and activities that meet various needs across campus. I hope that many of the initiatives developed thus far can continue to demonstrate these principles, such as the new Uwill Telehealth Service platform (free telehealth services, 24/7 crisis hotline, and well-being resources embedded through the service), increased diversity of our staff and their specialties, various activities (i.e. pet therapy, student of color panel event, LGBTQ and mental health trainings, etc.), substance use services, a more accessible internal website for faculty and students, and ensuring that the center is accessible, safe, and culturally informed and proficient for all of our students.
Are there any interesting projects or research you are working on?
Yes, there are quite a few projects that I am focused on. Primarily, I am exploring opportunities for ongoing suicide prevention throughout the University, creating collaborations with the National Alliance for Mental Illness to bring more services to our students, and more. I hope to become more involved in research soon.
What advice would you like to give to students at Drake?
I would encourage students to remember that the last few years have been difficult, and for many students likely the years before then. You are not experiencing difficulties because "something is wrong with you." You have had a variety of experiences that have impacted your well-being, self-concept, relationships, and, for some, sense of safety. When it is difficult to notice the light and access hope in the present, do not shame yourself for doing so, but validate that it is a difficult time right now and things can get better overtime. If that is hard to believe, allow yourself to reflect on the moments where you overcame previous difficulties or hardships, the generational and ancestral strengths that you have within you to assist, and the person that you are becoming or hope to become. Cultivating hope is just as powerful as having it in the present.