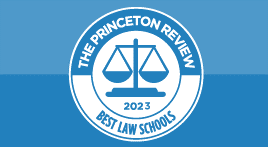 Drake University Law School has been named a "Best Law School for 2023" by The Princeton Review. The education services company recently released their annual unranked list of outstanding law schools across the country.
The list features detailed profiles of each school including The Princeton Review's ratings in each category and quotes provided by students surveyed by The Princeton Review for this project.
Drake Law earned a score of 89 for overall academic experience, 94 for interesting professors, 95 for accessible professors, and 90 for career services (based on a scale of 60 to 99.)
Highlights from the student comment section include:
Professors are patient and kind but also demand a lot out of students.
Drake's location in the capital city and the Law School's strong alumni network and relationships with the bench and bar in Iowa create an advantage for Drake Law students.
The small class size allows students to engage effectively, and adds to a family atmosphere and many opportunities for students to bond and network outside of the classroom.
"The best source regarding the quality of education are the students themselves. I'm gratified that our students report they are getting exactly what we promise: outstanding professors, supportive staff, and unparalleled opportunities for professional growth," said Dean of Drake Law School, Jerry Anderson.
"What students tell us about their experiences at their law schools contributes substantially to our school selections, profiles, and ratings," said Rob Franek, The Princeton Review's editor-in-chief.
"All of the schools that made our list for 2023 deliver exceptional legal education programs," Franek noted. "We recommend each one as an academically excellent choice for a student considering earning a J.D."