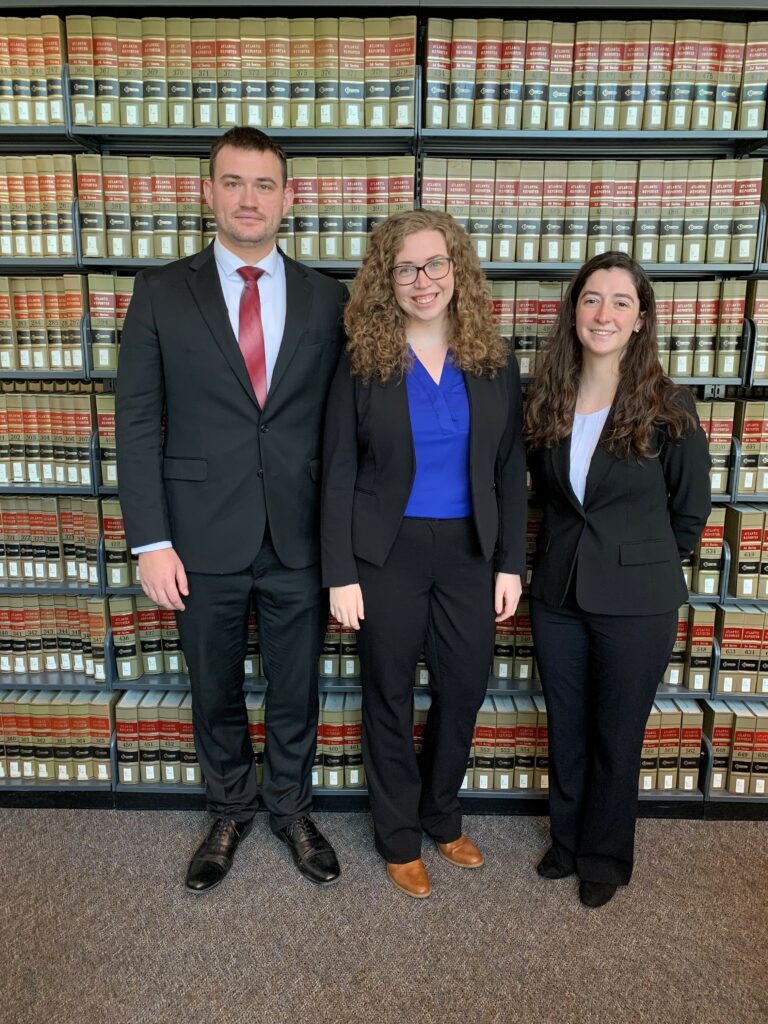 Not one but two Drake Law National Moot Court teams rose to the top of their recent regional competition to compete against each other in the final round. Both teams demonstrated their hard work and excellence in written and oral advocacy but only one could win and move on to compete in the National competition in New York City early next year. The Drake Law team of Elizabeth Boyer, Ben Wolf, and Catherine Dukelow narrowly beat the second Drake team of Steffi Lee Dwyer, Caleb Piersma, and NaRayah Runyon in the finals to advance to Nationals. Both teams are coached by Louis Sloven, LW'15.
The regional competition was held virtually and hosted by Drake Law School on Nov. 7. This event invites two competition teams from each participating law school, including Drake, the University of Iowa, the University of Minnesota, and the University of South Dakota.
The Drake Law teams excelled throughout the competition. During preliminary rounds, Piersma, Dwyer, and Boyer ranked in the Top 5 Best Oralists. Elizabeth Boyer was recognized as Best Oralist in the final round and named Best Oralist of the overall competition. The team of Dwyer, Piersma, and Runyon won Best Brief honors for the competition.
When asked about the preparation process leading up to the team's win, Catherine Dukelow said, "It has been stressful, but I can tell it has helped improve my persuasive writing and oral advocacy… Elizabeth has been an absolutely amazing team captain and it is wonderful to work with and learn from her."
"It was a great opportunity to learn from experienced advocates and judges, including justices from the Iowa Supreme Court," Ben Wolf said. "I'm truly grateful to all the people who invested their time and energy into our team."
Drake Law School is recognized as a Top School for Trial Advocacy by preLaw magazine, due in part to the strength of our Moot Court programs. Drake Law offers numerous opportunities for students to gain hands-on experience and hone their trial and advocacy skills through moot court and mock trial team participation, in addition to intra-school competitions. These experiences help students learn to work well under pressure and think on their feet and gives them the self confidence they need to become successful advocates.