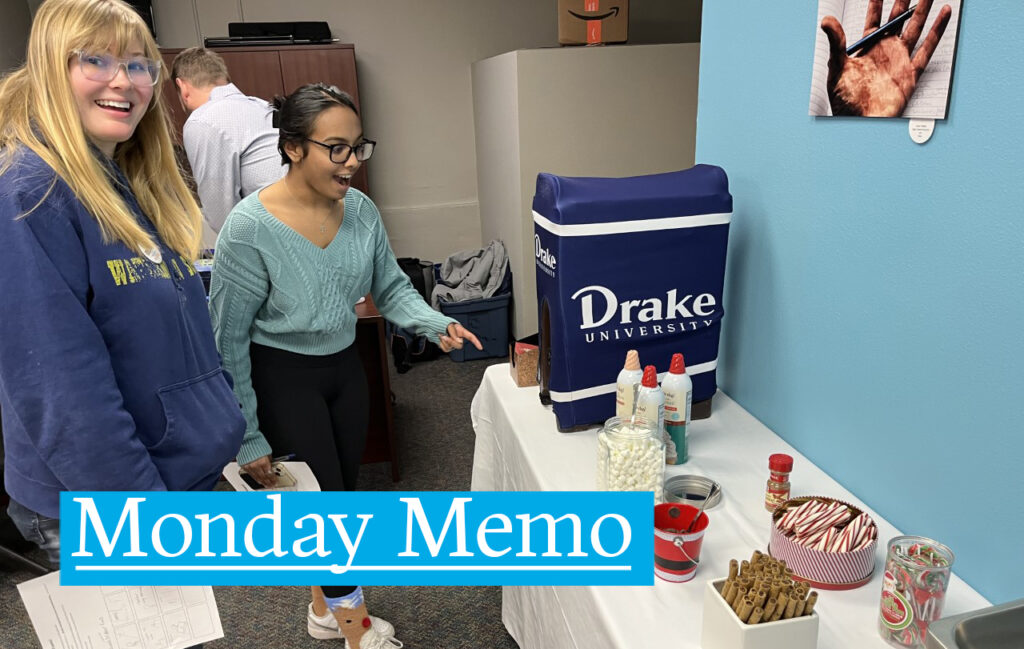 Last week of classes. Winter break is in sight!
SJMC Office Update
SJMC faculty and staff will be working virtually December 19 – January 22 when not on holiday break (Dec. 23 – Jan. 2). Please communicate online and/or set up virtual meetings as needed. Note: This does NOT impact J-term classes. If you are taking a J-term class, your class will meet as scheduled.
SJMC offering Smartphone Video Workshop
Associate professor Chris Snider will be teaching a Smartphone Video Workshop Dec. 20 at Drake University. This event is part of the Drake School of Journalism and Mass Communication's new workshop series.
This class will teach you the basics of shooting quality video as well as how to edit that video with your smartphone. Attendees will work in teams to shoot and edit at least two videos during the day-long workshop. We will use the free app CapCut to edit videos. Sign up here.
Applications Due Soon for Statehouse Clerk Positions
If you're interested in clerking at the Iowa Statehouse for the 2023 session and have not yet secured your position with a chamber or a legislator, please fill out the following applications before Friday, December 16, 2022. These are brief applications and are needed to help circulate your information to help you secure a position. Professor McCoy is continuing to work with Iowa Statehouse staff to assist in recruiting students for JMC110 Capitol Experience and matching them with clerk positions. Other internship positions may also be available through Statehouse offices and lobbying firms. Please email amy.mccoy@drake.edu if you'd like to learn more about these other opportunities.
Application Links:
SJMC scholarship applications available
Numerous scholarships and awards are available to continuing SJMC students. Applications for the 2023-2024 academic are now open and available here. Applications are due by 11:59 p.m. February 1, 2023.
National Academy of Television Arts & Sciences Scholarships
The Upper Midwest Emmy® Foundation offers $1,500 student scholarship grants to be used for tuition & books. Scholarships are open to high school seniors and college/university sophomores and juniors or graduate students living or attending school in MN, ND, SD, IA & western WI. Application Deadline: January 27th, 2023.
BEA Festival 2023 accepting entries until Dec. 15
Students, if you have something you wish to enter, please see Professor Henry or Inman. See www.beafestival.org for categories and details.
Alumni Spotlight: Louis Carr
Louis Carr (JO'78), President of Media Sales, Black Entertainment Television (BET), has been named to the American Advertising Federation (AAF) Advertising Hall of Fame. This is the highest distinction in the advertising industry. Congratulations! 
SJMC Faculty Highlights
Dr. Ryan Stoldt was recently quoted on advertising/branding in a Des Moines Register article on a real estate agent using TikTok to make client connections. 
Associate Professor Jen Wilson has been accepted into a competitive writing residency at the Vermont Studio Center for three weeks in the summer of 2023. During her residency Wilson will continue her work of writing in the space where news headlines intersect with the specificity of family and community. She will also deliver a public lecture on her work.