Scholarship applications available:
Numerous scholarships and awards are available to continuing SJMC students. Applications for the 2023-2024 academic are now open and available here. Applications are due by 11:59 p.m. February 1, 2023.
Upcoming SJMC events:
This week – Look for an SJMC table near the south Hubbell entryway, 11 a.m. – 1 p.m., Monday – Wednesday or the Olmsted breezeway, Thursday – Friday, 11 a.m. – 1 p.m. for opportunities to express thankfulness.
Please note time change for Winter Hot Cocoa Bar and Ping Pong Tournament: Friday, December 2, 2 – 3:00 p.m.
BEA Festival 2023 accepting entries
Students: If you have something you wish to enter, please see Professor Henry or Inman.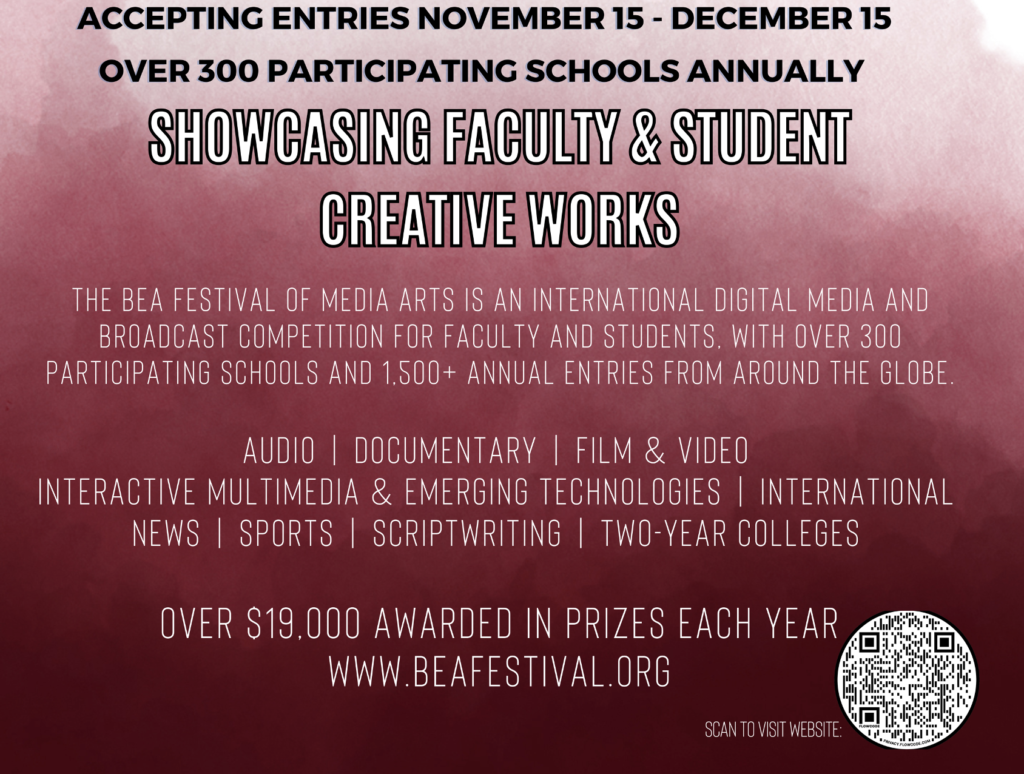 SJMC Student Spotlight
Drake DMP student Josh Harris attended the annual Scholarship Luncheon last week. The luncheon honors benefactors and recipients of named scholarships. Josh, who is the recipient of the Jim Duncan Memorial Award, met with James Duncan (left), son of Jim Duncan, the legendary broadcast professor and "Voice of Drake Relays."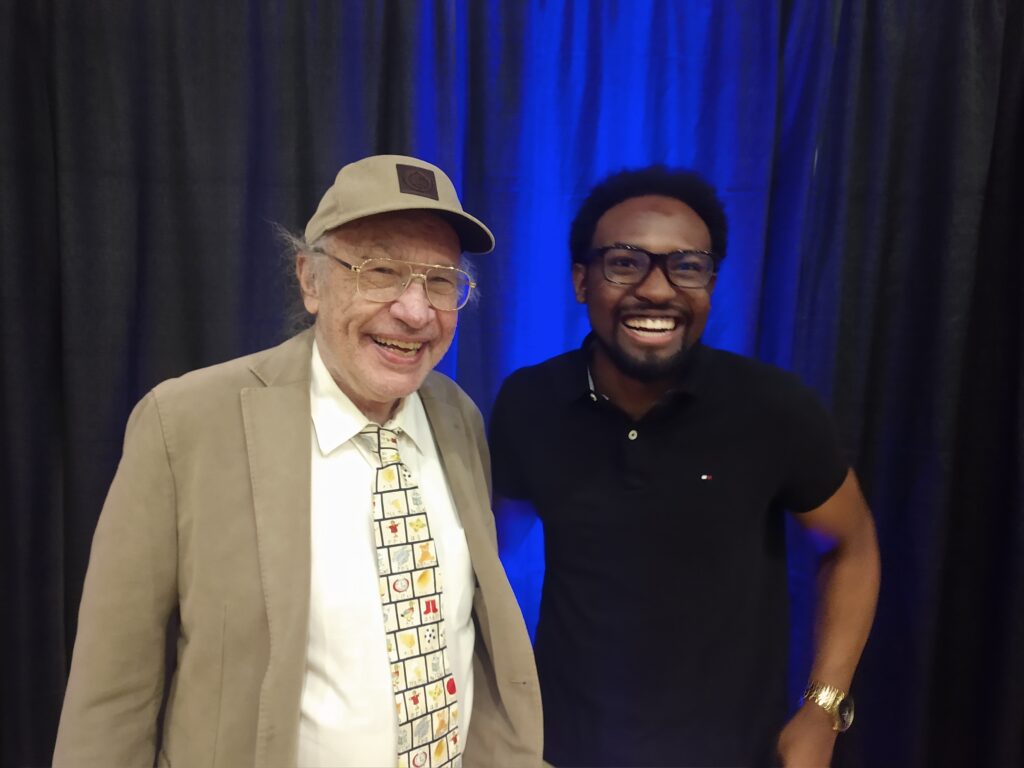 SJMC Faculty and Staff Represent Drake SJMC
PRSA Summit: SJMC Associate Dean Dr. Kelly Bruhn and Assistant Professor Amy McCoy (PR, SPC) attended the PRSA Educators Academy Summit in Grapevine, Texas, on November 12-13, 2022.  The summit included a series of research panels and presentations by educators from across the country with topics ranging from student engagement to classroom technology to incorporating data science in public relations planning and measurement. Bruhn is serving as the 2022 PRSA Educators Academy chair.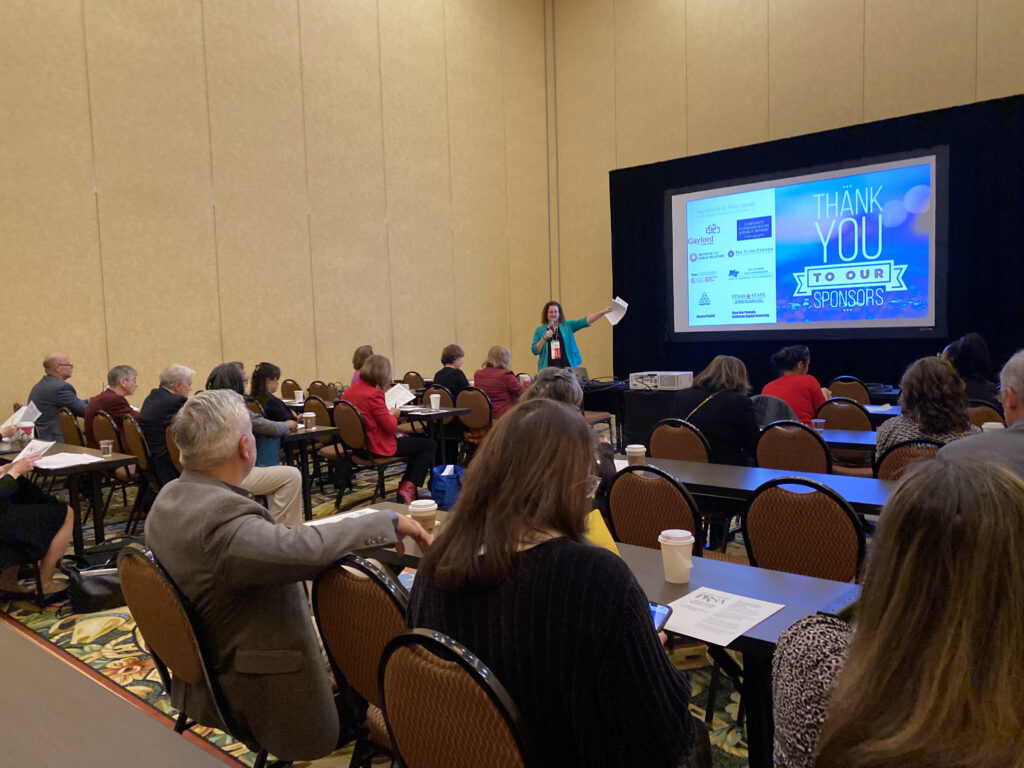 JEA Convention: SJMC Associate Professor Chris Snider and Assistant Director, Professional & Career Development Services, Timm Pilcher, represented Drake SJMC at the JEA National High School Journalism Convention in St. Louis, Missouri, November 10 – 13, 2022. The convention is the largest gathering of high school journalists, advisers, and journalism teachers in the United States.
Congratulations
Drake University SJMC Associate Professor Jennifer Glover Konfrst was re-elected as Iowa House Minority Leader on Saturday, November 12, 2022. This is Konfrst's second session to serve in the leadership role. Read more here.
SJMC Faculty Highlight
Professor Jolliffe presented a paper on "The Mischievous John Quincy Adams: Pranking the US House to Outwit the Pinckney Gag Rule," to the Symposium on the 19th Century Press, the Civil War, and Free Expression, November 4th. As a past President, Adams used his knowledge of Congressional rules to speak against slavery in spite of rules Southern congressmen had made against bringing up the subject. Adams used a variety of clever strategies, at one point even holding the House floor for two weeks to make fiery speeches against slavery and slave-holders.
SPC guest speaker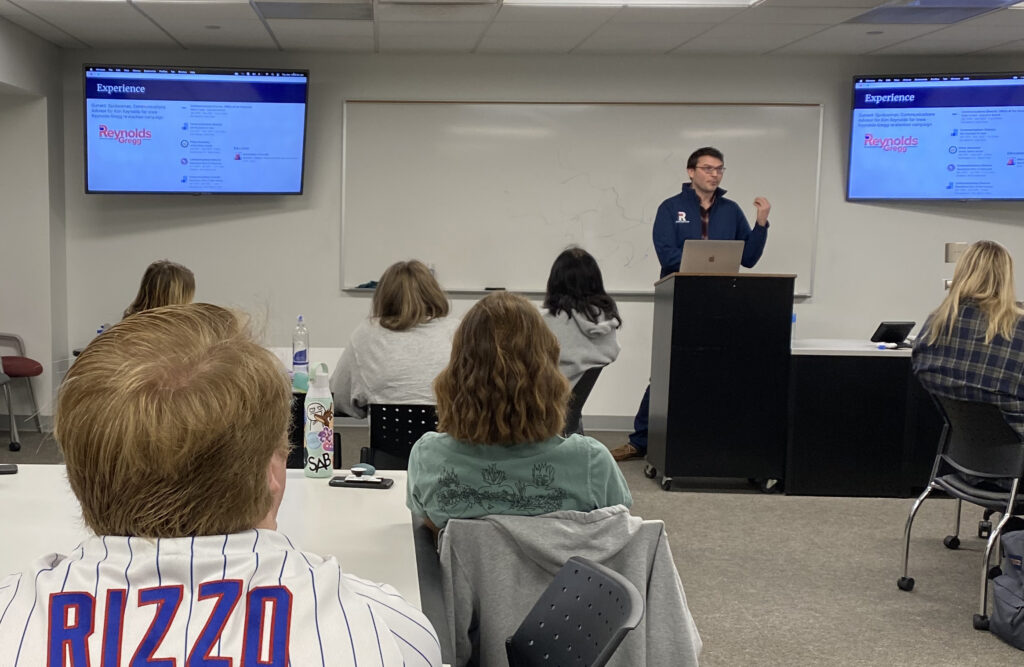 Pat Garrett, campaign communications advisor and spokesman for Iowa Governor Kim Reynolds, presented to students from JMC088 Intro to Strategic Political Communications and JMC138 Public Affairs and Advocacy on Thursday, November 10, 2022. Garrett shared extensive campaign and political communications insight following the mid-term election.
SJMC trivia
The early November trivia question was: What local employer provides an apprenticeship program for Drake SJMC students? The answer is Dotdash Meredith. The winner of an SJMC prize is Morgen Neuhauser. Morgen, please stop by the "Meredith East" front desk during business hours to pick up your prize.
The late November question is: What faculty/staff member has the most degrees from Drake?
Click here to respond and enter a drawing for an SJMC prize.
Have a news item for the Memo?
The SJMC Monday Memo (and other days of the week as needed) is a newsletter to keep members of the wider SJMC community updated on School news, achievements, events and opportunities. If you have an item for the Memo, please send it to SJMC webmaster and multimedia professor Chris Snider (christopher.snider@drake.edu). SJMC alums and other professionals can also subscribe to the Monday Memo via email here: http://eepurl.com/bPNbxn