SJMC students bring home awards at PRSA Iowa!
What a day at PRSA Iowa's OctoPRfest! On Oct. 10, Drake PR students were featured panelists, Peyton Haas was named the Outstanding Iowa PR Student of the Year, ExperiencePR's senior capstone campaign won a PRIME Award for their Valley Junction work, and IgnitePR won a Community Champion PRIME Award and Best of Show for Nonprofits! Congratulations, everyone!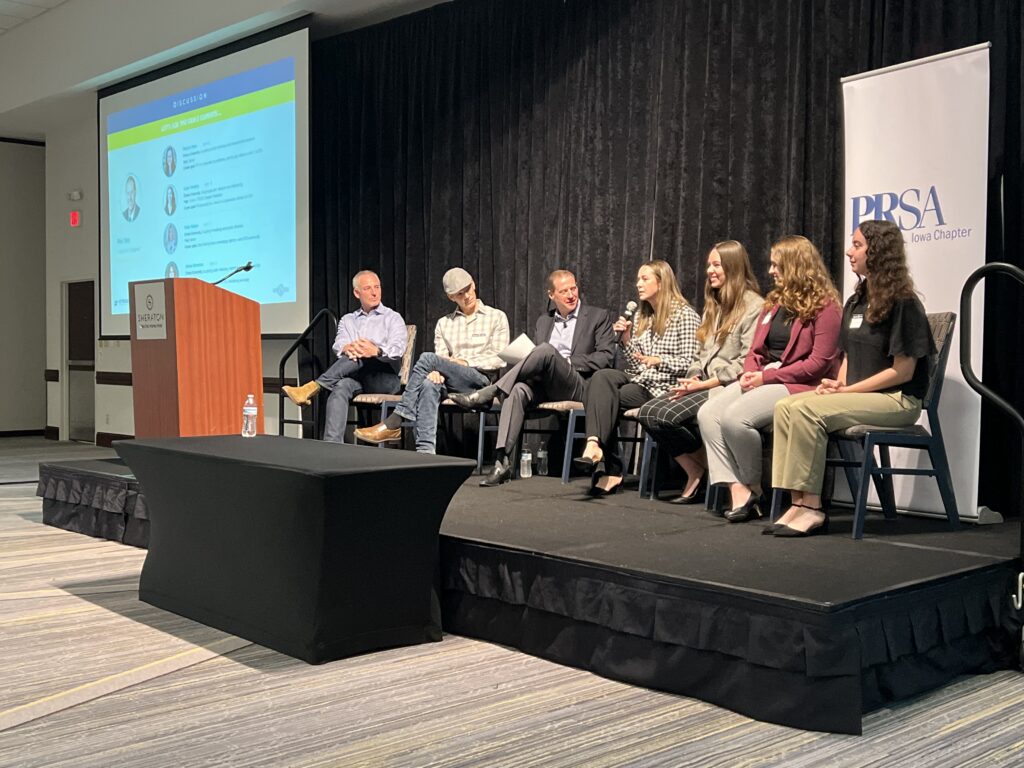 Sign up for J-term classes
There is still time to sign up for J-term classes on campus in January 2023. J-term classes cost students $50 per credit hour. You are not charged an overage if your combined J-term and spring classes is more than 18 hours in 2023.
Here are the classes being offered by the Drake SJMC:
JMC 058 Intro To Visual Communication (Jolliffe)
JMC 085 Public Relations Principles (Bruhn)
JMC 099 Social Media Strategies (Stoldt)
JMC 199 Video Editing and Graphics (Tirumala)
JMC 199 Personal Branding – this class was recently added (Snider)
Upcoming events
Monday, October 24, 7 p.m., SJMC Days kicks off with the presentation "Journalism, Jazz & the Roots of Creativity" by alumnus Dartanyan Brown, JO '75, in Sheslow Auditorium (Old Main).
Tuesday, October 25, 5-7 p.m., SJMC Table Tennis Tournament of Champions in Meredith East (aka the SJMC offices, 1213 25th Street).
Wednesday, Oct. 26, 4-5 p.m., Internship/employer panel, in the 25th Street TV studio (1205 25th Street).
Thursday, Oct. 27, 7 p.m., Bucksbaum lecture featuring Marie Yovanovitch, former U.S. Ambassador to Ukraine, in the Knapp Center.
Friday, Oct. 28, PRSSA Star Day.
Monday, October 31, 12 – 1 p.m. – SJMC Trick or Treating in Meredith East.
November – Exact Date TBA, Thanksgiving Lunch at the dining center.
Friday, December 2, 1 – 2 p.m. – Winter Hot Cocoa Bar and Ping Pong Tournament.
The ESPN Scholarship
The Alliance for Women in Media Foundation (AWMF) and ESPN are looking for two promising female students pursuing a career in sports media – one Black female and one Hispanic female. The ESPN Scholarship program consists of one $5000 scholarship to each student, made payable directly to the student's educational institute.
Black PxP Fund Scholarship
Black PxP Fund is $7,500 in scholarship money this academic year. Beyond the money, the organization has professional broadcasters across the country who have volunteered as mentors and have been working with former applicants over the past two years on professional placement and advice on how to navigate the competitive job market.
For scholarship information see the flyer and visit this website.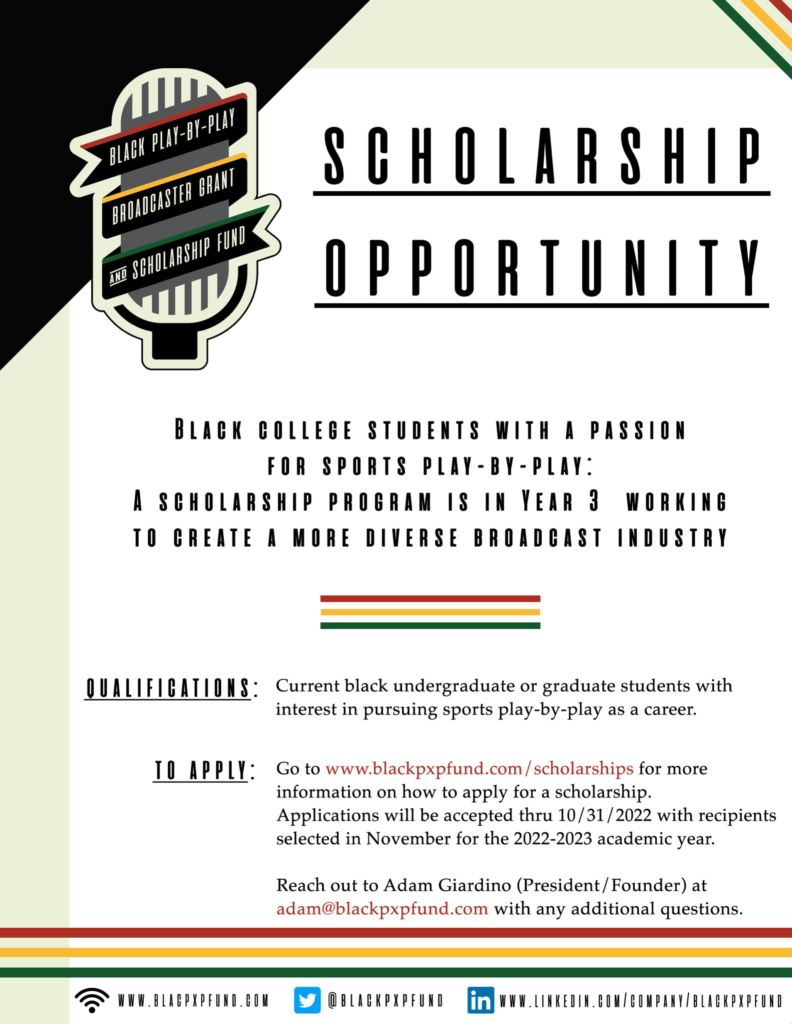 Fire drill today
Drake will hold fire drills Oct. 19, 20, 21, and 24 in compliance with the Higher Education Opportunity Act and in conjunction with National Fire Prevention month. All SJMC offices and facilities on 25th Street will have a drill at 10:45 a.m. on Oct. 19. When fire alarms are activated in campus buildings:
Evacuate the building.
Buildings will be locked down and cannot be re-entered until the drill ends.
Remember to dress accordingly.
SJMC class highlight
On Monday, October 3, 2022, JMC138 Public Affairs & Advocacy hosted Amy Campbell and Craig Patterson from Advocacy Cooperative, a multi-client lobbying and advocacy firm. Craig and Amy have more than 50 years of experience in policymaking, lobbying, legislative analysis, and grassroots advocacy.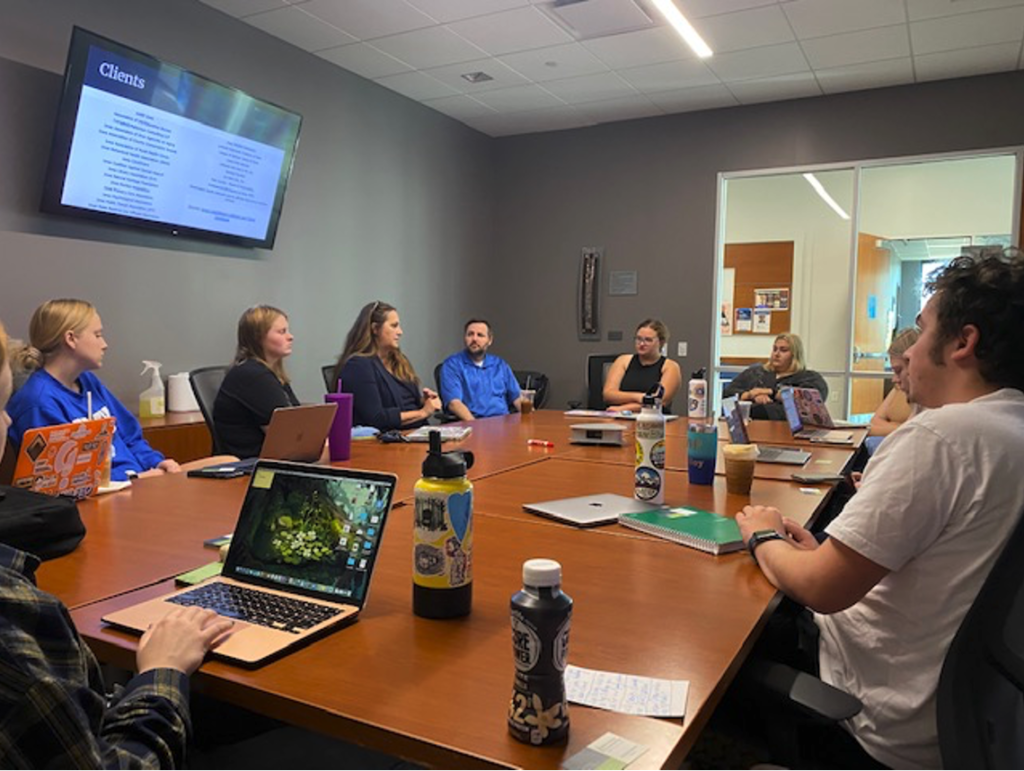 SJMC trivia
The early October trivia question was, "What SJMC faculty member has the most followers on Twitter?" The correct answer was Lee Jolliffe. Of the many entries with the correct answer of Lee Jolliffe, the prize winner is Abby Blazevic. Abby, please stop by the offices during business hours to pick up your prize at the front desk.
The late October trivia question is: The SJMC 3+3 Program combines a journalism/mass communication degree with what other degree?
Click here to respond and enter a drawing for an SJMC prize.
Have a news item for the Memo?
The SJMC Monday Memo (and other days of the week as needed) is a newsletter to keep members of the wider SJMC community updated on School news, achievements, events and opportunities. If you have an item for the Memo, please send it to SJMC webmaster and multimedia professor Chris Snider (christopher.snider@drake.edu). SJMC alums and other professionals can also subscribe to the Monday Memo via email here: http://eepurl.com/bPNbxn