Happy Newspaper Week!
A shoutout to Drake's Times-Delphic newspaper team led by Grace Altenhofen, editor in chief. Check out their latest coverage here. For those on campus, you can also pick up a print copy of The Times-Delphic in Meredith East and locations around campus.
Newspapers fulfill an essential role in our democracy, so please take a moment this week to thank a news journalist.
Drake students invited to KCCI debate, October 6
KCCI will hold a live-broadcast debate in the 3rd District congressional race (Drake's district) between incumbent Cindy Axne (D) and Zach Nunn (R) on October 6 at the State Historical Museum. If a current Drake students would like to request a ticket, please email rachel.caufield@drake.edu.
Debate watch party at "Meredith East" on October 6
SJMC students are invited to a debate watch party for the Axne/Nunn debate on Oct. 6 at 7:00 p.m. in the Meredith East (aka SJMC offices) at 1213 25th Street.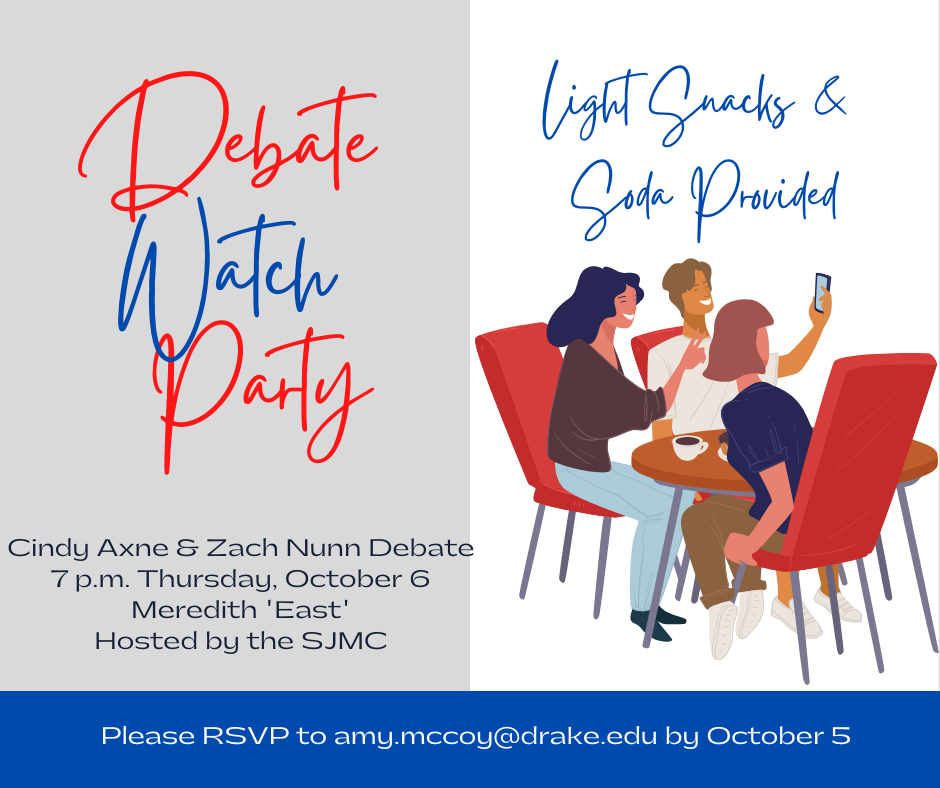 Social Media Workshop Oct. 18
Drake University associate professor Chris Snider will host a one-day, hands-on Social Media Workshop Oct. 18, 2022, at Drake University.
This workshop will take place at Drake University. Room and building information will be sent out prior to the workshop.
Here's what you will learn:
Current trends and changes in social media
The nine-step process to building a social media strategy
How to create content that wins on networks that award original, creative content
What is short-form video and how should you use it
Audits, ads, analytics and algorithms
Sign up for the workshop here. Early bird pricing ends Oct. 7, 2022.
SJMC Days, Oct. 24-28
Monday, October 24, SJMC Days kicks off with the presentation "Journalism, Jazz & the Roots of Creativity" by alumnus Dartanyan Brown, JO '75. Brown is a nationally known musician, journalist, activist, and educator, who will discuss how creativity has threaded itself throughout his life and career in this multimedia presentation.
This event is free and open to the public and will be held in Sheslow Auditorium, 7-8:30 p.m., and streamed.
Tuesday, October 25, we host the inaugural SJMC Table Tennis Tournament of Champions pitting SJMC faculty & staff against our students! The event will run from 5-7 p.m. in the Dean Staub World Champion Table Tennis Emporium, located in the Meredith East (aka the SJMC offices). There will be a popcorn machine, much mirth and merriment, and the coveted traveling "Most Amazingest SJMC Table Tennis Champion Trophy."
Wednesday, Oct. 26, 4-5 p.m: Internship/employer panel. Stay tuned for more information.
Thursday, Oct. 27, 7 p.m. Bucksbaum lecture featuring Marie Yovanovitch, former U.S. Ambassador to Ukraine. This event is free and open to the public and will be held in the Knapp Center.
Friday, Oct. 28. PRSSA Star Day. Stay tuned for more information.
SJMC spotlight: SJMC class hosts AP National Political Correspondent
Tom Beaumont, Associated Press National Political Correspondent, spoke with SJMC students about political messaging, agenda setting and media coverage during Intro to Strategic Political Communications, JMC088. Beaumont has covered national politics for The AP since 2011. Prior to that, he served as the chief political reporter for The Des Moines Register.
Alumna spotlight: National Newspaper Week edition
Meagan Flynn JO'15 is at The Washington Post covering the Virginia, Maryland, and DC delegations in Congress. Previously Meagan covered criminal justice and public policy at the Houston Press and Houston Chronicle.
Happy national newspaper week to Meagan and all our newspaper-industry alums. Thank you for the essential service you provide.
Alumni news
Jon Bowermaster, JO'76, has had a successful career as an adventure journalist for National Geographic, and as a filmmaker/producer and environmental activist. His latest film, "Windshipped," tells the story of a sailboat that delivers goods up and down the Hudson River without using fossil fuels as a forward-looking "floating environmental message." The documentary is being currently screened on the East Coast.
SJMC trivia
What SJMC faculty member has the most followers on Twitter?
Click here to respond and enter a drawing for an SJMC prize.
Previous Question: We did not have a winner. The correct answer for the number of current SJMC faculty and staff members (including those on sabbatical but not including adjuncts who are not teaching this semester) who are Drake alumni is eight (Fredregill, Ganpat, Henry, Inman, Konfrst, Snider, Staub, and Van Wyke).
Have a news item for the Memo?
The SJMC Monday Memo (and other days of the week as needed) is a newsletter to keep members of the wider SJMC community updated on School news, achievements, events and opportunities. If you have an item for the Memo, please send it to SJMC webmaster and multimedia professor Chris Snider (christopher.snider@drake.edu). SJMC alums and other professionals can also subscribe to the Monday Memo via email here: http://eepurl.com/bPNbxn