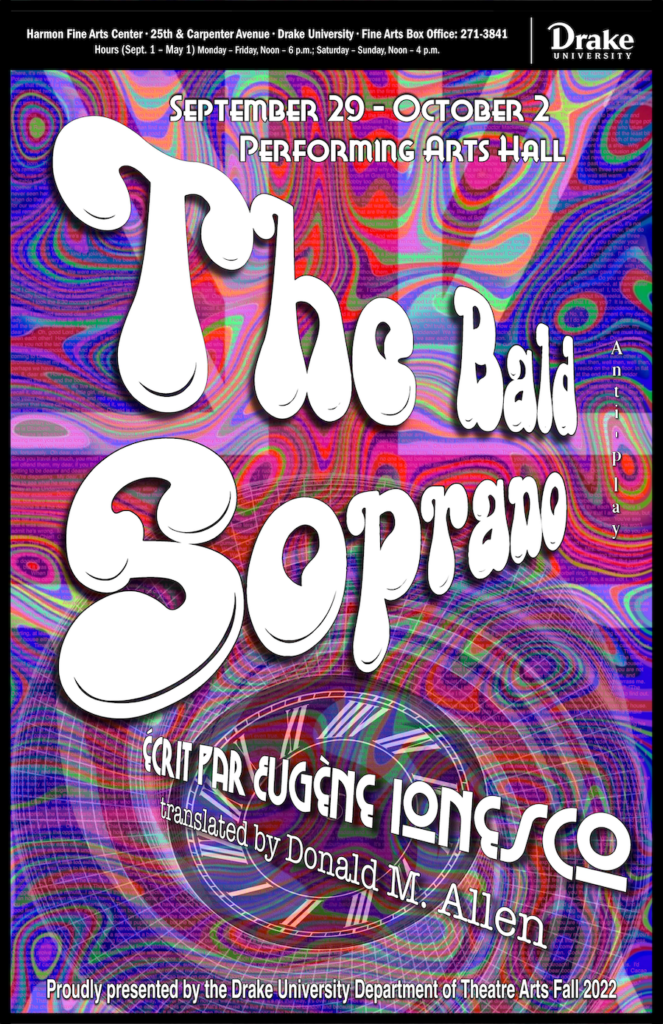 Drake Theatre Arts presents its production of the absurdist anti-play The Bald Soprano by Eugene Ionesco. The performance will run Sept. 29–Oct. 1 at 7:30 p.m. and Oct. 2 at 2 p.m. in the Performing Arts Hall at Drake University's Harmon Fine Arts Center.
The Bald Soprano is the first Drake Theatre production of the 2022–2023 season. It takes place in the suburbs of 1960s London at the residence of Mr. and Mrs. Smith. Their evening quickly turns into utter chaos with an unhinged maid, guests with amnesia, and a poetic fire chief. This highly acclaimed play is anything but proper.
What makes The Bald Soprano stand out from other theatrical works is its absurdism. Director Michael Rothmayer explains the unique circumstance of directing this work.
"Because absurdism embraces ambiguity and multiple meanings, I've had to resist the temptation to foist too specific of a concept or vision onto the production," Rothmayer said. "Instead, it has been about envisioning and creating a space where this work can simply exist."
While it may seem hard to find any meaning or themes in The Bald Soprano, actor Emma Fishman, playing the role of Mary the Maid, believes that there is something to say about the English language and how we speak to each other.
"I see the themes of the show fitting today because of its commentary on language," Fishman said. "We are currently in an era of mass communication and this play really makes you think about how nonsensical a lot of human nature and language can really be."
Drake actors have had to untrain what they thought they knew about performing for their roles in The Bald Soprano. Actor Cat Farrell, playing Mrs. Smith, expresses the new discovery she's learned about acting in absurdism.
"Working on an absurdist show, you must leave behind everything you've learned up until this point about acting," Farrell said. "We must live moment to moment rather than living the life of our character."
With the addition of the COVID-19 pandemic, Drake Theatre has taken extra precautions to ensure shows can still be presented to the public. One of these tactics includes casting covers, also known as understudies. Eliana Mascareñas is the female role understudy and shares her hefty workload required for this show.
"I am the understudy for all three female roles, which is a huge challenge in and of itself," Mascareñas said. "Not only do I need to be comfortable with the lines and blocking, but also the emotional depth and background knowledge of the three."
With all of the rule-breaking The Bald Soprano does, Mascareñas expresses how much enjoyment audiences will have watching this whimsical show.
"I feel like this show completely took away this stuck-up feeling that all shows, especially British shows, have with non-theatre-going audiences … it is fun just to be fun," Mascareñas said.
Tickets for The Bald Soprano are now available by visiting the Drake Fine Arts Box Office or calling (515) 271-3841. Online ticket information will be announced at a later date.