Congrats to our Pinnacle Finalists
CMA Pinnacle Award Finalists have been announced, and once again, Drake SJMC has a strong showing. Sponsored by the College Media Association, the Pinnacles recognize the best in college media. Winners will be announced later this fall. Congratulations to the following finalists:
Four-Year Feature Magazine of the Year: Drake Political Review, Jessica Comstock, editor, DPR S22
Best Portrait: Drake Political Review, "The Pig," Grace Long, "Human Regulation or Hogwash," DPR S22
Best Editorial Illustration, Princess Hart, The American Family Update, DM S22
Best Feature, Times-Delphic, CJ Younger, "Tchaikovsky versus splendid isolation"
Best Feature: Nate Eisenmann, "Beating the Heat," Drake Mag, F21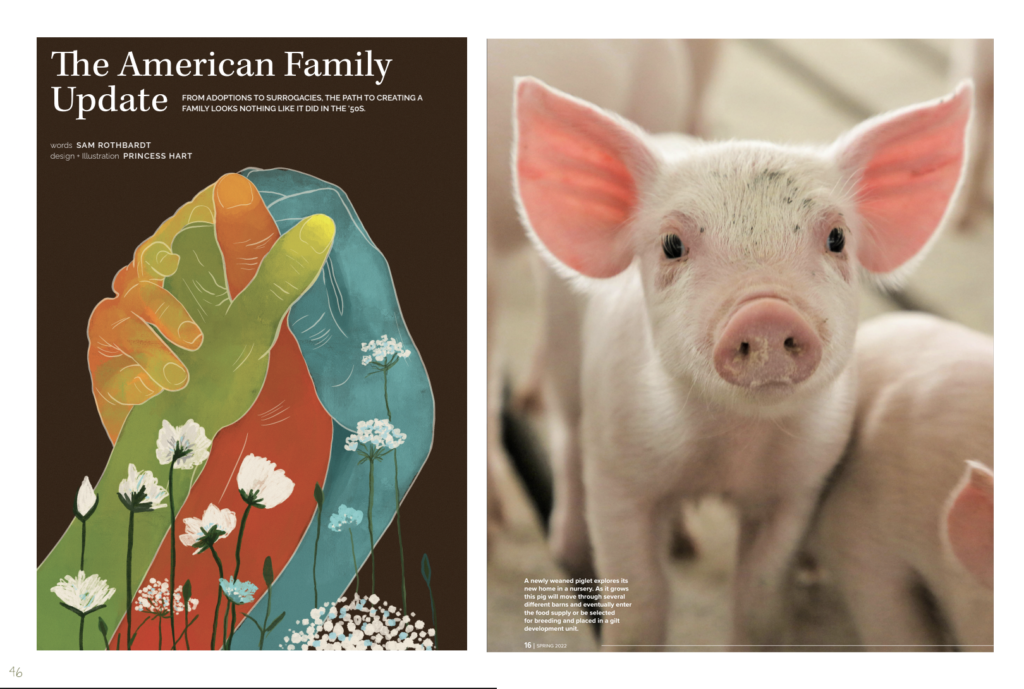 SJMC ice cream social tomorrow
Drake SJMC will host an ice cream social for all SJMC students and guests Wednesday, September 7 at noon in our 25th Street offices. Last year's event was so popular we quickly ran out of ice cream, so plan to arrive as soon as your schedule allows. Feast on ice cream and challenge your favorite SJMC mentor to a ping-pong match.
Drake Broadcasting System meeting tonight
DBS will have its first member meeting today (9/6) at 5:00 pm in 311 Upper Olmsted. If you are interested in hosting a radio show, getting involved in DBS's new run of videos and shows this semester, or creating your own videos, then this meeting is a great starting point. You'll also learn about DBS's new payment plan for creators and show contributors. For more information, reach out to DBS President Liz Hatch at elizabeth.hatch@drake.edu.
Students: FREE tickets for luncheon featuring journalist Laura Ling
The first eight SJMC students to email Denise Ganpat will receive an invitation from Deputy Provost Cramer to attend the Chrysalis Inspired luncheon as one of her guests. Chrysalis is a local foundation supporting girls and women; Chrysalis Inspired is their annual fundraising event featuring powerful women speaking on meaningful topics. Laura Ling, this year's keynote speaker, is an investigative journalist, documentarian, and producer. When reporting on trafficking of North Korean women in 2009, Ling and her colleague were arrested and spent 140 days imprisoned. Event details: Tuesday, October 11 at 11:30 a.m. at the Sheraton West Des Moines.
ACSA hosting Bacchanal Day Fest
The African and Caribbean Students Association (ACSA) is hosting Bacchanal Day Fest, a Caribbean celebration that involves music, dancing, food, and other fun activities on Sept. 10. The event is noon-5 p.m. in Helmick Commons.
The group is in need of at least 20 volunteers for setting up and taking down on the day of the event.
If you have any questions contact acsa@drake.edu.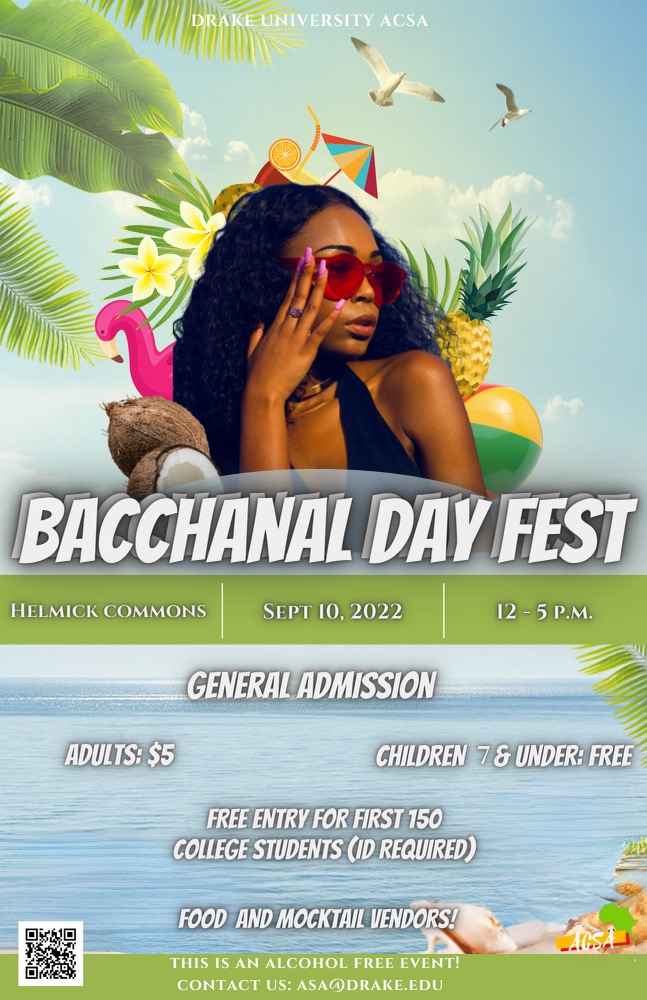 Students: Sign up for a FREE BEA membership
Since Drake SJMC is a BEA member organization, our students are eligible for a complimentary membership. Student membership allows you to apply for scholarships and the RAB Student Scholar Program, submit entries to BEA creative competitions, and create an account in the BEA networking and collaborating site, BEA Connect.
Here's how to sign up for a FREE student membership:
STEP 1: Click "Student Membership Registration"
STEP 2: Either log in as an Existing User or create a New User Account
STEP 3: Enter your Personal Information
STEP 4: Enter "MUGS-6F34SM" Discount Code, click Apply, then Submit to complete your registration
Periphery Art & Literary Journal is hiring
Periphery Art & Literary Journal is hiring two (2) new student editors. This is a paid, on-campus job for fall and spring semesters. Interested applicants should send their resume, a cover letter, and a writing sample (no longer than 8 pages) to periphery.editors@drake.edu. In your cover letter, answer the following questions:
Why do you want to be an editor for Periphery?
What relevant experience would you bring to the journal?
What are your favorite genres to read and/or write? What draws you to them?
Applications are due September 30th.
Submit your creative work to Periphery
Periphery Art & Literary Journal's fall submission period opens September 1, 2022 and closes November 18, 2022. Periphery accepts creative work, including poetry, short stories, personal essays, memoirs, songs, comics, paintings, photos, and more. Interested writers or artists should visit Periphery's website for more details. Questions? Email periphery.editors@drake.edu
Writing Center opens Sept. 12
The Writing Center's trained peer tutors advise and assist students at any stage of the writing process:
Understanding instructions/prompts
Generating ideas and ways to develop ideas
Outlining and organizing
Writing, expanding, revising, and/or copyediting a draft
This is a free service for all Drake students, including graduate students and those in professional programs.
Please go to https://library.drake.edu/writing-center/ to book an appointment with a tutor—instructions for booking and visiting are available on the site as well. Appointments are approximately 30 minutes, and students can sign up for more than one session if they wish. They may also request that a tutor keep a regular time slot available for them if they would like to come in each week.
If you have questions, please contact Prof. Megan Brown, Director of Writing (megan.brown@drake.edu).
SJMC spotlight
SJMC hosts Nepali journalists
Interested in tackling the issue of media disinformation, a delegation of Nepali journalists visited the Drake School of Journalism and Mass Communication Aug. 29, including the chair of the Federation of Nepalese Journalists, the editor and Foreign Affairs Bureau Chief of Naya Patrika National Daily, and the Editor in Chief of Paschim Today. Timm Pilcher, Assistant Director, Professional & Career Development Services for Drake SJMC, hosted the group.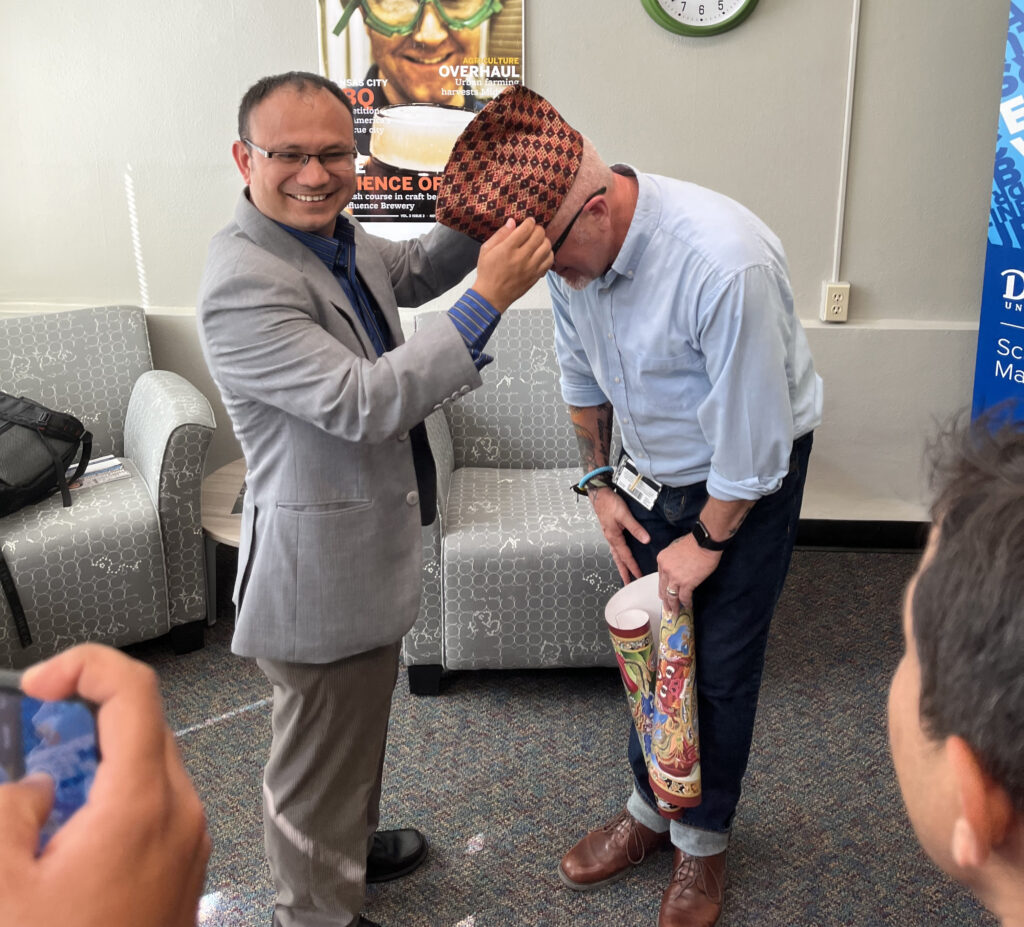 Alumni news
Wendy Naugle, JO'96, was named Editor in Chief of PEOPLE Magazine. Previously Naugle served as Deputy Editor for the magazine after having served as executive editor for Glamour magazine for almost 20 years.
Drake SJMC alum Marianne Coppock, JO'01 was recently named the CEO at The Stelter Group.
Have a news item for the Memo?
The SJMC Monday Memo (and other days of the week as needed) is a newsletter to keep members of the wider SJMC community updated on School news, achievements, events and opportunities. If you have an item for the Memo, please send it to SJMC webmaster and multimedia professor Chris Snider (christopher.snider@drake.edu). SJMC alums and other professionals can also subscribe to the Monday Memo via email here: http://eepurl.com/bPNbxn