As part of its continued commitment to increasing diversity, Drake Law School is proud to announce the expansion of its Cady Law Opportunity Fellow Program for the 2022–2023 academic year.
Heading into its 6th year, the Cady Fellow Program will include 12 employers, allowing for six students to experience the unique benefits of the program which provides underrepresented student fellows with two paid clerkships during the summer after their first year.
New employers BrownWinick Law Firm and Sammons Financial join a group of stellar law firms and companies, offering students experience in two different types of law practice areas.
The program is offered to incoming students whose enrollment will significantly contribute to the diversity of the Drake Law School student body or to those who have overcome economic, educational, or other significant disadvantage. Drake broadly defines diversity to include race, ethnicity, socioeconomic status, disability, or LGBTQ+ status.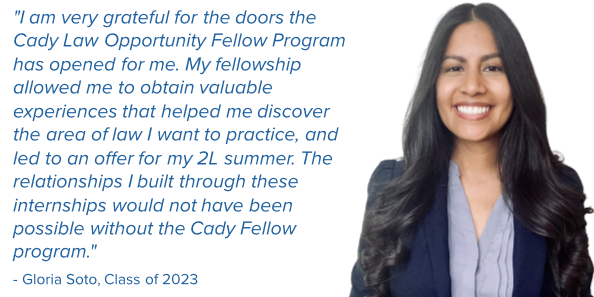 Students will be chosen by Drake's Law School Admission Committee based on superior academic credentials, information contained in their Drake Law JD application and diversity statement, and a personal interview (to be conducted on campus or remotely).
The program is named in recognition of the late Iowa Supreme Court Chief Justice Mark Cady, LW'78, and his commitment to diversifying the legal profession.
To learn more, visit: drake.edu/law/future/diversity/leadership-program/.
For questions, contact Brianna Leistikow, assistant director of law admission and diversity initiatives at 515-271-2483 or brianna.leistikow@drake.edu.