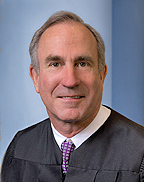 Drake University Law School is pleased to announce that Iowa Supreme Court Justice Brent Appel will join the full-time faculty upon his retirement from the Court at the end of July. He will teach Professional Responsibility and State Constitutional Law, in addition to seminars and other courses.
"We are so honored to welcome Justice Appel to our faculty," said Drake Law Dean Jerry Anderson. "He has been a brilliant jurist and will draw on a wealth of experience both on the bench and in the courtroom. In addition to his impressive resume, Justice Appel has served as an adjunct professor and as supervisor and mentor for our Supreme Court interns. We're thrilled that he has such a passion for teaching and helping to train future generations of lawyers."
"I look forward to the exciting opportunity to be part of the Drake Law community and to this new chapter in my professional career." said Appel.
Justice Appel was appointed to the Iowa Supreme Court in 2006. He received his bachelor's and master's degrees from Stanford University, and his JD from the University of California, Berkeley, where he served on the board of editors of the California Law Review. During his time at Berkeley Law, he won the McBaine Moot Court competition and the Jamieson Award for Outstanding Scholarship and Advocacy. After graduation, Appel clerked for the U.S. Court of Appeals for the District of Columbia Circuit. He then served as first assistant attorney general and then as deputy attorney general of Iowa from 1979 to 1986. During this time, he argued and briefed four cases before the United States Supreme Court. At the time of his appointment to the Iowa Supreme Court in 2006, he was a partner at Wandro, Baer & Appel in Des Moines, where his practice focused on commercial litigation, employment law and personal injury.
In 2010, U.S. Supreme Court Chief Justice John Roberts appointed Appel to the Federal Advisory Committee on the Rules of Evidence, where he served until 2016. In 2022, Appel received The Iowa State Bar Association's Rolland E. Grefe Pro Bono Publico Award for his leadership in advocating for access to justice for all Iowans throughout his career, and for his outstanding work as the chair of the Iowa Supreme Court's Access to Justice Commission since it was formed in 2016.