The Drake University National Alumni Association Board of Directors today announced the 2022 recipients of its annual Alumni Awards. Recipients of this year's awards include innovative CEOs, a renowned author, leading pharmaceutical executives, champions of equity and justice, and a leading real estate advisor.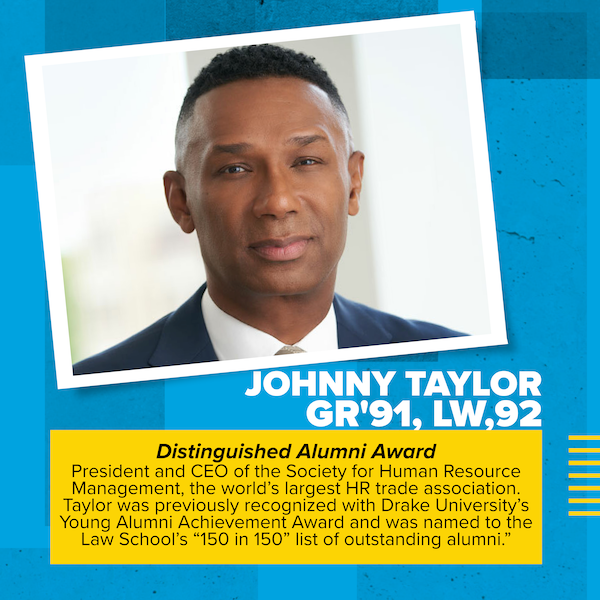 "One of a university's greatest measures is its alumni," said Andy Verlengia, director of alumni relations at Drake. "Drake graduates have the extraordinary advantage of joining an alumni network of more than 70,000 Bulldogs around the globe who are leading in their fields and communities. The recipients of this year's Alumni Awards have not only achieved incredible things professionally, but they exemplify Drake's inspiration statement that together we transform lives and strengthen communities."
The Drake University Alumni Awards recognize graduates for their accomplishments and support of the University. This year's six awards will honor Iowa State Rep. John Forbes, Julie Fitzpatrick and Jan Jensen, Charles Hartig, Adam Kaduce, Gary Porter, and Johnny Taylor. New this year, the University is honoring award winners through a video series that shares the impact Drake has had on each recipient's personal and professional life.
Alumni Loyalty Award – Gary Porter, BN'72
Honors alumni for their commitment and dedicated service to Drake University
Gary Porter, BN'72, is not only one of Drake's most loyal supporters but the epitome of someone devoted to transforming lives and strengthening communities. Currently, Porter is a distinguished lecturer for the College of Business and Public Administration (CBPA) and a member of the CBPA National Advisory Council. He and his wife Melissa were instrumental in establishing and raising funds for multiple scholarships at Drake. Porter also led presentations in the online alumni learning series Back to Class throughout the pandemic.
One of Porter's recent accomplishments is the publication of his book Griff: My Life as Drake's Top Dog. In 2020, Porter authored a biography about the University's loveable live mascot, Griff I, who served as Drake University's first official live mascot from 2015–2020. Porter generously agreed to donate a portion of the book sales to Drake University's Live Mascot Program.
In addition to his commitment to Drake, Porter supports his hometown of Hudson, Wis. by donating his time, talent, and money to organizations focused on animal welfare, education, and the arts.
Prior to his retirement, Porter had an esteemed career in academia. He held several teaching positions at universities, served as department chair at both Loyola University Chicago and the University of Montana, published numerous textbooks and papers in academic journals, and won the Excellence in Teaching Award from the University of Colorado and Outstanding Professor Awards from both San Diego State University and University of Montana. Porter holds doctorate and MBA degrees from the University of Colorado.
Alumni Achievement Award – Jan Jensen, JO'91, GR'96, and Julie Fitzpatrick, AS'89
Honors alumni for outstanding achievement in their career or profession
Jan Jensen and Julie Fitzpatrick have dedicated their professional and personal lives to bettering their communities. While their individual accomplishments alone are deserving of this award, collectively they have raised millions of dollars for non-profit organizations, donated their own financial resources as well their time, talents, and voice to advance equal rights, and served as mentors and role models to youth in their community.
Jan Jensen, JO'91, GR'96,is in her 18th year as associate head coach of The University of Iowa Women's Basketball team, 29th season overall. Prior to her role at The University of Iowa, she served as first assistant coach and recruiting coordinator for the Drake Women's Basketball team, helping the Bulldogs to four Missouri Valley Tournament championships. Her overall coaching achievements include 20 NCAA tournament berths, Big Ten tournament championships in 2001, 2019, 2022 and Big Ten regular season titles in 2008 and 2022. Off the court, Jensen is a leader in fundraising for the United Way of Johnson County. She served as a cabinet member for the 2006 campaign which totaled over $2 million and was integral in establishing the Healthy Kids Initiative, a school-based health clinic serving students who have no or inadequate insurance. In 2016, Jensen also co-chaired a record setting United Way Campaign with Fitzpatrick which raised over $2.6 million. She has been a recipient of the Corridor Business Journal Forty Under 40 award, the United Way of Johnson County Volunteer of the Year award, the Women of Influence award, and the LGBTQ Legacy Leader award. Whenever her schedule allows, Jensen selflessly volunteers to speak and inspires youth, coaches, and not-for-profit groups across Iowa.
Julie Fitzpatrick, AS'89, has spent her career as a physical therapist devoted to patient care and leadership in a variety of rehabilitation settings. Early in her career, she served as director of rehabilitation at North Bay Medical Center in Florida and then became the chief operating officer of Premier Health Associates in Des Moines and eastern Iowa. She is currently the founder and owner of Optimal Wellness PLLC and is a physical therapist and wellness specialist at Progressive Rehabilitation Associates in Iowa City. Fitzpatrick has been a dedicated volunteer and advocate for the American Heart Association for more than 15 years, spreading heart health awareness to women and raising funds for lifesaving research and education. She has served as co-chair of the "Go Red for Women" annual event for five years raising more than $600,000 for the American Heart Association under her leadership. Fitzpatrick's charitable duties have also included supporting the United Way of Johnson Country. In 2016, she co-chaired the United Way Campaign with Jensen, raising a record-setting $2.6 million. Fitzpatrick has been a long-time supporter of her alma mater, serving on the Drake University Board of Trustees and the National Alumni Board where she served as president.
Community Service Award – Iowa State Rep. John Forbes, PH'80
Recognizes the significant accomplishments of alumni who have engaged in outstanding and meaningful community service.
Considered one of the most respected pharmacists in the Iowa, John Forbes, PH'80, is a respected advocate for the profession of pharmacy and public health. Known for his innovation, Forbes owns a pharmacy business which was one of the first to provide immunizations, compounding services, wellness testing, and automated dispensing systems, to name a few. He has been recognized by a leading pharmacy journal as one of the Top 100 Most Influential Pharmacists in the Nation. Forbes also serves as Iowa State House member for District 40. During his first year in office, he was instrumental in the passing of bipartisan legislation to expand pharmacists' ability to provide immunizations.
Forbes is an active member of his community and most notably served as the Central Iowa Honor Flight coordinator, taking World War II veterans to Washington D.C. for a one-day trip to view the World War II memorial and other historical sites. His committee has raised more than $3 million and honored more than 3,000 veteran heroes, more than any other honor flight hub in the nation. In addition, Forbes is a supporter of several youth sports teams, the Urbandale Library, the Urbandale Food Pantry, and numerous other community activities.
Distinguished Alumni Award – Johnny Taylor, GR'91, LW'92
The top honor bestowed upon alumni of Drake, recognizes outstanding achievement by an individual in a career or profession and exemplary service to the community and University.
Johnny Taylor, GR'91, LW'92, is president and CEO of SHRM, the Society for Human Resource Management, the world's largest HR trade association. He previously served for seven years as president and CEO of the Thurgood Marshall College Fund, an organization that supports and represents students in public Historically Black Colleges and Universities (HBCUs) across the country. In recognition of his influence, President Donald Trump named Taylor chair of the President's Board of Advisors on HBCUs in 2018 and he served as a member of the White House American Workforce Policy Advisory Board. In 2020, Taylor received the Distinguished Executive of the Year Award from the Academy of Management, and in 2021, he was named Professional Society CEO of the Year by CEO Update. Also in 2021, he released his book, RESET: A Leader's Guide to Work in an Age of Upheaval, which quickly soared to the top three of the Wall Street Journal's list of best-selling hardcover business books.
Prior to his work at SHRM and the Thurgood Marshall College Fund, Taylor worked at the media company IAC/InterActiveCorp—first as senior vice president of human resources, and then as president and CEO of one of IAC's operating subsidiaries. He has also held various human resources and legal executive roles in the McGuireWoods law firm, Compass Group USA, Viacom's Paramount Pictures Live Entertainment Group, and Blockbuster Entertainment Group.
Taylor received his bachelor's degree in communication from the University of Miami before obtaining his master's and law degrees from Drake. Taylor was the keynote speaker at the Clark 150 Celebration banquet on Drake's campus in 2018. He has served on Drake's Board of Trustees and hosted Drake alumni events in the Washington, D.C. area. Taylor was previously recognized with Drake University's Young Alumni Achievement Award and was named to the Law School's "150 in 150" list of outstanding alumni.
Young Alumni Achievement – Charlie Hartig, PH'09
Honors alumni, age 40 or younger, for outstanding achievement in their career or profession.
Charlie Hartig graduated with honors from Drake University with a Doctor of Pharmacy in 2009. He then continued his education at St. Louis University where he received his Juris Doctor and a certificate in health law. Hartig currently serves as Chief Executive Officer of Hartig Drug Company, a local, family-owned and operated group of pharmacies located in the Iowa, Wisconsin, and Illinois tri-state region. Prior to Hartig's role as CEO of Hartig Drug, he served as vice president and general counsel of Hartig Drug responsible for all aspects of the pharmacy and legal strategies. Hartig also served in roles of increased responsibility as a senior legal counsel for CVS Health and counsel with Omnicare, Inc. both industry-leading, Fortune 500 companies in the pharmacy industry.
Hartig is an active member on Drake's College of Pharmacy National Advisory Council. Other committees he serves on include the Board of Hilcrest Family Services, Hills & Dales, and American Society for Consultant Pharmacists.
Young Alumni Loyalty Award – Adam Kaduce, BN'09, LW'12
Honors alumni, age 40 or younger, for commitment and dedicated service to Drake.
Adam Kaduce, BN'09, LW'12, is the managing director and senior vice president of R&R Real Estate Advisors. He is consistently recognized for being a top producer in his field, and most recently was inducted into the Midwest Real Estate Hall of Fame. Kaduce is a dedicated and loyal Bulldog who serves as a mentor and role model for students. Currently, he serves as chair of the College of Business and Public Administration National Advisory Council. In previous years, he led the Adams Leadership Institute's National Advisory Council and taught courses in professional communication in the College of Business and Public Administration. Beyond his commitment to his alma mater, Kaduce is an engaged member of his community, serving on the ChildServe ambassador committee, Urbandale Capital Improvement Projects committee, Des Moines AM Rotary Club, and Urbandale City Council, to name just a few. Kaduce has been named to the Fifty Under 40 list by Real Estate Forum Magazine, the People to Watch list by the Des Moines Register, and an honoree on Business Record's Forty Under 40 list.