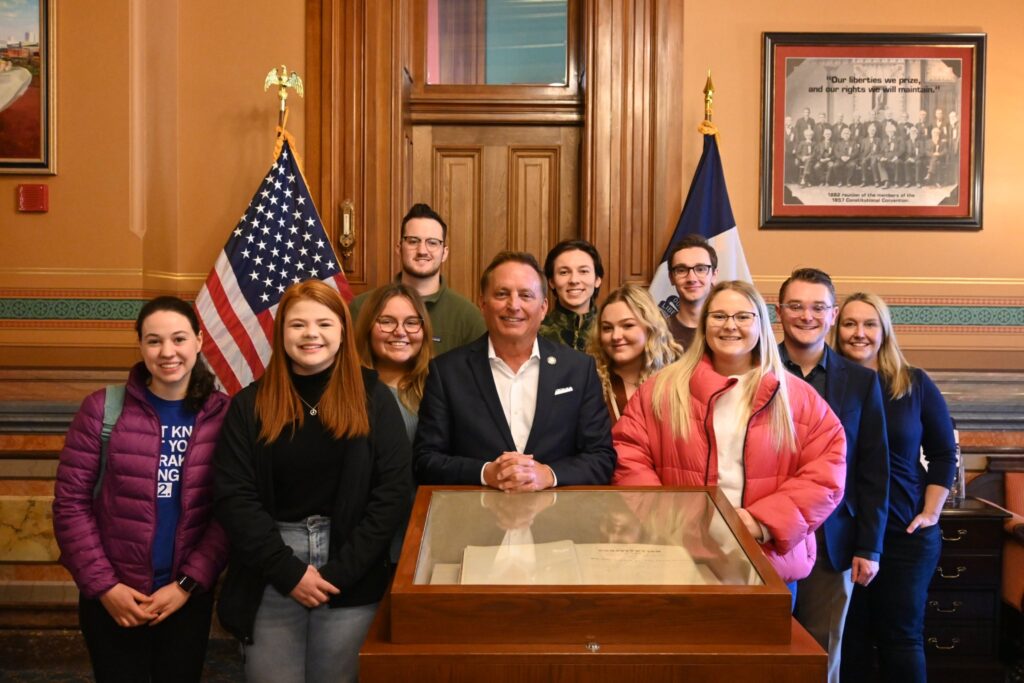 BSC names 2022-23 student media leaders
The Board of Student Communications, which runs campus media, has announced next year's student media leaders:
Drake Broadcasting System: President Elizabeth Hatch
Drake Political Review: Co-editors-in-chief Hayden Wittrock and Grace Long
Drake Magazine: Editor-in-chief Annie Peterson
DUiN: Editor-in-chief Carl Yaeger
Periphery: Editor-in-chief Anna Richardson
Times-Delphic: Editor-in-chief Grace Altenhofen
SJMC prepares for renovation, relocation
SJMC faculty, staff and student organizations are preparing for the yearlong renovation of Meredith Hall. The renovation, which will include upgrades to heating and cooling, plumbing, electrical and technology systems, will require the building to be closed through the 2022-23 academic year. Meredith Hall must be vacated beginning June 1. SJMC faculty and staff offices, student media organizations and the School's electronic media facilities will be relocated to vacant Drake-owned buildings on 25th Street near the historic Varsity Theater across from campus. Spaces are being refurbished to accommodate a studio and control room, podcasting booths, a computer lab and classroom, and meeting spaces. Faculty and staff are happy we'll be together in the same "home" space, and committed to recreating the same great SJMC experience for our students in a new location. Keep an eye out for photos and an "open house" in fall 2022!
Paid student positions available: Students who are available throughout May to help pack up Meredith Hall and prepare for the relocation are encouraged to contact Dean Kathleen Richardson (kathleen.richardson@drake.edu) for details.
SAB seeks applications for 2022-23 Executive Board
Drake University's Student Activities Board is the largest event-planning organization on Drake's campus. The SAB has a number of programming and marketing positions open (including Marketing, Graphic Design, Public Relations and Digital Media) for the upcoming year. The board is looking for eager, hard-working and creative individuals to fill them. These positions are open for the 2022-23 academic year. If you have any questions, email current SAB president maddie.haun@drake.edu or the SAB email at sab@drake.edu.
To apply, visit https://linktr.ee/drakesab , or follow this link: https://qfreeaccountssjc1.az1.qualtrics.com/jfe/form/SV_5p94Rn1uoaZmBrE
Applications are due by midnight on Friday, April 15.
Hall-of-Fame broadcasting exec to speak
Drake's chapter of the American Marketing Association is hosting a special guest speaker, hall-of-fame television broadcasting executive Ray Cole, at its monthly meeting on Wednesday, April 13 at 9 p.m. in Aliber 101. Cole will discuss his book, Hangin' with Winners: A Lifetime of Connections, Anecdotes and Lessons Learned. All Drake students, alumni, faculty, staff and supporters are welcome to join the AMA chapter members to hear the president and CEO of Citadel Communications share his experiences engaging with iconic leaders and changemakers in television, politics and philanthropy, including Jimmy Kimmel, Diane Sawyer, Robin Roberts, Michael J. Fox and more.
Cole, a native of Iowa, will be speaking and taking questions at the April 13 meeting. The event is free and audience members will receive a free copy of "Hangin' with Winners" while supplies last.
48-hour Film Fest showcase
Mark your calendars for Sunday, April 24, 3-5 p.m. in Meredith 106! Drake Broadcasting System will be having a student showcase of the 48-hour Film Festival submissions and photography contest. Bring anyone you want, prizes will be given to the winners, and there will be a special drawing to win something. Movie snacks will be provided!
Any questions, please contact – savanna.bous@drake.edu.
Have a news item for the Memo?
The SJMC Monday Memo (and other days of the week as needed) is a newsletter to keep members of the wider SJMC community updated on School news, achievements, events and opportunities. If you have an item for the Memo, please send it to Dean Kathleen Richardson (kathleen.richardson@drake.edu) or SJMC webmaster and multimedia professor Chris Snider (christopher.snider@drake.edu). SJMC alums and other professionals can also subscribe to the Monday Memo via email here: http://eepurl.com/bPNbxn