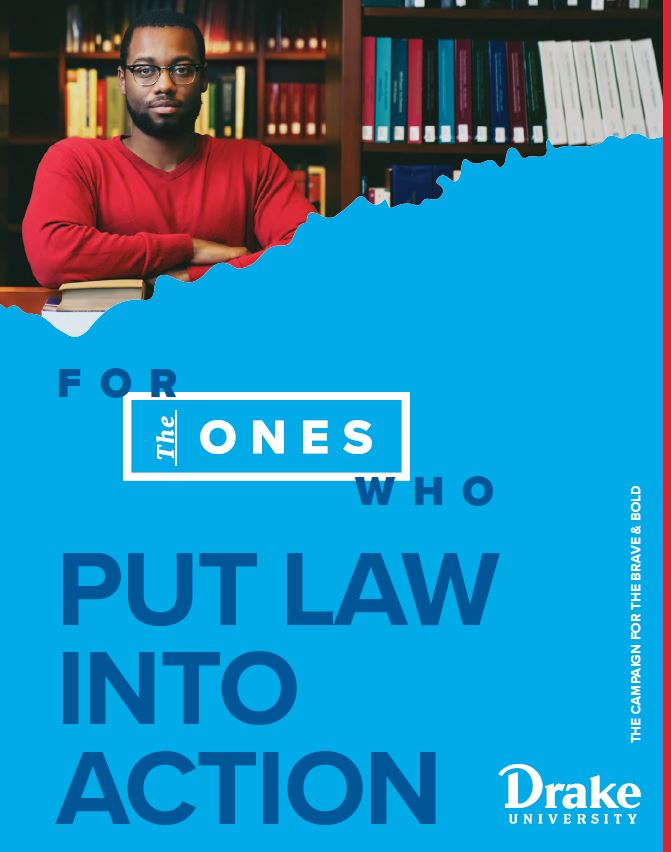 Drake University Law School announces that The Ones: Drake's Campaign for the Brave & Bold has raised $11.8 million against the $20 million Law School goal. Gifts will enhance the Law School's efforts to produce the next generation of outstanding Drake lawyers.
The Law School is celebrating several leadership gifts that will create new student scholarships, support clinical education, and establish an endowed professorship at the Law School.
"Thank you to the generous donors who have already contributed to the Law School through The Ones campaign," said Drake Law Dean Jerry Anderson. "These resources are absolutely crucial to our ability to keep student debt down while continuing to offer the highest quality legal education in an ever-changing environment. Alumni support affirms the excellence of a Drake Law education."
Leadership gifts to the Drake Law campaign so far include the following:
Sheldon (LW'75) and Terry Fleck (PH'74) have contributed $1 million to create the Sheldon T. and Terry K. Fleck Endowed Law Scholarship. The Fleck Scholar Program provides one renewable, full-tuition merit-based scholarship plus an annual stipend for an entering student each year. The Flecks have provided for two scholarships to be awarded in the inaugural year. In addition to the endowment, the Flecks intend to make annual contributions to fully fund this generous scholar program.
Karen Shaff, LW'79, and Steven Jayne, LW'78, have pledged $1 million to endow the Drake Law School Refugee Clinic. Through the Refugee Clinic, second- and third-year Drake Law students develop important lawyering skills while providing free legal services to individuals who are applying for asylum in the United States and other forms of humanitarian relief. Karen and Steve have previously endowed a scholarship fund at Drake Law.
Hon. Mark Wernick (LW'75) and Nancy Entwistle have made an estate gift commitment to endow the Law Opportunity scholarship fund, which provides scholarships to support students from underrepresented backgrounds.
A lead gift from McKee, Voorhees & Sease, PLC, has established an endowed faculty position, the Edmund J. Sease Faculty Research Scholar. This position will honor the contributions of Ed Sease, LA'64, LW'67, to the Law School's Intellectual Property program. Mr. Sease practiced law for more than five decades with McKee, Voorhees & Sease, becoming one of the nation's premier intellectual property attorneys. He has also served as a long-time adjunct professor at Drake Law School, and was instrumental in creating the Intellectual Property Law curriculum.
The Ones campaign has gained tremendous momentum with these foundational commitments. To learn more about how you can join this effort, see TheOnes.drake.edu or contact Thomas Smith – thomas.smith@drake.edu.
# # #
About Drake Law School
For over 150 years, Drake Law School has helped launch successful careers, providing a legal education that emphasizes experiential learning backed by a solid foundation in legal theory. As the only law school in the capital city of Des Moines, students gain unparalleled access to internships, externships, and clerkships. Drake Law graduates leverage the experience gained from hands-on learning and are ready to put the law in action from day one, joining an alumni network of 6,000+ who use their law degree in all 50 states and across the globe—in every facet of the legal profession. Learn more about a legal education at Drake.