Educating the next generation of healthcare professionals in Iowa STEM classrooms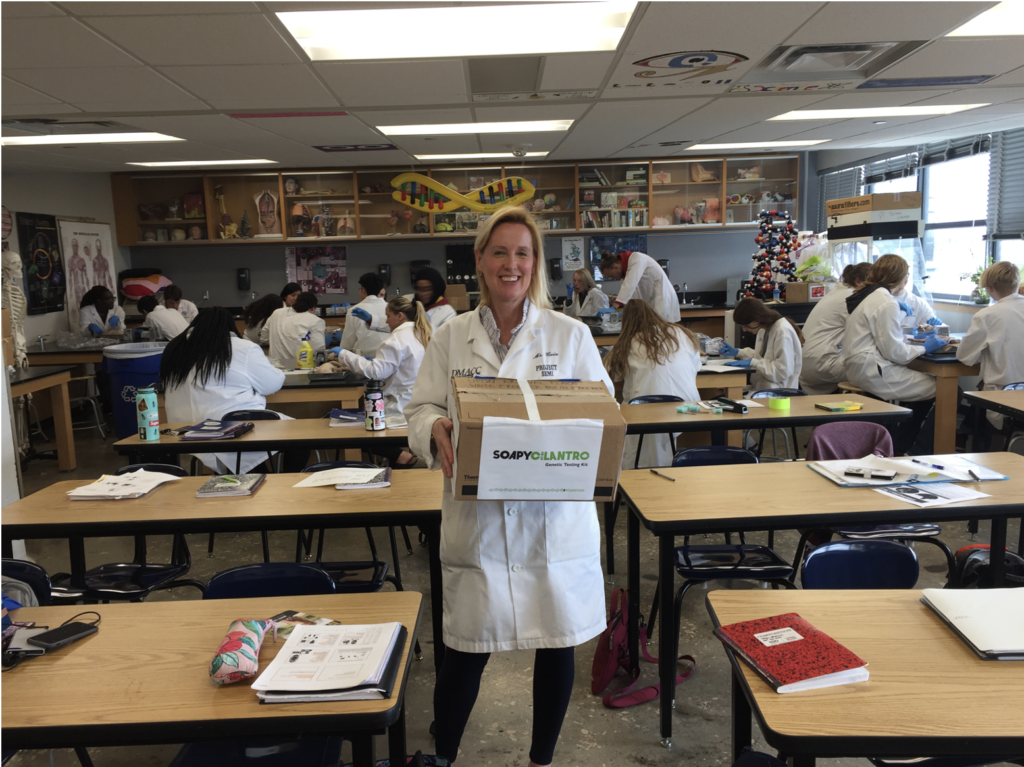 The Iowa Governor's STEM Advisory Council approved the College of Pharmacy & Health Science's proposal for 'SoapyCilantro: A Practicum for Hands-On Introduction of Iowa's Teachers and Students to Precision Medicine' under the STEM ScaleUp program. This marks the second academic year that the Soapy Cilantro program has been selected due to its design in educating and attracting Iowa's middle school and high school students (6-12 grades) to careers in health care. The student-centered practicum offers hands-on learning in Precision Medicine connecting genomics to human health and agriculture. Learners also gain experience in teamwork, communication, leadership, and time management. 
The Iowa-developed SoapyCilantro project based at Drake University is a culmination of four years of research and development funded primarily by four Curriculum Development grants from the Iowa Space Grant Consortium. Pramod Mahajan, professor in Drake University's College of Pharmacy and Health Sciences (CPHS), spearheaded the development and research for the program. The program consists of a week-long Continuing Education Workshop for Iowa's STEM teachers and a SoapyCilantro practicum kit for those teachers to train students at their schools. Each kit includes all required equipment, reagents, and a Teacher's Manual to conduct the practicum. Mahajan developed the educational kit in collaboration with Erin Ulrich, associate professor of social and administrative sciences 
The SoapyCilantro program also benefits students in the CPHS who are interested in research. The program is supported by undergraduate and graduate students who receive hands-on laboratory research training, learn how to design and conduct a scientific study, and learn important entrepreneurial skills needed for translating basic laboratory research into a product. 
In 2021, the first year of the SoapyCilantro program's inclusion in the Iowa STEM ScaleUp program, two teacher training workshops were held with 23 teacher attendees and the production of 68 SoapyCilantro kits for use in middle and high school STEM classrooms. At the end of the first ScaleUp year (June 2022), the SoapyCilantro kits are expected to have been used by more than 1500 students in 19 Iowa counties. The second year is expected to reach more students. Dr. Mahajan hopes to bring the SoapyCilantro program to all 357 school districts in Iowa. 
"I am particularly happy that the SoapyCilantro project has been approved for the second year," said Mahajan. "This indicates the faith of the STEM Advisory Council as well as Iowa's STEM teachers and students in the potential of this project as an educational tool. It is especially gratifying to see the growth of this project in Iowa at a time when the thought leaders across USA are searching for ways to bring equity in STEM education. By enabling STEM teachers and students in small towns across Iowa to connect cutting edge molecular sciences with human health, our project has embarked on a revolution to bridge the rural-urban disparity in STEM education."