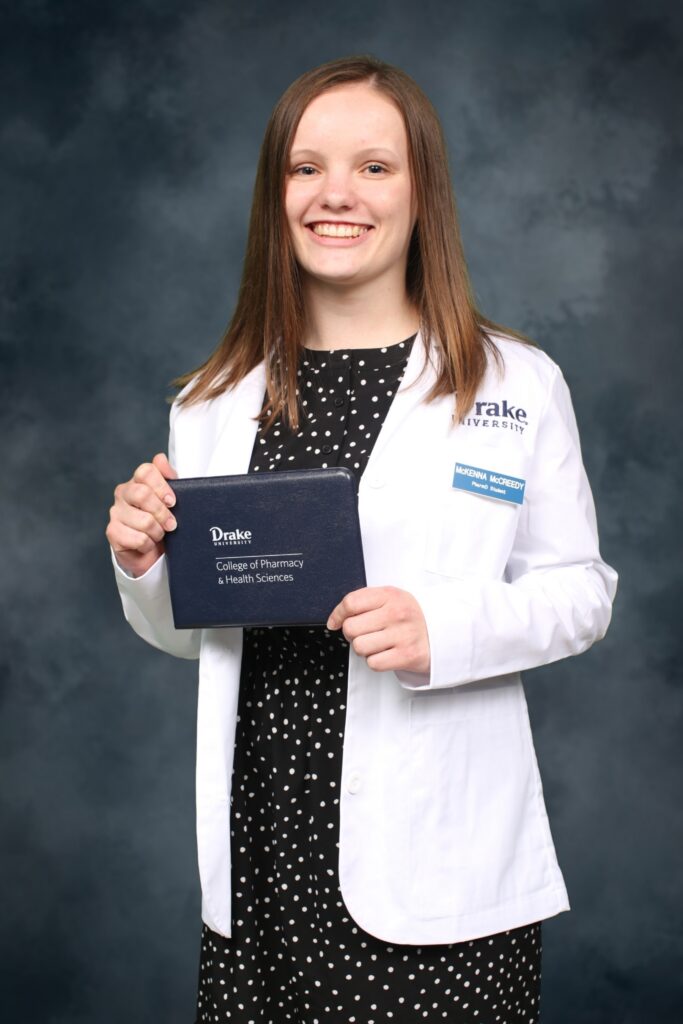 McKenna McCreedy, a third-year student pharmacist, was awarded the inaugural Joe and Gordon Alexander Pharmacy Scholarship. This scholarship recognizes a student pharmacist within Drake University's College of Pharmacy and Health Sciences (CPHS) who is from rural Iowa and plans to return to rural Iowa health following graduation.
McCreedy is from Tiffin, Iowa, and plans to return to rural Iowa after graduating in 2023. At Drake, she is a member of the American Pharmacists Association – Academy of Student Pharmacists (APhA-ASP) and is a CPHS Ambassador.
"As someone who has lived in Iowa my entire life and prides myself on the kindness and generosity that comes with being an Iowan, I feel it is my duty to commit myself to a career that involves helping others and giving them the best care," said McCreedy. "Receiving the Joe and Gordan Alexander Scholarship is helping me pursue that dream! Thank you to Gordon Alexander for your generosity and support of my education."
The Joe and Gordon Alexander Endowed Pharmacy Scholarship is funded by the generosity of alum Gordon Alexander, PH'72, a third-generation pharmacy owner of Alexander Pharmacy in Montezuma, Iowa. Three generations of Alexanders — R.S., Joe, PH'39, and Gordon, owned Alexander Pharmacy from 1919 until 2008. Other pharmacists in the Alexander family include Joe's brother, Ned, and his other son, Bruce, PH'74.  
"We are thankful for the support of alumni like Gordon who wish to honor their family's legacy and create scholarships for students like McKenna," said Renae Chesnut, dean of the College. "The Alexander legacy will live on as future generations of students are able to pursue rural health pharmacy careers."