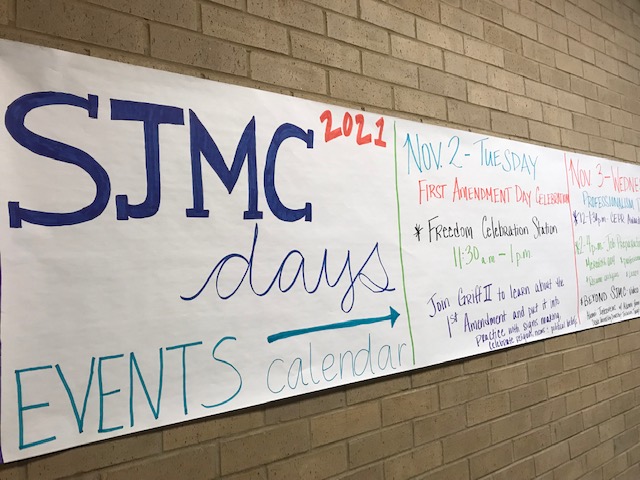 "We've been dealing with injustice in so many places, for so long. And if you try to dissect, why is this still here?, it's because people haven't had enough hope and confidence to believe that we can do something better. Hope is our superpower. Hope is the thing that gets you to stand up when others say, Sit down. It's the thing that gets you to speak when others say, Be quiet."
— Bryan Stevenson, human rights lawyer, founder Equal Justice Initiative and the National Museum for Peace and Justice
Sign up for Diversity Career Fair
Drake Professional and Career Development Services is hosting a virtual Diversity Career Fair on Friday, Nov. 12, 10 a.m.-2 p.m. The event will allow students of all levels to network and recruit with companies across a variety of industries. Not sure what we mean by "diverse students"? Check out https://www.drake.edu/career/culturalandidentitybasedresources/

The Virtual Diversity Career Fair will be held on Handshake. We encourage you to engage with as many employers as you like during the event. You may do so by signing up for group or 1:1 sessions with employers. Sign up in advance to ensure you are able to speak with the maximum number of employers.
Prepare for the event:
Research the companies attending.
Wear business casual or business attire.
Create and update your Handshake profile.
Familiarize yourself with Handshake and the event format.
Double check your technology in advance.
Registration closes when a session begins or reaches capacity. Check out this article to learn how to register and prepare: https://support.joinhandshake.com/hc/en-us/articles/360049934274-Virtual-Fairs-Student-Experience
Student Alumni Association hosts SJMC alum
The Drake Student Alumni Association is hosting a virtual Table for Ten event with John and Jill Farmer on Tuesday, Nov. 9 at 7 p.m. Jill Farmer, JO'91, is an Emmy Award-winning TV news anchor, journalist and bestselling author, and John Farmer, AS'92, is the vice president of litigation for Charter Communications. This event is an opportunity for current Drake students to network with prominent Drake University alumni and to ask questions about their education, career and life.  The theme of this Table for Ten is law and journalism, so Journalism/Law 3+3 students may be particularly interested in attending. Additional information and a Zoom link will be sent out closer to the event date.  The link to register can be accessed here: https://forms.gle/LTo9U3ECU2cN9rUN8
Want to write for the Times-Delphic
Calling all sports enthusiasts and newspaper writers! The Times-Delphic is looking for more students to write for the sports section. We write mainly about Drake/Des Moines athletics, but you are also free to write about anything sports related that is happening elsewhere if it is relatable to Drake in some way. No previous experience is needed and if you haven't written before we will help you as well. If you are interested in writing for the sports section or the TD in general please contact lia.reichmann@drake.edu.
SJMC professor publishes book on responsible management
Dr. Eric Kwame Adae, assistant professor of public relations, headlines a team of co-editors to publish a new book on responsible management.
A part of Palgrave-Macmillan's Sustainable Development Goals Series, Responsible Management: A Multisectoral Focus is in direct response to the dearth of literature on responsible management in emerging markets. It discusses diverse themes at the intersection of corporate social responsibility, green business and sustainability management.
This volume focuses on how businesses, nations and continents across the globe can actualize a sustainable paradigm, now and in the future. It offers fresh theoretical, policy and managerial insights into the complex processes and relationships that mediate businesses' ability to deliver on their social development promise, through sustainability and green initiatives.
Copies are available at:
https://link.springer.com/book/10.1007/978-3-030-76563-7#about
https://www.barnesandnoble.com/w/responsible-management-in-emerging-markets-eric-kwame-adae/1139314206
International Education Week celebrated Nov. 15-19
International programming and global engagement will be celebrated Nov. 15-19. Planned events include information sessions about global service learning, Working Worldwide, DU Spain 2023, study abroad and an International Night. Details can be found at https://calendar.drake.edu/ieweek.
Have a news item for the Memo?
The SJMC Monday Memo (and other days of the week as needed) is a newsletter to keep members of the wider SJMC community updated on School news, achievements, events and opportunities. If you have an item for the Memo, please send it to Dean Kathleen Richardson (kathleen.richardson@drake.edu) or SJMC webmaster and multimedia professor Chris Snider (christopher.snider@drake.edu). SJMC alums and other professionals can also subscribe to the Monday Memo via email here: http://eepurl.com/bPNbxn