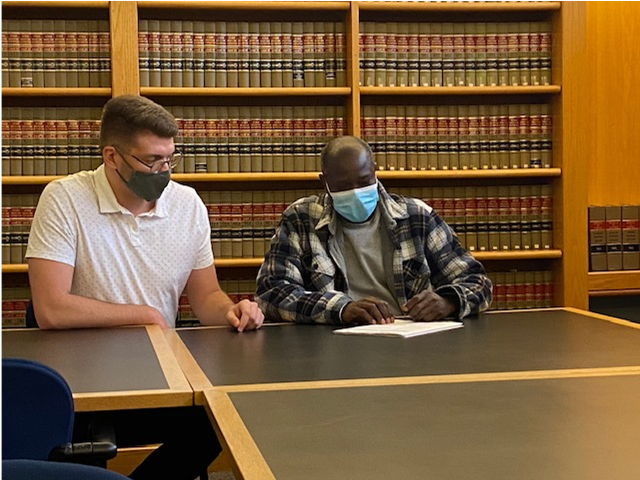 Drake University Law School's Refugee Clinic partnered with Iowa Migrant Movement for Justice and Lutheran Services of Iowa to help resettled refugees clear the last hurdle in their immigration journeys. Students assisted clients in completing applications for citizenship and submitted them on their client's behalf. All applicants had already completed a citizenship class taught by Lutheran Services of Iowa. The class covered naturalization exam questions and language requirements for citizenship.
The Drake Refugee Clinic offers second and third-year students the opportunity to engage in direct client representation on behalf of non-citizen applicants for asylum and other forms of humanitarian relief. The clinic receives referrals from non-profit organizations across the state of Iowa, including Iowa Migrant Movement for Justice (Iowa MMJ).
"Working with the Refugee Clinic was the best experience I had at Drake Law," said Nathan Sandbothe, one of the student attorneys working on the project. "It reminded me of why I wanted to be an attorney."
Ann Naffier, managing attorney for Iowa MMJ, said the project made a big difference in her clients' lives. "It was a pleasure working with Drake Law students on our naturalization project. Students met with naturalization applicants, researched any legal issues, prepared the naturalization applications and accompanying evidence, and did follow-up work with the clients, all under the supervision of Drake Law Clinic faculty and Iowa MMJ attorneys. Our clients were very happy with the service they received, and deeply grateful for the help in their immigration journey."
"The Refugee Clinic helps address a significant need for legal services in our community," said Suzie Pritchett, the clinic's director. "The opportunity to partner with groups like Iowa MMJ enhances the hands-on legal experiences for our students while improving the lives of people in our immigrant communities."
Learn more about the Refugee Clinic at Drake Law here.