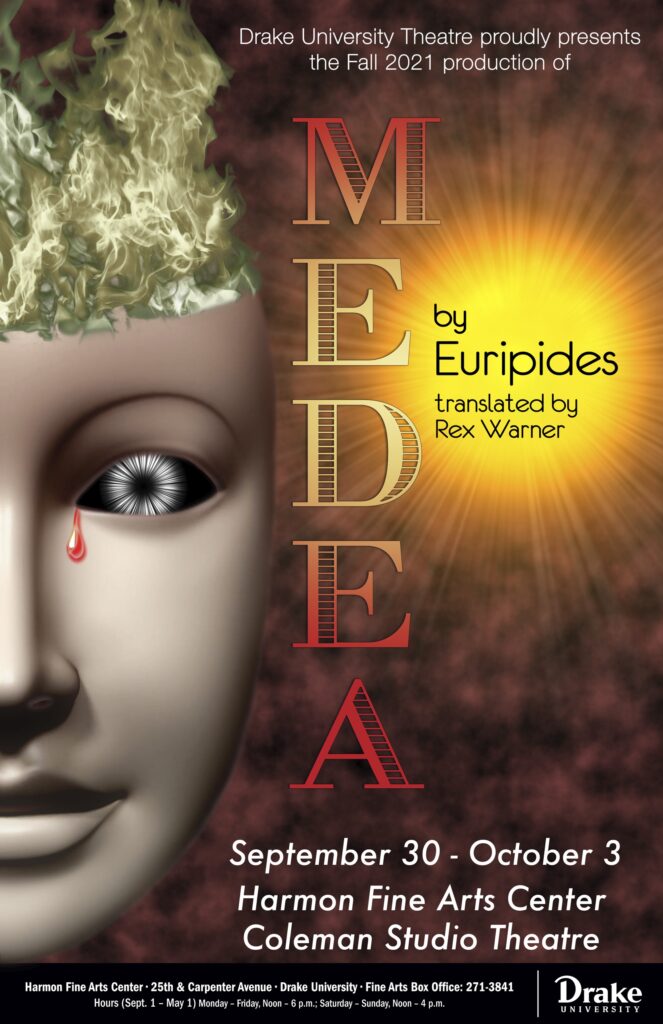 Drake University Theatre presents its production of the Greek tragedy Medea by Euripides Sept. 30–Oct 2. at 7:30 p.m. and Oct. 3 at 2 p.m. in the William S.E. Coleman Studio Theatre of the Harmon Fine Arts Center at Drake University.
Medea will be the first production open to the public at the Harmon Fine Arts Center since the start of the COVID-19 pandemic. Face coverings will be required for all audience members during the show. Tickets can be purchased online or by calling 515–271–3841.
Drake Theatre student Emma Tonn who plays the role of Medea expressed her excitement for a return to live theatre.
"Seeing the theatre community rally together during the COVID-19 pandemic to explore and create new ways to perform virtually has been really interesting, but for me, nothing will replace live theatre," said Tonn. "Even if you're not addressing an audience directly, the energy of simply being in the same room and getting live reactions is what makes theatre theatre."
Medea tells a story of passion and rage as Medea plots to seek revenge on her husband, Jason, who has betrayed her by sleeping with another woman.
Tonn views her character as a symbol of gender inequality. A message she has discovered in this classical text that still has meaning in modern times.
"One of my character's recurring arguments is the inequality of women, which is still incredibly present today," said Tonn. "I have these grand monologues that I use to persuade and get other characters on my side, and I think most of those points will ring true for a lot of people in the audience."
Actor Nico Mohammadi plays the role of Creon while also serving as the production's Dramaturg. Mohammadi elaborated on his trip to Greece and extensive research process for this play.
"Being able to delve deeper into my research and even go into Greek libraries over my trip this summer and get firsthand research was astounding," he said. "It's very grounding to know almost everything that happens in the show; it allows me to assist my fellow actors if they have questions about the story or their characters."
Due to the ongoing pandemic, and the help minimize the spread of COVID-19, Michael Rothmayer, associate professor of theatre arts at Drake University and director of Medea, has found a unique way to produce Medea while adhering to the University's face coverings policy.
"We will be using masks that cover the actors' faces entirely," said Rothmayer. "The nostrils within the mask are closed and the open mouth portion of the masks will be covered with cloth mask material in compliance with COVID-19 mask protocols."
Tonn emphasized the importance of coming to see Medea, not just for the return of live theatre at Drake, but to see one of the most innovative and timeless plays ever written.
"People should come see Medea because it's an opportunity to see a style of theatre that isn't super common, but don't be intimidated," said Tonn. "The translation is very understandable, and the show is quite action-packed and dramatic, so we will be sure to keep you entertained."