SJMC welcomes students back to campus with fun activities!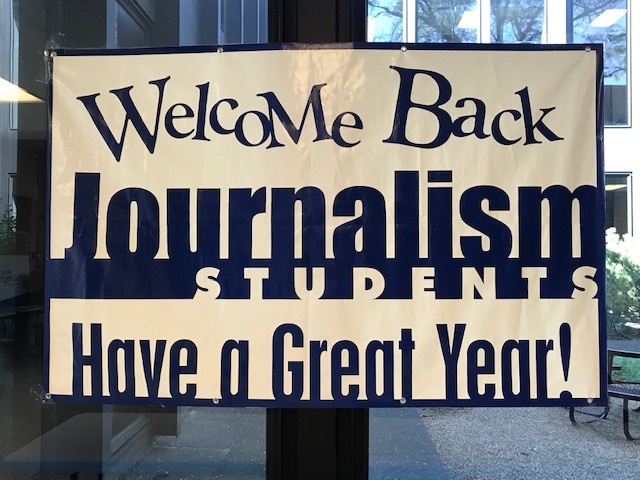 Win SJMC swag in our scavenger hunt
Participate in this week's Meredith Hall scavenger hunt and be entered into a drawing to win SJMC swag!
Entries due Tuesday, Sept. 7.
If you're on campus, look for distinguishing aspects of the SJMC highlighted in this week's Meredith Hall scavenger hunt. As you find the objects of the clues, please post a selfie tagging @DrakeJMC and using the hashtag #DiscoverDrakeSJMC. Participants who find and post all 10 items will be entered in a drawing for prizes, including SJMC notebooks and Drake mugs. We will announce winners after Sept. 7. Good luck!
In SJMC, the First Amendment is at the heart of everything we do. Where can you find the First Amendment in Meredith Hall? (It's in three different places — find one!)
Our goal in SJMC is to become your "mentors for life." Which SJMC mentor has a pet collage posted outside her office?
Many SJMC classes involve learning through service to our community and clients. Where can you record a podcast or read for IRIS (the Iowa radio reading service for the blind)?
We offer six award-winning majors in SJMC. Find an impressive array of American Advertising Federation Awards.
An SJMC education combines liberal arts with professional training. Where can you find "10 Tips" for building a sterling public relations career?
Our unique Strategic Political Communication major takes advantage of Drake's front-row seat to national politics. Where is the CNN plaque commemorating Drake's role in hosting a presidential debate?
Drake's Magazine Media program is widely recognized as the best in the nation. Find the latest issue of Drake Mag.
Where is the office of Drake's own student newspaper, established in 1884?
Find the Drake Broadcasting System (DBS) office and home of "The Dog" Radio. (Tip: They proudly call themselves "the basement dwellers" for a reason!)
A Drake SJMC education is characterized by hands-on, experiential opportunities. Where is the SJMC Internship Coordinator's office?
Congratulations to our national PR stars!
Congratulations to the members of the Drake chapter of the Public Relations Student Society of America, which was recognized as a national "star chapter" for the eighth year in a row.
Save-the-date: Thursday, Sept. 9, SJMC welcome activities
Kick off the school year at an SJMC ice cream social on Thursday, Sept. 9, 12:15-2:15 p.m. (as long as supplies last) outside the west door of Meredith Hall. If weather cooperates, we'll also have sidewalk chalking patterned after Drake's iconic street painting. Come promote the SJMC and/or your favorite BSC organization. Then, 1:30-3:30 p.m., join the walk-by reception with SJMC faculty and staff and welcome the newest member of our faculty: Dr. Ryan Stoldt, assistant professor of advertising.
Get involved with campus activities fair
The Drake activities fair will be held on Thursday, Sept. 2, 3-6 p.m. in upper Olmsted Center. Check out the booths for student media and all the other interesting student organizations.
Virtual resume critique drop-in sessions this week
Have your resume ready to share when you join the meeting with a member of Drake's Professional and Career Development Services team or a local employer. You will be entering in a Zoom waiting room and moved into a breakout room when it is your turn. You will be asked to share your screen with your resume. Resume reviews will be limited to 10-15 minutes, so be ready to take notes! Open to all majors.
Wednesday, Sept. 1, 10 a.m.–3 p.m. CDT: https://drake-edu.zoom.us/j/89114332734?pwd=ZzErSnY1dVhKL3FjNHNkei94ZnNzUT09
Electronic media checkout to open
Electronic media equipment checkout will open for the semester on Monday, Sept. 13, in Meredith Room 1, the large room in the basement at the bottom of the west stairwell. Hours of operation will be: Monday through Thursday, 11 a.m.- 6 p.m., and Friday, 11 a.m.-4 p.m. Checkout is closed on the weekend. Equipment is available for SJMC class projects only and may be checked out on a first-come, first-served basis for up to four hours.
In addition, there are still paid jobs available for students interested in working in checkout. Email SJMC multimedia engineer Ray Fredregill (ray.fredregill@drake.edu) to apply.
How to reserve a room in Meredith Hall
Students interested in reserving rooms in Meredith Hall for meetings and other gatherings should email SJMC administrative assistant Denise Ganpat (denise.ganpat@drake.edu) or visit her in the SJMC dean's office, Meredith Room 118.
Meredith Hall building hours for fall semester
Meredith Hall is unlocked Monday through Friday from 7 a.m. to 10 p.m., and Saturday and Sunday from 7:30 a.m. to 6 p.m.
Have a news item for the Memo?
The SJMC Monday Memo (and other days of the week as needed) is a newsletter to keep members of the wider SJMC community updated on School news, achievements, events and opportunities. If you have an item for the Memo, please send it to Dean Kathleen Richardson (kathleen.richardson@drake.edu) or SJMC webmaster and multimedia professor Chris Snider (christopher.snider@drake.edu). SJMC alums and other professionals can also subscribe to the Monday Memo via email here: http://eepurl.com/bPNbxn