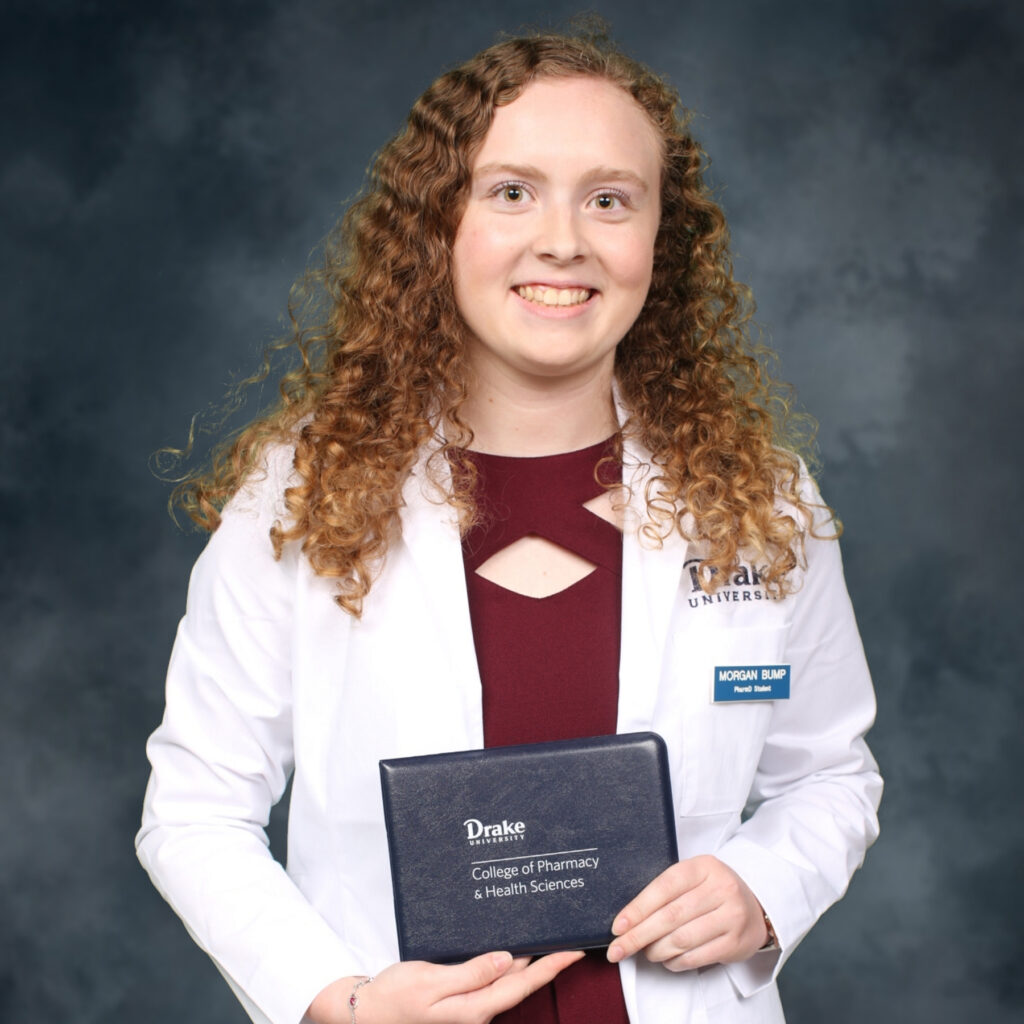 Morgan Bump, third-year student pharmacist, was awarded the inaugural Loretta M. and Thomas M. Pursel Sr. Family Pharmacy Scholarship. This scholarship recognizes a third- or fourth-year student pharmacist within Drake University's College of Pharmacy and Health Sciences (CPHS) who meets one of the following criteria: 1) exhibits leadership experience within a national pharmacy organization, 2) is a military veteran or current member of the military/guard, and/or 3) is a single parent. 
Bump has exhibited leadership in national pharmacy organizations. She is a member of the national pharmacy fraternity Phi Delta Chi (PDX), serving as the Synergist Chair and Worthy Inner Guard. As the Synergist Chair, Bump led a committee responsible for documenting the fraternity's activities throughout the year and worked on the Porcelain Prescription, a monthly PDX publication about health topics. As the Worthy Inner Guard, she led the fraternity's ritual activity and history. She is also a member of the American Pharmacists Association Academy of Student Pharmacists, serving as the current Fundraiser Co-Chair.
Bump is also a member of the Sigma Alpha Lota music fraternity and has held the positions of Recording Secretary and Co-Chair of Run for Pie, an annual philanthropy event meant to raise money for local music programs.
"I am honored to receive this scholarship, and so grateful for the generosity of the Pursel family," said Bump. "This scholarship will help support me through my last few years in pharmacy school, and bring my goal of becoming a pharmacist closer."
The Pursel Pharmacy Family Scholarship was created in honor of the late Loretta M. and Thomas M. Pursel Sr., BN'83, BN'84. Pursel Sr. served in the United States Navy for 30 years and retired as a Commander in 1979. After retiring from the Navy, he continued his education at Drake University, earning his bachelor of science in business administration and master of business administration (MBA) degrees from the College of Public and Business Administration (CBPA). He also worked at Drake as the Director of Graduate Programs for the CPBA, retiring in the mid 1990's.
The Pursel family has a deep legacy at Drake University with their sons, Thomas Jr. and Mike, both receiving bachelor of science in pharmacy degrees in 1976 and 1979, respectively. Mike also received a master of business administration from the CPBA in 1984. Mike's spouse, Teresa, received a bachelor of science in pharmacy degree in 1983.
"After having taught at Drake and putting two sons through the pharmacy program, my dad knew the personal and economic burdens that were placed on students," said Mike Pursel, son of Thomas Sr. and Loretta Pursel. "Our parents wanted to create this scholarship to help students who showed a personal drive to succeed."