Drake's College of Business and Public Administration is pleased to announce the arrival of two new tenure-track faculty members. Kent Hu and Jayoung Yoon will become members of the full time faculty on August 1. Assistant Professor of Accounting Hu joins Drake's School of Accounting to teach courses in financial accounting and managerial accounting. Assistant Professor of Finance Yoon joins the Finance Department faculty to teach corporate finance and fintech courses.
"Drs. Hu and Yoon are accomplished educators and scholars, and they bring significant academic and professional experience to Drake's business school," said Alejandro Hernandez, dean of the College of Business and Public Administration. "They also bring diverse global perspectives that will infuse our college with new ideas and energy."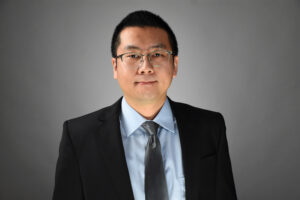 Dr. Hu, a native of China, holds a Bachelor of Management in Accounting from Sichuan University in China, and a Master of Business Administration and Accountancy from Oregon State University. He earned his Ph.D. of Business Administration in Accounting from Oklahoma State University. His research interests include voluntary disclosures, sentiment analysis, capital structure, and international accounting. Before beginning his academic career, Dr. Hu worked at China Merchants Bank as a corporate account manager and also worked in public accounting, restaurant, and consulting industries.
Dr. Yoon, a native of Korea, received her Ph.D. in finance from University of Cincinnati. She earned a Master of Arts in Economics from University of Pittsburgh, and Master of Arts in Economics and Bachelor of Arts in Economics degrees from Yonsei University in Korea. Her research interests are in areas of corporate finance, especially in R&D and innovation as well as valuation and international finance.
Learn more about the College of Business and Public Administration faculty here.