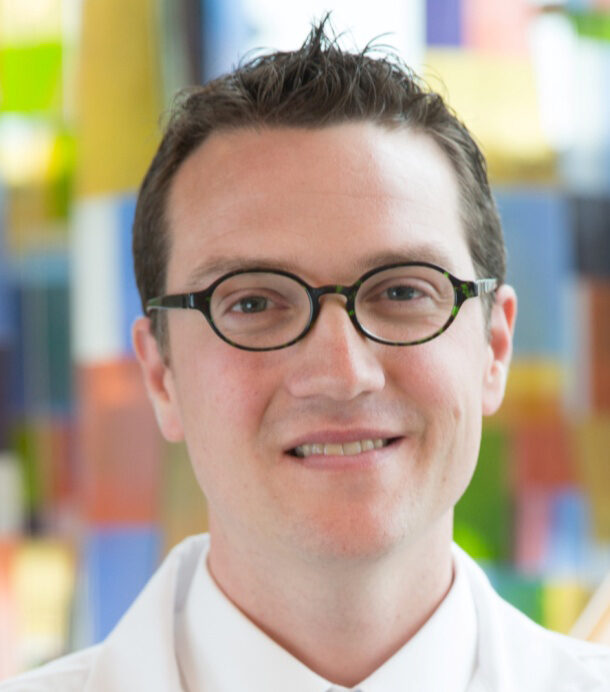 Governor Kim Reynolds has appointed Erik Maki, associate professor and clinical sciences department chair in the Drake University College of Pharmacy and Health Sciences (CPHS), to a three-year term on the Iowa Board of Pharmacy, effective May 1, 2021.
An Iowa native, Maki received his PharmD in 2003 from the University of Iowa and completed an ASHP accredited specialty residency in pharmacotherapy at Texas Tech University. Maki joined the faculty of CPHS in 2005 and has served on numerous committees at the College and University level, most recently including the College Administrative Committee, Admissions Committee, and DELTA Rx Faculty Board, and has been elected to the University Faculty Senate for three terms. He was named the Faculty Preceptor of the Year in 2017, and in 2021, received the college's Richard Morrow Transformational Leadership Award and the University's Madelyn Levitt Distinguished Community Service Award.
Maki is also highly involved in the pharmacy profession through organizational membership and leadership. He is a member of AACP, serving on the Pharm4Me Champions Advisory Committee, Council of Faculties Faculty Development Committee, and the Leadership Development SIG. He completed the Academic Leadership Fellows Program in 2017-18. Maki also previously served as the Legislative Committee Vice Chair of the Iowa Pharmacy Association (IPA), on its Board of Trustees, Health Systems Advisory Board, Policy Committee on Professional Affairs, and several terms in the House of Delegates. In 2016, he received the IPA Health Systems Pharmacist of the Year Award.
Most recently, Maki worked with the Polk County Public Health Department and Hy-Vee to organize weekly vaccination clinics on Drake's campus throughout the spring of 2021. From January to May of 2021, more than 10,000 doses of the vaccine were administered to Polk County Iowa residents. Previously, Maki spearheaded the COVID-19 testing of students at Drake University as they moved to campus in the fall 2020 and spring 2021 semesters and assisted the University in the surveillance testing of students throughout the academic year.
"I am honored to serve the citizens of the state of Iowa and the pharmacy profession through my appointment to the Board of Pharmacy." said Maki. "I look forward to working with the other Board members and staff to fulfill the Board's mission."
The mission of the Iowa Board of Pharmacy is to promote, preserve, and protect the public health, safety, and welfare by fostering the provision of pharmaceutical care to all Iowans through the effective regulation of the practice of pharmacy, the operation of pharmacies, the appropriate utilization of pharmacy technicians, the distribution of prescription medications and devices, and the education and training of pharmacists.
"We couldn't be more proud of Dr. Maki's appointment to the Iowa board of pharmacy," said Renae Chesnut, dean and professor for the College of Pharmacy & Health Sciences. "This appointment recognizes his work ethic, leadership, and impact on the profession and citizens of Iowa."