Drake University College of Pharmacy and Health Sciences (CPHS) held two separate annual Recognition and Pinning Ceremonies on Thursday, May 6, 2021, to accommodate for COVID-19 safety guidelines on campus. The ceremonies marked the transition to final year internships, fieldwork, and rotations for third-year undergraduate health sciences students, first-year master of athletic training students, second-year occupational therapy doctoral students, and third-year doctor of pharmacy students.
To assist the students with their transition from their course work to their program's final year of experiential learning, Erik Maki, clinical sciences department chair, provided advice on how to be a transformational leader. Dr. Maki was the recipient of the College's 2021 Morrow Transformational Leadership Award.
During the introduction of each student, Drake CPHS name badges and pins were awarded to students moving into their final program experiences. The college's pin is in the shape of a shield with the name of the student's degree program, which serves as a reminder of their program's professional values and competencies. The line with the Drake 'D' in the center circle serves as a reminder that the students are always representatives of the Drake University College of Pharmacy & Health Sciences.
"We recognize the hard work and dedication that students have achieved to reach this point in their academic careers," said Renae Chesnut, dean of the college of pharmacy and health sciences. "This ceremony commemorates the milestone that our students have reached in entering their final year of experiential education."
Recordings of both Pinning and Recognition Ceremonies can be viewed at https://www.drake.edu/cphs/pinning-ceremony/.
During the ceremony, Dean Chesnut announced the recipients of several prestigious awards.
Health Sciences Awards
Fiona Roehrs, a junior health sciences student, was presented with the Outstanding Health Sciences Student Award. Recipients of this award have excelled in their coursework and have been active in University and College professional organizations and activities. Roehrs is a founding member and current President of Drake's Chapter of Doctors without Borders, serves as Co-Executive Director for Dance Marathon, and hold the Health Sciences Student Governance Association seat for the junior class. While managing many co-curricular experiences, this student also maintains a high academic profile with minors in biology chemistry, and a concentration in Global and Comparative Public Health. She has been recognized repeatedly on the Drake University President's List.
Fiona Kearns, a junior health sciences student, received the Health Sciences Student Leadership Award. Kearns is one of the most active student leaders in the College. She has been instrumental in providing leadership for HOSA: Future Health Professionals during a time of development and growth for the student organization and recruiting a strong executive committee for the upcoming academic year. Kearns also serves as a CPHS ambassador, assisting with a variety of recruitment-related events and projects such as participating in virtual visits and academic sessions. She is passionate about Drake, the health sciences program, and leading others through her mentoring roles.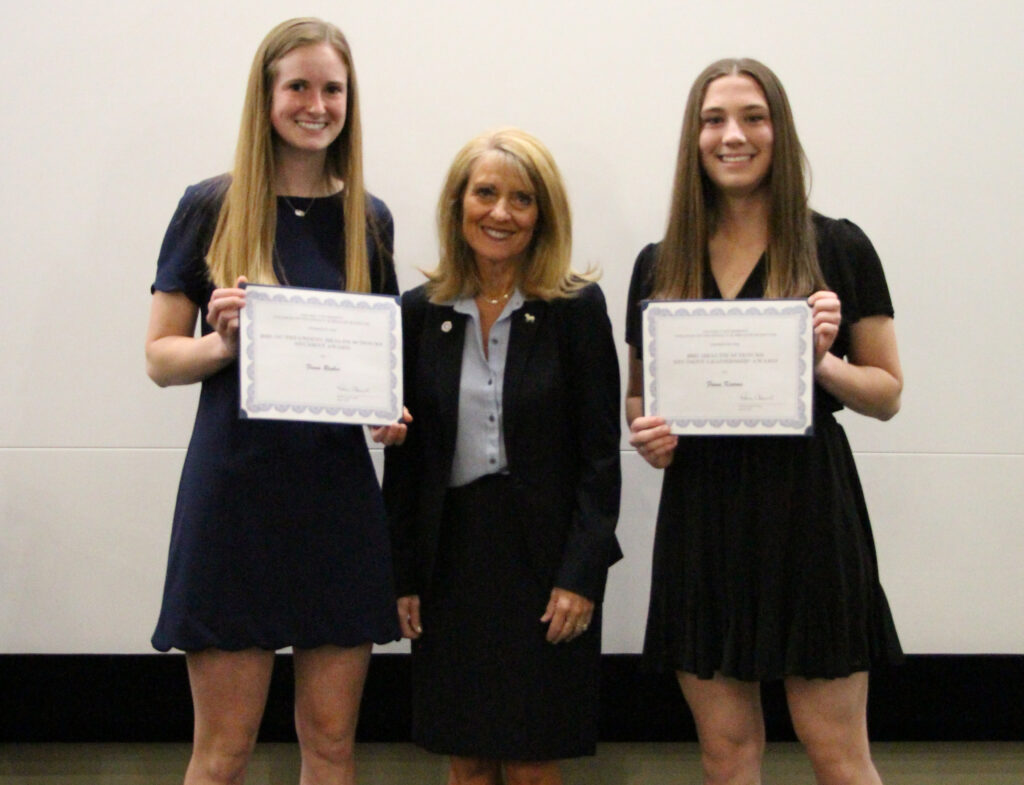 MAT Award
Aobakwe Malau, first-year master of athletic training student, won the Athletic Training Emerging Clinician Award. Recipients of this award demonstrate the qualities necessary to thrive in the practice of athletic training, a passion for applying classroom knowledge to practical exams and experiences, and the critical thinking and personal skills to be quick on their feet and respond positively to adversity and challenges that commonly occur in the field. Malau has had multiple preceptors comment on his work ethic, professionalism, clinical skills, and teamwork mindset, in addition to the qualities required for this award.
OTD Awards
Jacqueline Widmer, second-year occupational therapy doctoral student, won the Occupational Therapy Scholastic Achievement Award. Recipients of this award have excelled in their coursework, and their academic performance is in the top 25% of their class. Widmer is an enthusiastic learner who asks thoughtful questions in class to draw out insights and strives to help her peers learn as well. She has produced excellent work throughout her time in the program, has strong research skills, and advocates for the profession.
Branden Christensen, second-year occupational therapy doctoral student, was awarded the Occupational Therapy Leadership and Professional Development Award. Recipients of this award demonstrate drive to advance the profession of occupational therapy through leadership opportunities, publications, or involvement in professional presentations. Christensen demonstrates drive to advance the profession through leadership positions both in the OTD classroom and at the college level. As the president of Drake's Pi Theta Epsilon chapter, an honor society for OT students, he initiated a peer tutoring service and virtual volunteer activity with a local skilled nursing facility. Christensen was also a key contributor to a community design and thrive project that partnered Drake OTD students with Des Moines Public Schools.
PharmD Awards
Carissa Popp, third-year doctor of pharmacy student, received the Excellence in Public Health Pharmacy Award. This award was established by the United States Public Health Service to recognize student pharmacists who make significant contributions to public health. Popp has a deliberate record of pursuing initiatives and experiences that benefit public health. She led the implementation of a naloxone program at Drake University for reversal of suspected opioid overdoses, resulting in 20 Drake Public Safety Officers now being equipped to save lives through naloxone intervention. She has completed two summer tours of duty working with Native American populations as an Ensign in the Junior Commissioned Officer Student Training and Externship Program (JRCOSTEP).
Isabella Blankenship, third-year doctor of pharmacy student, was recognized as the recipient of the Lon N. Larson Engaged Practitioner Award. Established through memorials made in Larson's honor, the annual Larson award is presented to the student that most demonstrates the values and actions for which Dr. Larson, previous faculty member, was best known: high ethical standards, reflective practice, innovation, and community service. Blankenship has displayed the same passion for the profession that Dr. Larson continually conveyed to his students and mentees. She has held several leadership roles but excels most as a team member that pushes others to be excellent, and gives back to the community by being an engaged citizen.
Blankenship is a member of the Iowa Pharmacy Association, the American Pharmacists Association Academy of Student Pharmacists, Lambda Kappa Sigma professional pharmacy fraternity, Sigma Alpha Iota International Music fraternity, and served in Drake's Wind Symphony, Symphonic Band, and Marching Band from 2016-2020. In addition, Blankenship has served as a Legislative Intern with Rep. John Forbes in the Iowa State Legislature, was selected for membership in Phi Lambda Sigma, the leadership honor society for pharmacy, and has volunteer experience in a variety of settings ranging from COVID-19 vaccine administration to analyzing voter data for election campaign in the 93rd Legislative District of Illinois.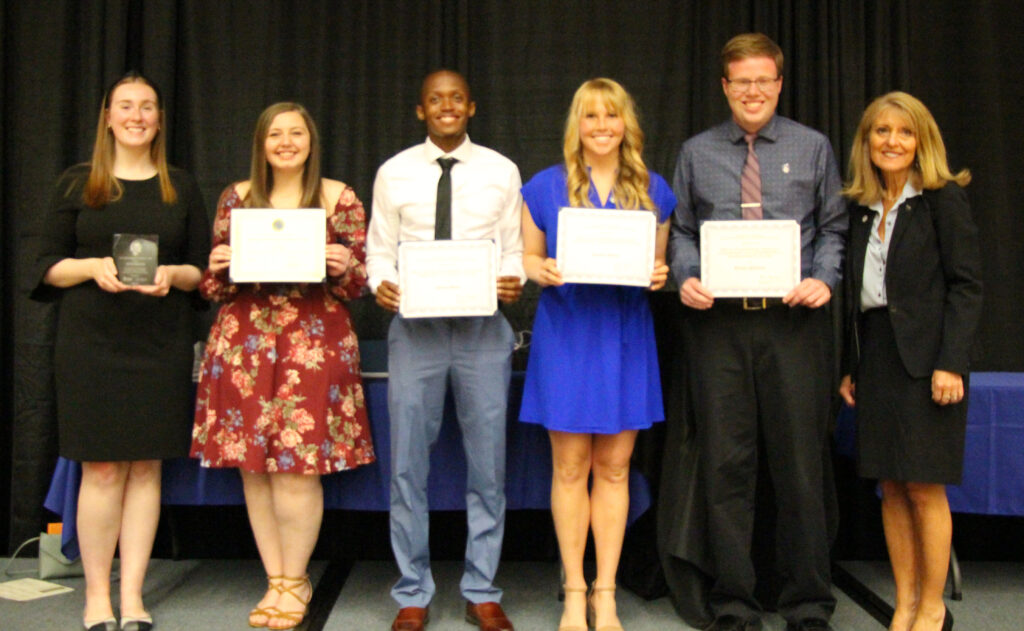 Students receiving pins during the ceremonies included the following:
Health Sciences Students: Lydia Adams, Isabella Anderson, Lucas Botten, Sarah Bouska, Michael Bracco, Grace Cook-Burton, Sabrina Darzins, Hallie Dickson, Clara Froeschner, Christina Gassman, Peter Gobran, Katherine Johnson, Dzenan Karic, Fiona Kearns, Madysen Kulekowskis, Alexia Lara, Taylor McEachran, Hope Miland, Bailey Moats, Daniel Morales, Rebecka Musungu, Naomi Neeser, Taylor Oberpriller, Anna Parr, Abigail Pitts, Riley Conner, Ryan Robers, Fiona Roehrs, Taylor Russell, Kamila Sadko, Alisha Thomas, Emma Torry, Tina Tran Alison Walls, Rylee Youmans
Master of Athletic Training Students: Aobakwe Malau, Bridget Davidson, Kayla Strodtman, Nicole Timmons, Kailey Weiland
Occupational Therapy Doctoral Students: Grier Aspengren, Charlotte Baptie, Madeline Bazan, Brittany Bieber, Robert Boarman, Lydia Braun, Jamie Bryan, Branden Christensen, Hannah Clavell, Emily Cuddy, Kristan Dubree, Karagan Fisher, Shannon Flaherty, Brooks Gunn, Katelyn Hagenbucher, Jessica Haggerty, Talia Hertz, Mary-Grace Hupfeld, Alexander King, Madigan Koneval, Kelli Kramer, Sarah Lindstrom, Mallory Majors, Sam Maki, Brianna Mazzei, McCalley Alayna, Cassidy McCumber, Abbigail Meendering, Reilly Ocheltree, Alannah Olson, Liliana Roman, Kendra Schleg, Jolly Schroeder, Constance Snyder, Rylee Steinke, Ashley Stephens, Kendyl Struve, Anita Tyree, Taylor Weetman, Jacqueline Widmer, Kelly Wilhelmi, Whitney Yoder
Doctor of Pharmacy Students: Anis Abdullahi, Nicholas Andert, Daniel Armstrong, Edina Begic, Beau Blake, Isabella Blankenship, Angelica Castro, Samuel Cataldo, MacKenzie Challoner, Derek Cloyd, Barret Collard, Noah Cresco, Darshika Desai, Sukhnoor Dhillon, Nicholas Driscoll, Andrew Dunham, Tarah Fisher, Hope Fraise, Michaela Friedeck, Kole Gallick, Caroline Gander, Holly Gardner, Rachel Comito, Abby Hall, Joshua Hart, Elizabeth Harvey, Latham Hendrickson, Thao Hoang, Jacob Horstman, Caroline Jones, Collin Jones, Christopher Karch, Zoe Kedrowski, Kim Ellisa, Kleven Sydney, Courtney Krall, Stephanie Krois, Humam Lafta, Natalie Lee, Britain Lehrer, Richard Levites, Tabitha Liechty, Jacob Lucht, Stephanie Martin, Landon McKee, Haley Miller, Branna Moore, Hebah Musharafa, Bailey Nagel, Kim Nguyen, Ryan Nulty, Megan Ochs, Joel Parado, Prachi Patel, Elizabeth Petersen, Jordan Pierce, Carissa Popp, Tyler Prokuski, Ann Radtke, Reagan Rathe, Jonathan Resch, Siri Roberts, Andrea Saar, Edie Schwickerath, McKenna Simpson, Emma Smith, Isabel Stanger, Shawna Stricker, Gabriella Tagliapietra, Courtney Temple, Isabelle Tharp, Marc Thieme, Jacquelyn Thomsen, Tatum Torode, Mariah Trapp, Brittani Weichman, Kailyn Wellens, Tyler Wypych, Verent Yee, Beara Zachariah, Lauren Zimmerman