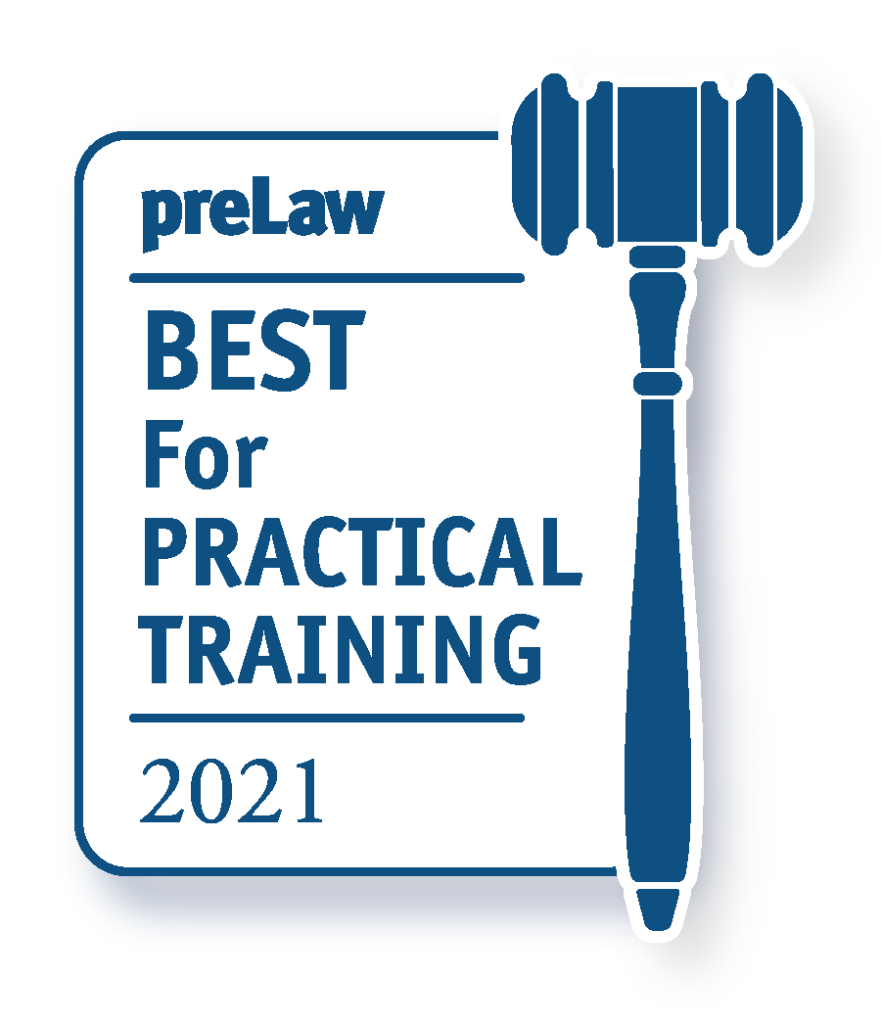 Drake Law School earned a place on PreLaw Magazine's list of "Best Law Schools for Practical Training." Law schools were graded based on key offerings such as clinics, externships, simulation courses, and moot court participation. The annual rankings were featured in the Spring 2021 issue of the magazine.
Practical training is key to ensuring that Drake Law students are ready to excel after graduation. In addition to an outstanding foundation in legal theory, students gain real-world experience through clinical programs, internships, and clerkships. At graduation, they have the skills and experiences they need to hit the ground running, making them strong candidates for many different employment opportunities.
Drake Law School provides numerous experiential learning opportunities to students, beginning in their first year with two intra-school moot court competitions and the First-Year Trial Practicum. Drake is the only law school in the country where all first-year classes shift to a campus courtroom for a week, enabling students to view an actual state or federal trial. The Trial Practicum dissects every phase of a trial, from jury selection to verdict.
Drake Law's legal clinics give students the opportunity to build valuable professional experience by working with clients in real-world situations. Clinics include the Children's Rights Clinic, Criminal Defense Clinic, General Civil Practice Clinic, Transactional/Entrepreneurial Clinic, Refugee Clinic, and Wrongful Convictions Clinic.
As the only law school in the capital city of Des Moines, Drake Law students have countless opportunities to participate in internships, externships, and clerkships. Students have served as legislative interns, drafted legislation, tried and won felony jury trials, interned for the Iowa Supreme Court, worked for government agencies and nonprofits, and more.
Drake Law students also develop practical skills in interschool competitions at the regional and national levels. The Law School sponsors nine Moot Court, Mock Trial, and skills teams, which annually are among the best in the nation.
"Many law schools like to say they teach students to think like a lawyer," said Drake Law Dean Jerry Anderson. "We teach them to be one."
______________________________________________________________________________
About Drake University Law School
For over 150 years, Drake Law School has helped launch successful careers, providing a legal education that emphasizes experiential learning backed by a solid foundation in legal theory. As the only law school in the capital city of Des Moines, students gain unparalleled access to internships, externships, and clerkships. Drake Law graduates leverage the experience gained from hands-on learning and are ready to put the law in action from day one, joining an alumni network of 6,000+ who use their law degree in all 50 states and across the globe—in every facet of the legal profession. Learn more about a legal education at Drake.