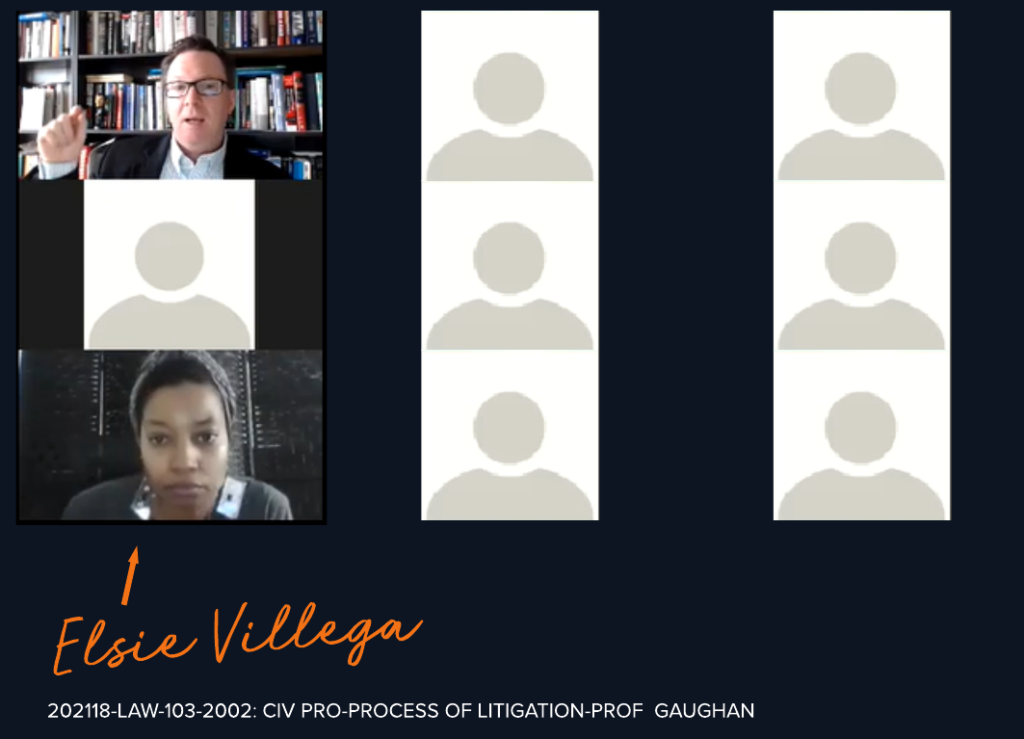 Elsie Villega is a first-year student from Brooklyn, New York. She attended The City College of New York as an undergraduate, majoring in English and Economics. Prior to coming to law school, Elsie was an educator and a stenographer/court reporter.
Elsie is one of a small group of students who are completing their first year at Drake Law completely online. Because of the pandemic, this year law students could elect to take all of their classes remotely. We recently checked in with Elsie to learn more about her background and how she is making the most out of her distance learning experience. Drake Law plans to be back in-person for fall 2021.
Why did you decide to pursue a career in law?
At some point in time in everyone's life, they will either need a lawyer or wish they were a lawyer. Lawyers are an integral part of protecting and creating justice. This aligns with my life's purpose. As an African American woman who lives in a country where, according to the American Bar Association, less than 5% of the lawyers are African American, I have an added incentive to become an attorney and increase the presence of African Americans in the legal field.
Why did you choose Drake Law?
I was interested in attending a law school that was invested in my success, not only as a law student, but as a future attorney. All through the application process, Drake Law impressed me as one of these rare types of institutions. Drake Law stood out in this regard. I also found it very appealing that Drake Law offers so many different courses of legal study and has several legal clinics that are tied to the community.
How has your experience been as a remote 1L?
My experience as a remote 1L has been a positive one. I have found that there are advantages to attending school remotely. Surprisingly, being a remote student may make certain things more accessible. For example, office hours with a professor are only a Zoom-link click away.
What does a day in the life look like for you?
As a remote 1L student my days are very organized. I have six classes. Therefore, I have to juggle a lot of assignments and study time. I set my calendar alarm to go off ten minutes before every class or required seminar, so I can log on to class a bit early. Once a week, I write down all of the assignments that I have due for the upcoming week in a notebook. Then, on a daily basis, I update my display board with my prioritized tasks for the day. I also have a daily schedule that I write out, that is organized hour-by-hour for what I have to do for the day. These things keep me on track; I consult them often throughout the day. I take breaks when I get fatigued, and I keep a lot of healthy snacks on hand to keep me going throughout the day. I have also started to work out between classes. I find that doing workouts immediately before or after classes leaves me energized and counters the effects of sitting for long periods of time.
What has been your most interesting realization about being law school and studying the law?
In my first semester of law school, I had professors who had very diverse teaching styles. I thought that this was great! It showed so many different ways to approach the law. Law school is not just about what you learn, it is also about mastering how you learn. Mastering how you learn provides so much personal insight and growth. This has been a great benefit of attending law school!
What advice do you have for students considering going to law school at Drake?
At Drake Law you will get a well-rounded education. You will be confronted with diverse approaches to the law. You will be taught by experienced professors who do not hesitate to share their expertise. The professors and staff are consistently available to students in a way that demonstrates that they prioritize your education.