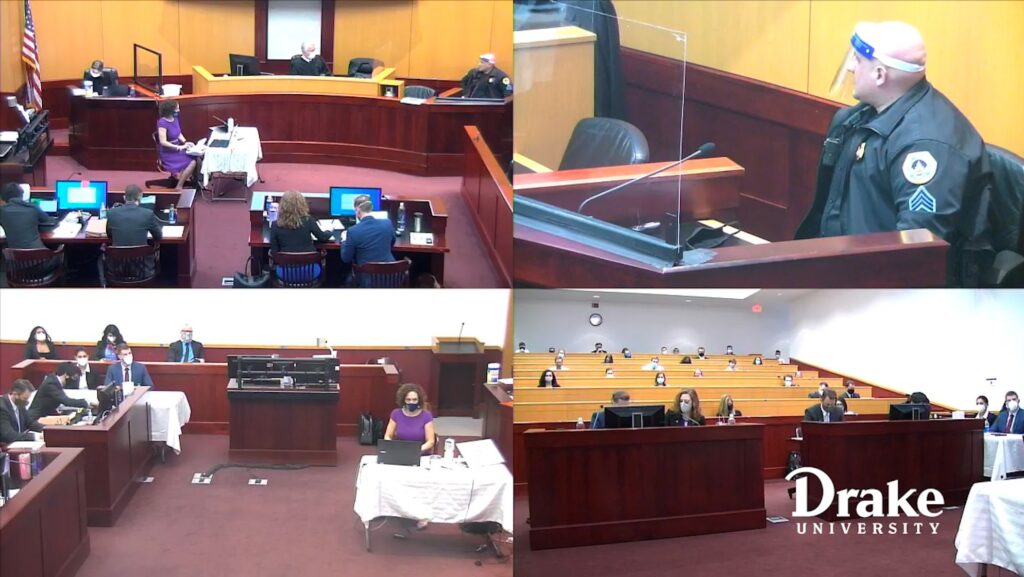 Journalists from around the country covered the trial of Des Moines Register reporter Andrea Sahouri, who was charged with failure to disperse and interference with official acts in connection with her presence in May at a George Floyd demonstration. The prosecution of a reporter covering a protest raised important issues regarding the First Amendment and press freedoms. Sahouri and co-defendant Spenser Robnett were acquitted on all charges after a jury trial lasting more than two days.
Instead of reading about the case from second-hand accounts, Drake Law School students were able to observe the trial first-hand, because it was held in the Drake Clinic courtroom. Drake hosted the proceedings as part of its unique First-Year Trial Practicum, in which first year students observe a real trial, from jury selection to verdict. After the verdict, students have the opportunity to discuss tactical decisions and rulings with the attorneys and judges, and even talk with jurors about their views of the evidence presented.
This year, the experience also included a panel of journalists, academics, and county attorneys discussing the interplay between First Amendment freedoms and the practicalities of law enforcement, as well as the nature of prosecutorial discretion. The panel included Dean Kathleen Richardson of Drake's School of Journalism and Mass Communication, who earned her Juris Doctor degree at Drake.
The director of the Trial Practicum, Professor Steve Foritano, worked with the Polk County District Court to bring the case to Drake. "It turned out to be an invaluable learning experience for our students," Foritano remarked, "while also helping to shine an international spotlight on this prosecution." Foritano was pleased that three of the jurors stayed after the trial to discuss why they reached their verdict, and students were also able to question the judge about his rulings.
Foritano said he hoped that "going forward, the students will have a much more informed view on this type of case and, in fact, on our entire system of justice."
Because Drake was able to livestream the proceedings, journalists and interested observers from around the world were able to watch the evidence and reach their own conclusions about the case. The video feed attracted over 7700 unique viewers, with most outside the U.S. tuning in from the Palestinian Territory, Canada, the United Kingdom, and Germany. At the height of the trial, 550 people were watching the livestream.
Remarkably, in the vast majority of American law schools, students can graduate without having ever seen a trial, let alone participated in one. Drake's Trial Practicum, in which first-year classes are suspended for a week while students observe a real trial, is now in its 24th year and appears to be the only program of its kind in the country. The course involves a great planning effort to pull off, and would not be possible without the close relationship Drake Law enjoys with the local bench and bar. (For more information about the history and pedagogy of the Trial Practicum read "Trial practicum integral to first-year law school curriculum", 90 JUDICATURE 114 (Nov.-Dec 2006), by Professor Emeritus Russell Lovell II, the first director of the Trial Practicum program.)
Drake Law Dean Jerry Anderson notes that the Trial Practicum fits perfectly with Drake Law School's educational philosophy, which aims to create "complete professionals" by balancing theory with practice skills. "There are so many important aspects of the law you can't get from books or by just sitting in the classroom."
Anderson believes the real-life nature of the case makes it a much more impactful experience than the typical law school simulation. "Seeing a defendant led off in handcuffs at the end of a murder trial, as students witnessed several years ago, is something they will never forget," he noted. "It brings home to them not only the importance of their legal studies, but also the enormous power of the legal system on people's lives and liberty."
This year's trial provided a particularly dramatic example. Every first-year student came to Drake Law last fall fresh from the summer's tragedies and protests. Most student had deeply-held opinions about the issues involved. As Professor Foritano notes, "Those important societal questions ultimately get decided in legislatures and courtrooms like this one. For Drake Law students, that debate is no longer abstract or remote; it has now become very real."
Dean Anderson added: "I know that, having observed this dramatic example of the power of law first-hand, our students will be better-equipped to engage in the debate about the quality of justice in America."
First-year student Elsie Villega found the experience to be "intense," because the case "dealt with weighty issues that this country has yet to resolve." She also thought the trial served to enhance her grasp of the law, by "exhibiting the real-life implementation of the concepts that we have been learning in our first-year curriculum."
Drake Law students don't just observe trials; they also participate in them. Remarkably, second-year law student Brecklyn Carey gave the opening argument in the Sahouri trial and assisted in the prosecution of the case, as part of her Prosecution Internship course this semester. "Last year, I had the opportunity to watch a vehicular homicide case from voir dire to verdict alongside my peers as part of the Trial Practicum program," said Carey. "This year, instead of sitting in the gallery, I was sitting at counsel table! I gave my own opening statement and directed a witness during the trial; it's incredible to see how much you can learn and grow in one year's time at Drake Law through their experiential learning programs."
On the defense side, earlier in March Drake Law students Zana Bajric and Jordan Fox obtained an acquittal for a defendant who participated in protests at the state Capitol. The students represented defendant Wallace Mazon as part of their Drake Criminal Defense Clinic course. Professor Bob Rigg, who supervises the clinic, said the students won a motion for directed verdict after the close of the prosecution's evidence, which he called "very unusual."
Dean Anderson concludes: "All these experiences show that we are delivering on our mission to give students the tools they need to succeed in practice; our motto is 'Law in Action.'"