Welcome Ryan Stoldt to the SJMC family!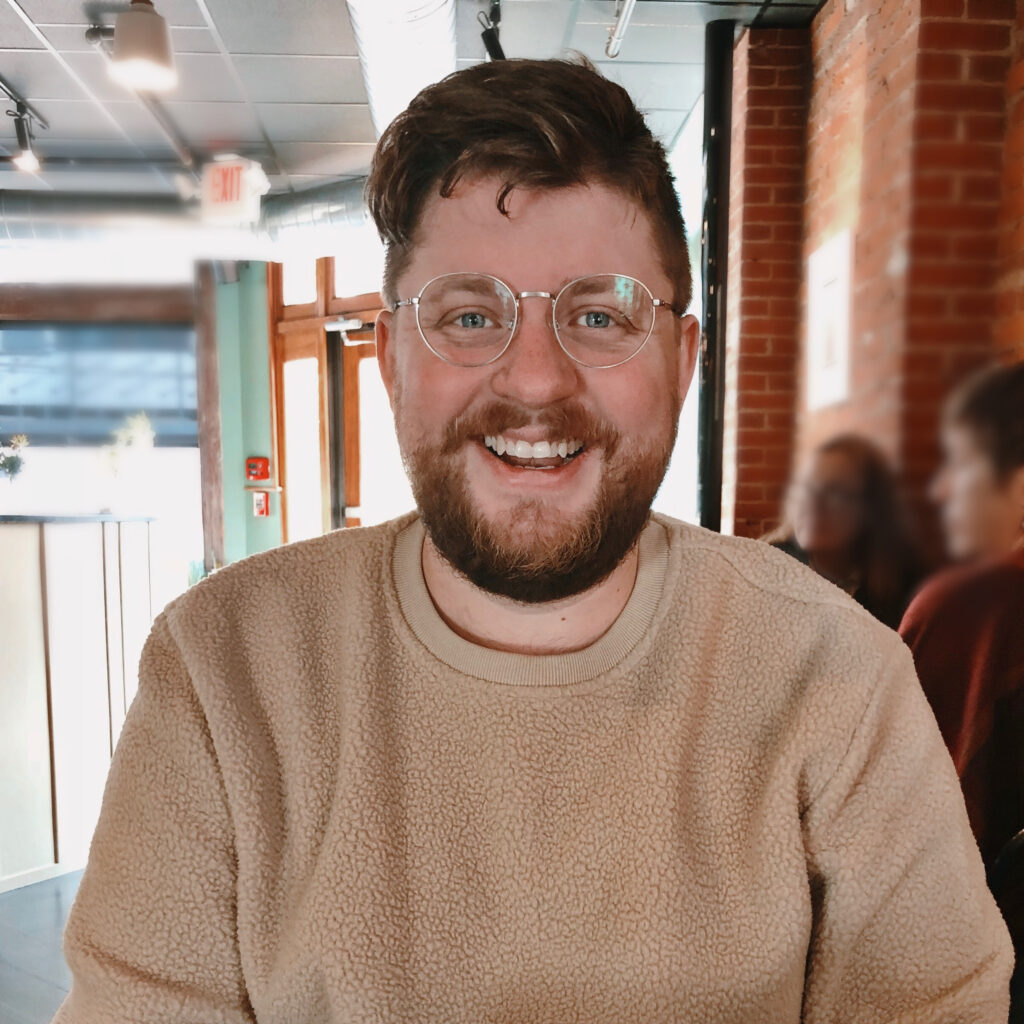 Ryan Stoldt will join the Drake SJMC in fall 2021 as an assistant professor of advertising. He is currently finishing his Ph.D. in Mass Communication at the University of Iowa.
Ryan's teaching and research interests focus on how data is used to make decisions in creative industries. He predominately teaches courses that focus on advertising, digital media production, and storytelling. These courses seek to develop students into more critically informed producers and consumers of media.
Ryan's teaching is heavily informed by his research. His dissertation examines how metadata, or the data created about other data, influences the algorithmic distribution of film and television content. He has also published research on social media influencers' production of sponsored content and on interactive television. Additionally, Ryan serves as a member of a multi-institutional research team focusing on the sociocultural effects of algorithms. In 2020, the United States Department of Defense awarded this team a $1.2 million grant to research algorithms and political radicalization.
Before coming to academia, Ryan worked as the digital marketing manager for Visit Wichita and consulted with numerous clients on digital marketing strategy. He holds awards for his work from the Public Relations Society of America and the Travel Industry Association of Kansas.
Ryan earned a B.A. in Integrated Marketing Communication (2013) and a M.A. in Communication (2016) from Wichita State University and a Graduate Certificate in College Teaching (2018) from the University of Iowa. He serves on the editorial board for the Journal of Communication Inquiry.
You can learn more about Ryan at ryanstoldt.com or connect with him on Twitter @ryanstoldt.
SJMC Cool Jobs series begins this week
The Be Unstoppable Cool Jobs Series kicks off this week with Greg Swan, JO'03, director of digital, social, PR and innovation at Fallon Marketing and Advertising in Minneapolis. Greg is a thought leader, brand strategist and creative team leader who blends experience with digital and social advertising, content strategy, PR and emerging technology for Fortune 500 brands to start-ups.
Greg will share his career journey, tips on getting jobs, what employers are looking for and more in his virtual networking and information session on Thursday, Feb. 24 at 4 p.m. You will find the event info and Zoom link on Handshake in Events. 
Are you an SJMC major and considering going to law school? On Thursday, Feb. 25 at 6 p.m. SJMC alum Lauren Arndorfer, JO'13, a practicing attorney in Colorado, will discuss her career journey, tips on law school and the legal profession and the skills you need to get there. Lauren graduated from Drake with degrees In public relations and English. Join Lauren for this networking and information session as part of the Be Unstoppable Cool Jobs Series.
You will find the event info and Zoom link on Handshake in Events.
Coming up in the Be Unstoppable Cool Jobs Series 2021:
March 1 at 6 p.m. Martha Carrigan of Big Shoes Midwest
March 3 at 4 p.m. Samantha Thorpe of Shriver House Media and former editor at Meredith
March 8 at 5 p.m. Nicole Trembley of FleishmanHillard, Kansas City
March 11 at 4 p.m. Matt Vasilogambros, Stateline news service and former White House correspondent 
March 15 at 5 p.m. Danny Akright of Greater Des Moines Habitat for Humanity
And more including Jeff Nelson of People Magazine.
Applications open for student media leaders
The Board of Student Communications is looking for next year's media leaders. The BSC oversees Drake's campus media: Drake Broadcasting System, Drake Magazine, DrakeMagazine.com, Drake Political Review, DUiN, Periphery and The Times-Delphic. Students interested in serving as editor-in-chief of a BSC publication or president of DBS must apply for their desired position by March 12. To apply, send your resume and cover letter to Professor Jeff Inman (jeff.inman@drake.edu) and SJMC Student Senator Carson S.J. Reichardt (carson.reichardt@drake.edu). Interviews will be held Friday, March 26.
Free viewing of "Raise Your Voice" documentary
"Raise Your Voice," a documentary about the history and power of student journalism that was partially filmed in Des Moines by an Iowa-born filmmaker, will be offered for free online viewing to celebrate Student Press Freedom Day on Feb. 26.
From Feb. 25-27, the film will be available for streaming by the student press community. Every person who wants to watch the movie must register here. You'll receive a link on Thursday, Feb. 25, and can stream the film on Thursday, Friday or Saturday. Watch it with your friends and host a group chat!
Or join the Student Press Law Center team as they watch the film over lunch on Friday, Feb. 26 at 12:30 p.m. ET. Sign up for the event here.
Join the Student Press Freedom Forum to talk with fellow student journalists from around the country about the highs and lows of being a student journalist. Share your success stories and challenges and find inspiration. Sign up here.
Have a news item for the Memo?
The SJMC Monday Memo (and other days of the week as needed) is a newsletter to keep members of the wider SJMC community updated on School news, achievements, events and opportunities. If you have an item for the Memo, please send it to Dean Kathleen Richardson (kathleen.richardson@drake.edu) or SJMC webmaster and multimedia professor Chris Snider (christopher.snider@drake.edu). SJMC alums and other professionals can also subscribe to the Monday Memo via email here: http://eepurl.com/bPNbxn