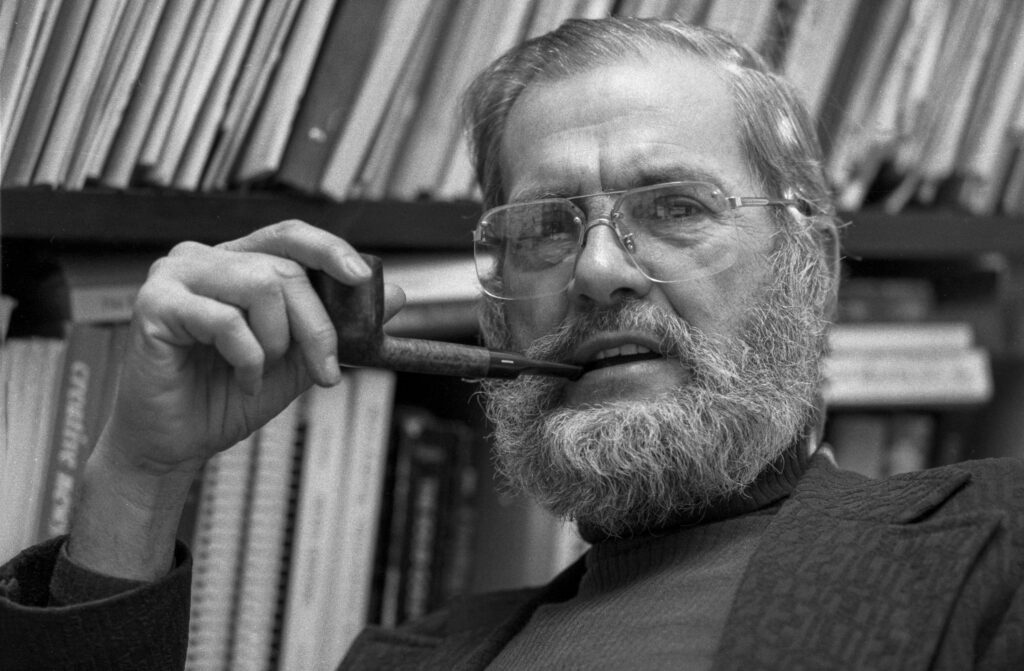 Former SJMC professor Joe R. Patrick dies
Longtime SJMC professor and associate dean Joe R. Patrick died this weekend just a few weeks shy of his 97th birthday. We lost a great journalist, a good man and a legendary teacher and mentor who taught the art of editing to generations of Drake students. He was besting his weekly trivia group almost till the end. We'll share details of his memorial when we have them.
2 SJMC students among semi-finalists for Fulbright
Two SJMC students are among the three Drake semi-finalists this year for the post-graduate Fulbright Scholarship:
Lucius Pham (SJMC) is a semi-finalist for an English Teaching Assistantship in South Korea
Elijah Rockhold (A&S) is a semi-finalist for an English Teaching Assistantship in France
Delainey Thorud (SJMC) is a semi-finalist for an English Teaching Assistantship in the Czech Republic
They were recommended by the U.S.-based Fulbright National Screening Committee.  Their applications now go to the countries to which they've applied for final decision-making about an award. Finalists are usually notified in March or April, but the timeline may be affected this year by Covid-19.  
Learn more about becoming an Orientation leader or peer mentor
Information sessions are scheduled this week and next for students interested in applying for Orientation leader or peer mentor/academic consultant (PMAC).
Orientation leaders are dedicated to providing incoming students and their families with all of the information and resources necessary to ensure their transition to Drake is a smooth and enjoyable one. The final information session is being offered via Zoom on Tuesday, Feb. 2 at 6 p.m. Click here to sign up.
You will be compensated for your time and effort and gain valuable skills in this position. Click here to learn more about the position and how to apply. If you have any questions, contact Marina Verlengia at marina.verlengia@drake.edu.
PMACs serve as a resource and motivator for students. Communication with new students will begin over the summer and continue throughout the fall semester. PMACs play an essential role in making sure new students are acclimated to their new environment before classes begin.
If you are interested in becoming a PMAC, attend the final informational session on Thursday, Feb. 11 at 6 p.m. via Zoom. Sign up for an info session here.
Read more about this position and how to apply on the PMAC website. Contact the Peer Advisory Board at pab@drake.edu or Marina Verlengia at marina.verlengia@drake.edu with any questions.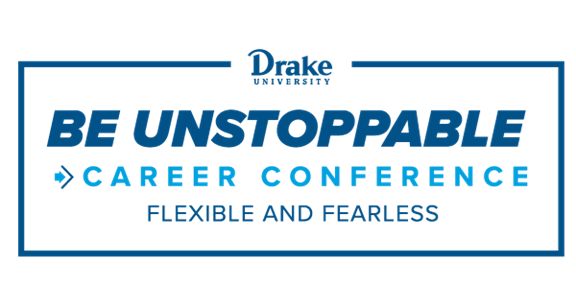 SJMC alum featured at career conference
Drake's first career conference, "Be Unstoppable," will be held virtually Feb. 19 featuring renowned speakers from around the country. With the focus on leading students to be flexible and fearless, the conference is relevant for all majors, first-year students to grad students.
SJMC alumnae Elizabeth Grace Saunders, JO'04 will lead a breakout session called More Success with Less Stress, a focus on time management. Saunders will talk about her career journey starting as magazine major at Drake who landed her (almost) dream job at Meredith Corp. before graduating, to how she used her writing skills to start her own successful business and be named one of Top 25 Amazing Women of the Year and one of the top 30 time-management professionals in the world.
Other SJMC alumni are featured in conference breakout sessions. The conference is free to attend, but students must register with their Drake email to attend. Registration opens this week.
Greg Swan to kick off Cool Jobs Series
Following the career conference, the SJMC will feature 15 alumni as part of our Cool Jobs Series 2021. This year's series leads off with Greg Swan, JO'03, on Feb. 24 at 4 p.m. CST. Swan is a digital and social marketing thought leader building creative engagement strategies for brands as Director of Digital, Social and PR Innovation at Fallon, an integrated creative, media and production agency headquartered in Minneapolis with offices around the globe.
Other Cool Jobs Series speakers include alumni working for top advertising/PR agencies, ESPN, People magazine, Meredith publications, the U.S. House of Representatives, Habitat for Humanity, freelancers and more.
Why should you attend? Hearing the stories of successful alums, students have the opportunity to learn about the skills, grit and sometimes sheer luck it takes to land your dream job, or at the very least, a cool job! This is also a great opportunity to form professional connections and grow your networking. Registration will open soon on Handshake.
Free online access to New York Times and Wall Street Journal
Drake students, staff and faculty can get free subscriptions to the New York Times and Wall Street Journal through Cowles Library. Sign-up is easy. Subscribe to the New York Times here. Subscribe to the Wall Street Journal here.
Alumni news
Pat Parris, JO'87, anchor with KGUN9 in Tucson, AZ, recently did a story about his experience participating in a blind trial for the coronavirus vaccine. He recently found out that he had received doses of the real vaccine last fall.
Apply for SJMC scholarships by Feb. 14
Applications are open for SJMC scholarships for the 2021-22 academic year. The application deadline is Feb. 14.
Meredith Magazine Media Scholarships: A variety of awards are available to Drake students seeking magazine media degrees. Included is the prestigious $5,000 Karyl Van scholarship, which entails five hours per week of work in the E.T. Meredith Center for Magazine Studies. The Karyl Van scholarship is awarded to the top applicant among magazine majors. In addition to the information required for all scholarships (see below), you must indicate whether you can commit to the stipulations of the Karyl Van scholarship. If not, you will still be considered for the other scholarships with your application.
Cyril and Lucille Clifton Scholarship: Named for Cy Clifton, political reporter for The Des Moines Register. Recognizes financial need and academic achievement by an SJMC student.
Erik Isgrig Advertising Scholarship: Honors an advertising faculty member from the 1960s. Must be an advertising major and a full-time senior the year of the award.
Frank Miller Scholarship: Established to honor longtime Des Moines Register editorial cartoonist Frank Miller. Preference will be given to students who have exhibited achievement in web-based graphic design
Ted Sell Memorial Award: Named after an alum who was a longtime Los Angeles Times journalist. Awarded to a junior or senior interested in a career in multimedia or broadcast news.
If you would like to apply for a scholarship, please send an email to SJMC administrative assistant Denise Ganpat (denise.ganpat@drake.edu). In the body of the email, provide the information below. Attach your resume and a one-page letter addressed to the SJMC Scholarship Committee. In the letter, make your case for why you need and/or deserve the scholarship/s you are seeking.
Name
Banner ID #
Scholarships you are applying for
Local Address
Permanent Address
Telephone
Email address
Expected graduation semester
Hours completed toward graduation
Overall GPA
SJMC GPA
Other Drake scholarships currently received
Adviser
Major
Have a news item for the Memo?
The SJMC Monday Memo (and other days of the week as needed) is a newsletter to keep members of the wider SJMC community updated on School news, achievements, events and opportunities. If you have an item for the Memo, please send it to Dean Kathleen Richardson (kathleen.richardson@drake.edu) or SJMC webmaster and multimedia professor Chris Snider (christopher.snider@drake.edu). SJMC alums and other professionals can also subscribe to the Monday Memo via email here: http://eepurl.com/bPNbxn