"Hate cannot drive out hate. Only love can do that."
— Dr. Martin Luther King Jr.
Drake career development events jump-start your future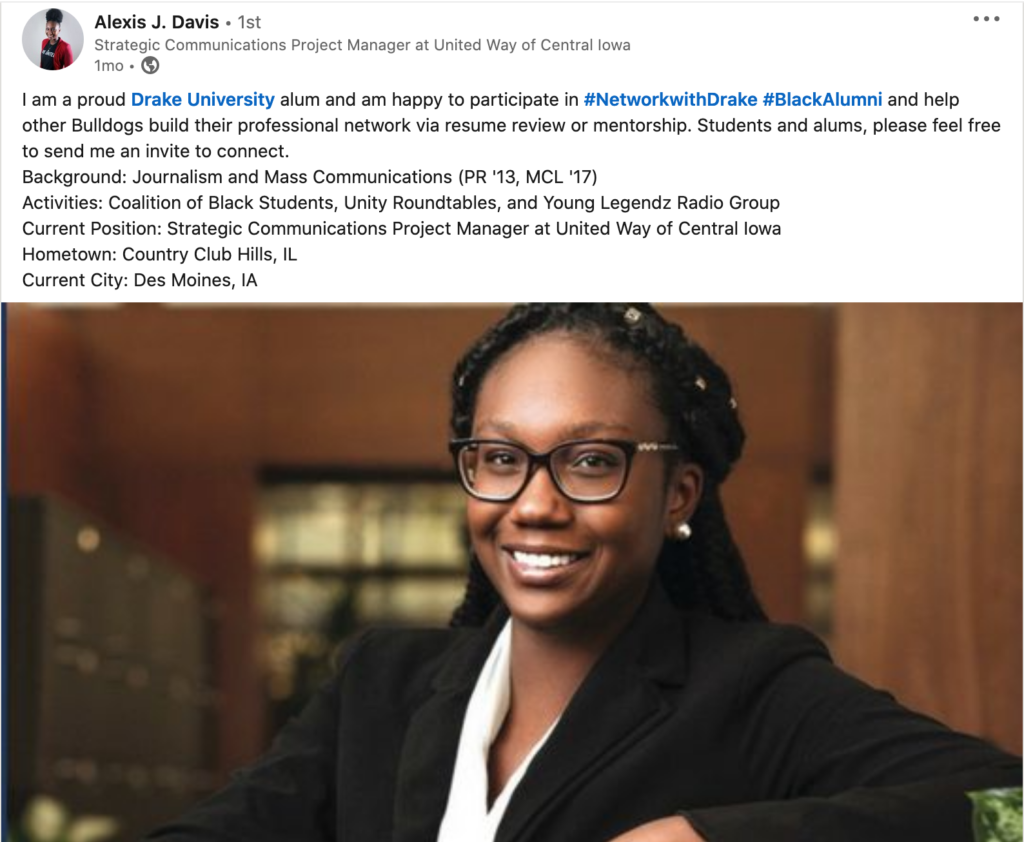 Network and connect with alumni over J-Term and beyond: In the spirit of fostering connections between alumni and current students, Drake has launched a new initiative on LinkedIn, #NetworkwithDrake. Using the hashtag #NetworkwithDrake, you can search LinkedIn to identify and connect with willing alumni in your chosen fields, find jobs or internships, seek career advice and make connections around the globe.
February is Career Month: "BE UNSTOPPABLE: Flexible and Fearless Career Conference" will be held virtually on Friday, Feb. 19. Throughout the month there will also be info sessions with employers and "Cool Jobs" featured for careers in JMC fields. Stay tuned for details.
Careers in social change: The Drake Career and Professional Development office has organized a series of events this year that allow students to learn about professions in which they can put their skills to work to do good. The next panel is Tuesday, Jan. 19, 4-5 p.m. CST and will focus on Community Organizing and Activism. Visit www.drake.edu/career and register on Handshake.
Apply for SJMC scholarships for 2021-22
Applications are open for the following scholarships for current SJMC students for the next academic year. The application deadline is Feb. 14.
Cyril and Lucille Clifton Scholarship: Named for Cy Clifton, political reporter for The Des Moines Register. Recognizes financial need and academic achievement by an SJMC student.
Erik Isgrig Advertising Scholarship: Honors an advertising faculty member from the 1960s. Must be an advertising major and a full-time senior the year of the award.
Frank Miller Scholarship: Established to honor longtime Des Moines Register editorial cartoonist Frank Miller. Preference will be given to students who have exhibited achievement in web-based graphic design
Ted Sell Memorial Award: Named after an alum who was a longtime Los Angeles Times journalist. Awarded to a junior or senior interested in a career in multimedia or broadcast news.
If you would like to apply for a scholarship, please send an email to SJMC administrative assistant Denise Ganpat (denise.ganpat@drake.edu). In the body of the email, provide the information below. Attach your resume and a one-page letter addressed to the SJMC Scholarship Committee. In the letter, make your case for why you need and/or deserve the scholarship/s you are seeking.
Name
Banner ID #
Scholarships you are applying for (you can apply for more than one)
Local Address
Permanent Address
Telephone
Email address
Expected graduation semester
Hours completed toward graduation
Overall GPA
SJMC GPA
Other Drake scholarships currently received
Adviser
Major
In addition, look back through the SJMC Monday Memos in December and January for earlier postings about national and regional professional scholarships.
Shine your light in professional contests
Argo Student Short Film Fest: Argo is a short-film streaming platform and community allowing filmmakers and film-watchers alike to connect, discuss and create. Argo is launching its first student filmmaker-focused competition, SHORTS. The Argo website contains all of the details and entry requirements. Deadline for submissions is Feb. 28.
Eric Sevareid Awards: The Midwest Broadcast Journalists Association annually honors the best radio, TV and online work done by student and professional journalists in a six-state region. See the awards website for more information. Entry deadline is Feb. 12.
PSA contest: The U.S. Agency for International Development's Bureau for Humanitarian Assistance is hosting its PSAid contest to challenge college students to produce public service materials that creatively articulate why "Cash is Best" when helping people affected by emergencies overseas. Categories and rules for the contest can be found here: https://www.psaid.org/. Entry deadline is March 15.
Snider teaching virtual video workshop for community
Ready to learn how to make compelling videos using the camera you always have with you? Associate professor Chris Snider is leading a 3-week virtual video workshop that will teach you the basics of shooting quality video as well as how to edit that video with your smartphone. This workshop will meet three times for 90 minutes each time, and attendees will complete homework assignments in-between sessions to apply what they are learning. Attendees will use the free app Videoshop (available on iOS and Android) to edit videos.
And finally . . .
In the category of "things that are getting us through the pandemic": Associate professor Catherine Staub says she finds watching The Great British Bake Off to be "an ideal escape during the pandemic. Though it's a competition, everyone is nice to each other, there are no flaring tempers, and it's soothing in the way that I find only British-produced shows can be."… Associate professor Dorothy Pisarski reports that her favorite pandemic "enrichment" is a series of virtual field trips offered by the international creative community Creative Mornings. "They're more like a mini-course rather than a field trip, but it's a trip your mind can take!"… Dean Kathleen Richardson participated in a town hall called "Hold America Together," hosted by Braver Angels and attended by more than 4,500 people from around the country. The 4-year-old bipartisan organization seeks to "de-polarize America," find common ground and promote "national empathy."
Have a news item for the Memo?
The SJMC Monday Memo (and other days of the week as needed) is a newsletter to keep members of the wider SJMC community updated on School news, achievements, events and opportunities. If you have an item for the Memo, please send it to Dean Kathleen Richardson (kathleen.richardson@drake.edu) or SJMC webmaster and multimedia professor Chris Snider (christopher.snider@drake.edu). SJMC alums and other professionals can also subscribe to the Monday Memo via email here: http://eepurl.com/bPNbxn