We're thankful for your passion, persistence — and laughter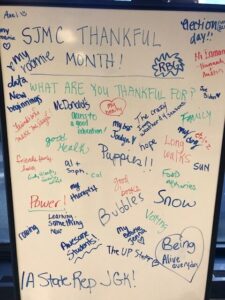 Happy Thanksgiving week! We asked the SJMC faculty and staff to tell us what they were thankful for about their students. We listed the first batch of responses last Monday; here is the rest:
"I feel blessed to have students who are totally engaged, hardworking and uniquely resilient. They have gone above and beyond in staying strong in these trying times." — Eric Kwame Adae, assistant professor
"I'm so grateful for our students' engagement and passion for issues on both sides of the aisle. They are respectful and patient and they listen to each other." — Jennifer Glover Konfrst, associate professor
"I am thankful to my students for their continuing tenacity in the face of so much stress, their support of their peers, their involvement in the political processes of our democracy, and their courage in just getting out of bed every day and putting in the effort of being alive and caring about the world we all live in." — Ray Fredregill, SJMC multimedia engineer and instructor
"I'm thankful for their willingness to dig in and do the hard work that gets the incredible results we know they are capable of. That, and their willingness to tell me to screw off from time to time." — Jeff Inman, associate professor
"I am thankful to have students who stay engaged and interested, and who remain committed to their learning. And I appreciate having students who remain respectful, thoughtful, and open to the perspectives of others."  — Catherine Staub, associate professor and Peggy Fisher and Larry Stelter chair of magazine journalism
"I'm thankful for students who tolerate Moe, my cat who regularly Zoom-bombs my classes. I'm also thankful for students who, on the rare occasion Moe doesn't make an appearance, ask to see him, as well as Charlotte and Larry." — Jill Van Wyke, associate professor
"I am thankful for the maturity of my students who have had the flexibility to adapt to the online learning without a decline in the quality of their work in my Reporting and Writing Principles class. I'm also thankful for their good humor and patience with me when technology problems happened." — Kim Smith, adjunct instructor
"I'm grateful for our students' passion, their enthusiasm, their openness and their intelligence. They make me hopeful for a future that is smarter, kinder and more generous." — Kathleen Richardson, SJMC dean
Become a peer mentor
Interested in welcoming first-years to Drake? Learn more about the Peer Mentor Academic Consultant (PMAC) program by attending an info session. The first session will be held on Friday, Dec. 4 at 2 p.m. CST via Zoom. Register at bit.ly/PMACInfoSesh Reach out to pab@drake.edu with any questions.
Alumni news

Sarah Mondello, JO'18, AS'18, placed in the 2020 Writer's Digest Annual Writing Competition for an essay titled "Kiss Me for the Last Time" under the pen name Sarah Natale. The competition, now in its 89th year, received over 4,000 entries across nine categories. Mondello's essay is a finalist in the Memoir/Personal Essay category. Her essay was written for the "race card" and oral history assignment in JMC 104 Communications Law and Ethics. In her nomination letter, Professor Carol Spaulding-Kruse called Sarah's essay "a compelling exploration of the author's ethnic roots and family background [and] a lovely meditation on family, race, and American identity."
Have a news item for the Memo?
The SJMC Monday Memo (and other days of the week as needed) is a newsletter to keep members of the wider SJMC community updated on School news, achievements, events and opportunities. If you have an item for the Memo, please send it to Dean Kathleen Richardson (kathleen.richardson@drake.edu) or SJMC webmaster and multimedia professor Chris Snider (christopher.snider@drake.edu). SJMC alums and other professionals can also subscribe to the Monday Memo via email here: http://eepurl.com/bPNbxn