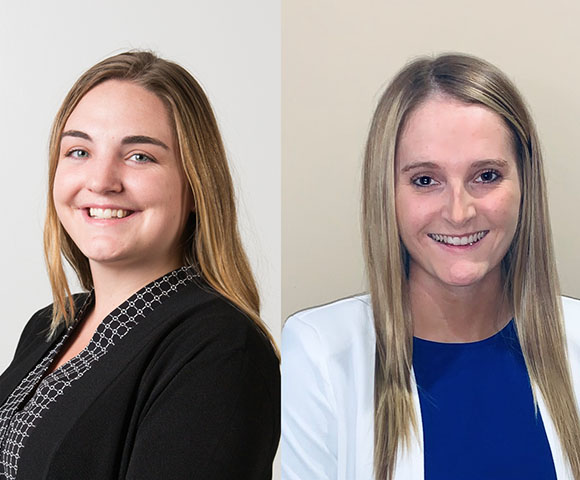 Drake Law School second-year students Audrey Baumgartner and Andrea Hardesty are working to bring justice to the wrongfully convicted as interns with the Wrongful Convictions Division (WCD) of the Office of the State Public Defender. The division partners with the Midwest Innocence Project and is dedicated to exonerating Iowans convicted of crimes they did not commit.
Baumgartner and Hardesty are working on a forty-year-old homicide case. Their client's guilty verdict was based on multiple invalidated forensic science disciplines. "We started by reviewing files to gather evidence which pointed toward possible exoneration," said Baumgartner. "We look for things like junk science that is no longer used, prosecutor misconduct, or evidence of an insufficient investigation."
Baumgartner and Hardesty have poured over thousands of pages of case files including transcripts from past proceedings, and police reports and other documents collected in the course of the investigation. They research case law on the issues they plan to dispute, and compile the evidence they find by writing memos to the file and to experts who can help dispute the old evidence.
"The legal research and writing skills I developed during my first year of law school have been incredibly helpful in the internship," said Hardesty. "Research and writing are big aspects of this job." Hardesty will finish the internship by helping to write a Post-Conviction Relief motion for the client.
Both women agree that a highlight of the experience is meeting with their clients – even though it is all done virtually due to the pandemic. "Most of our clients have been in prison for many years," explained Hardesty. "It's amazing to interact with them and hear their side of the story."
"It's an incredible opportunity to meet the people you're representing who really do rely so much on you, even as a student intern," says Baumgartner. "It has motivated me to continue working hard but also to pursue similar work in the future."
After graduating from the University of Minnesota-Duluth, Baumgartner decided that a legal degree was the best way for her to support and work for criminal justice reform. She chose Drake Law School for its community focus, location in an opportunity-rich capital city, and emphasis on experiential learning. After reading Just Mercy: A Story of Justice and Redemption by Bryan Stevenson, Baumgartner felt compelled to help seek justice for the wrongfully convicted. The internship with the WCD gave her that opportunity.
Hardesty knew she wanted to practice criminal law when she came to law school and had a very strong interest in wrongful convictions but thought it was a much too specialized area in which to get practical experience. She attended a Public Interest Career Fair sponsored by the Career Development Office (CDO) in the spring of her 1L year and after speaking with the director of the WCD, Erica Nichols Cook (LW'09), found exactly what she was looking for.  In fact, it was the CDO that sold Hardesty on Drake Law School in the first place. "The CDO made me feel very confident that I would be supported in an out-of-state job search when I graduate," said Hardesty. "That was an important, deciding factor for me."
Both women agree that they have been able to apply their lawyering skills in an incredibly meaningful way, and have gained a better understanding of the criminal justice system and how it can go wrong. "This internship has sharpened my critical thinking and analysis skills," said Baumgartner. "It's taught me to be especially detail oriented and think creatively to help our client out of this incredibly tragic situation. These skills will transfer to my work after law school and bolster my ability to be successful early on."
"This experience has helped me grow as a person," added Hardesty. "I've learned to look at things in a completely different light. That's an important skill to have in life in general."