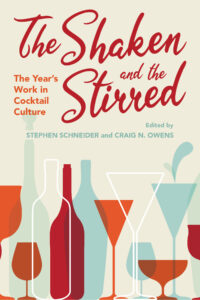 Craig Owens, professor of English, has recently published The Shaken and the Stirred, a collection of essays devoted to the rise, waning, and resurgence of cocktail culture in the twentieth and twenty-first centuries (Indiana University Press, 2020). It joins Indiana University Press's This Year's Work series, which also includes volumes devoted to punk culture, zombies, and The Big Lebowski. Owens co-edited the collection with Stephen Schneider of the University of Louisville.
The collection grew out of the 2014 Cocktail Culture Conference, which Owens and Schneider hosted in Louisville, with generous support from Drake's Center for the Humanities. The conference brought together scholars of film, television, fashion, history, literature, and anthropology, along with mixologists, distillers, and craft brewers, for an exchange of ideas and libations. Over the next six years, that exchange coalesced into The Shaken and the Stirred, which features twenty-one essays on topics including Tiki kitsch, the Cold War, the cocktail dress, Ethel Merman, and hangovers, and on specific cocktails and spirits including the Boulevardier, the Old Fashioned, the Manhattan, the Margarita, absinthe, vodka, and, of course, the Martini.
In addition to co-authoring the book's introduction, Owens contributed the essay "Absolut Psychosis," which argues that white-collar American masculinity in the later decades of the twentieth century became increasingly psychotic, obsessed with images and surfaces, and parallels a shift in the way advertisements for vodka, an especially depthless spirit, presented brands like Absolut as empty signifiers of taste, class, and worldliness. Drawing on fellow English professor Megan Brown's work on corporate culture in the late twentieth century, Owens shows how the increasingly rarified and abstract ads for Absolut vodka, read alongside Brett Easton Ellis's 1991 novel American Psycho, encapsulate this psychosis. "Absolut Psychosis" concludes that the '80s and '90s offered numerous markers of "a cultural psychosis characteristic of white-collar masculinity ascendant in the last decades of the 20th century of which Absolut vodka is one particularly telling symptom and of which Ellis's novel may be understood as the diagnosis."
The Shaken and the Stirred was produced with support from Drake's Center for the Humanities, the College of Arts and Sciences, and a sabbatical provided by the Office of the Provost. The University of Louisville's Commonwealth Center for the Humanities and Society also supported this project. For more information about The Shaken and the Stirred: The Year's Work in Cocktail Culture, please visit Indiana University Press.