"Tenderness is the path of choice for the strongest, most courageous men and women."
Drake Mag recognized as nation's top student magazine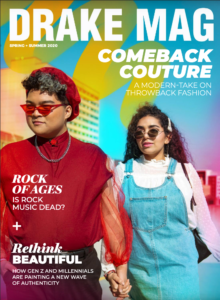 The spring 2020 edition of Drake Mag, the student lifestyle magazine of Drake University, was honored with a national Pacemaker award in the recent Associated Collegiate Press contest. The Pacemaker is the top award in collegiate journalism.
The 2019-20 editor-in-chief of Drake Mag was Madi Koetting, a magazine media and public relations major. Magazine media major Fatima Calderon won honorable mention for design and Nick Ellis, magazine media and graphic design major, won fifth place for design.  Calderon, Ellis and Koetting are all seniors.
Health group hosts professional development events today
Terry Clark, JO'92, chief marketing officer for UnitedHealth Group, will host a day of professional development sessions for Drake students today, Monday, Oct. 26. The sessions will provide a wealth of information, from basics like personal branding and your path to success, to more health-care focused issues such as social determinants of health. Included is a virtual tour of the beautiful headquarters of UnitedHealth Group in Minneapolis.  Featured on the afternoon panel of alums will be senior PR Mackenzie Ekern, who interned at UHG in summer 2018. 
12:15-1 p.m. CDT: Virtual lunch-and-learn about how to leverage your Drake degree in your future career
2:15-3 p.m. CDT: Virtual tour of UnitedHealth Group's state-of-the-art innovation center and how the company is addressing the social issues that surround health in America
4-5 p.m. CDT: Panel of Drake alumni working for UnitedHealth in a variety of positions
Register on Handshake, or contact Carlyn Crowe (carlyn.crowe@drake.edu) or Annette Watson (annette.watson@drake.edu) for more information.
Sign up and prepare for diversity career fair this week
Drake will host a career fair specifically for Drake's diverse students who are interested in speaking with employers from multiple industries. The Virtual Diversity Career Fair will be Nov. 12, 3-6 p.m. CST. Whether you're just starting to explore careers or looking for your next opportunity, this is a great chance to connect with companies that have specific diversity recruiting pipelines as well as companies that are seeking to increase their recruitment of diverse students. Not sure what we mean by "diverse students"? Check out https://www.drake.edu/career/culturalandidentitybasedresources/
EVENT FORMAT
The Virtual Diversity Career Fair will be held on Handshake. You must register on Handshake to access the event.
We encourage you to engage with as many employers as you like during the event. You may do so by signing up for group or one-on-one sessions with employers. Sign up in advance to ensure you are able to speak with the maximum number of employers.
HOW TO PREPARE
Register for the fair: You'll need to register for the fair on Handshake beginning on Oct 26 and sign up for sessions.
Research: Research the companies attending ahead of time so that you can have productive conversations at the event.
Create and update your profile: Your Handshake profile will be your first impression on employers. Make sure you have spent time crafting your profile, so that it represents your skills and experience.
o School year, major and GPA, which can be found on your profile
o Work authorization status, which can be found on the Work Authorization page
o You have the option to feature your resume/CV on your profile for public viewing by employers or to keep it private.
Group sessions will need the Community privacy option.
One-on-one sessions will need at least the Employers privacy option. (One employer representative and one student.)
Community privacy option covers both types of sessions.
Prepare your resume: It is always good practice to update your resume regularly. Include your updated resume on your Handshake account. Zoom-in Resume Critiques, Wednesday, Oct. 28, 1-4 p.m. Sponsored by F&G Annuities & Life.
Familiarize yourself with Handshake and the event format: The following resources will help you prepare for this event.
Double check your technology in advance! You will need an internet connection, speakers and a microphone, and a supported device. Learn more about technical requirements for virtual fairs here. Use Firefox or Chrome – Internet Explorer is not a supported browser for this event. Twilio is the platform Handshake will use and provides a network test to test internet, audio, visual, etc: https://networktest.twilio.com/. It only takes minutes to test to make sure you are good to go!
Registration closes when a session begins or reaches capacity.
HOW TO MAKE THE MOST OF THE FAIR
Attend a virtual session sponsored by F&G Annuities & Life on Thursday, Oct. 29, 4-5 p.m. CDT, to learn how to navigate a virtual career fair. F&G Annuities & Life staff and Drake's Professional and Career Development Services team will provide instructions on how to register in advance for the event, updating your Handshake profile, and advice on how to make this a successful experience.
SUGGESTED ATTIRE
We suggest business casual or business professional attire, as video sharing will be part of this event.
Contact Carlyn Crowe (carlyn.crowe@drake.edu) or Annette Watson (annette.watson@drake.edu) for more information.
J Term class focuses on the music business
Seats are still available in JMC 99 CRN 1841 "A Peek Behind the Curtain of the Music Business." The course is an interdisciplinary study of the music industry, including music publishing, music promotion, music business ethics, emerging music business technologies, copyright law, and other subjects directly pertinent to understanding today's music industry landscape. The course will include a practical look at the industry through the work of Station 1 Records, a local record label. The course includes daily guest speakers — executives from the leading companies in the music business like Sony Music, Warner Music Group, Kobalt Music Publishing and others. The class is taught by Tobi Parks, a musician and local music entrepreneur who formerly worked for Sony Music in New York.
Station 1 Records is a non-profit artist entrepreneurship program dedicated to the development and patronage of independent music artists. Station 1 provides a platform for artists and opportunities for students interested in working in the business to do hands-on work in recording, distribution, public relations, marketing, promotion, and tour support.
Alumni news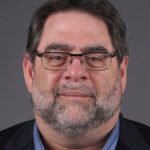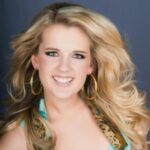 Marc Topkin, JO'83, award-winning sports reporter for the Tampa Bay Times, has been covering the World Series as part of his beat of covering the Tampa Bay Rays.
Ciera Lundgren, JO'12, has been nominated for three Emmys in the National Academy of Television Arts and Sciences Mid-America Emmy Awards. Lundgren is a producer at KMBC-TV in Kansas City. The award winners will be announced Nov. 21.
Have a news item for the Memo?
The SJMC Monday Memo (and other days of the week as needed) is a newsletter to keep members of the wider SJMC community updated on School news, achievements, events and opportunities. If you have an item for the Memo, please send it to Dean Kathleen Richardson (kathleen.richardson@drake.edu) or SJMC webmaster and multimedia professor Chris Snider (christopher.snider@drake.edu). SJMC alums and other professionals can also subscribe to the Monday Memo via email here: http://eepurl.com/bPNbxn