Welcome to JMC Days!
This week we celebrate Drake's School of Journalism and Mass Communication and our SJMC Family. Those on campus can check out the SJMC Centennial Exhibit on panels and in display cases throughout the main level of Meredith Hall. All students and alumni can join JMC Days activities in person or online. On-campus students, stop in to Mer. 118 to say hi to Dean Richardson or administrative assistant Denise Ganpat all week! Check out the Innovation Studio in Mer. 124C or the podcast studio in the Meredith lower level.
Oct. 19: Make It Monday – Decorate a pillowcase or t-shirt to take home, do a leaf rubbing, chalk a sidewalk square, color, and/or paint in Meredith's North Lobby. Get creative at home and share your creations online at #drakejmc.
Oct. 20: Tinker Tuesday – Tinkertoys are a classic, but in the SJMC the Tinkers are siblings Mary Beth and John Tinker who wore black armbands to school to protest the Vietnam War. This eventually led to a Supreme Court ruling in favor of free speech rights for students. Some classes this week and next will watch "Raise Your Voice," a documentary about youth free speech history in the U.S. In six words or less, answer the question, "What does free speech mean to me?" on a whiteboard in Meredith's north lobby or in comments on social media.
Oct. 21: Wellness Wednesday – Anyone can join J54 students on a "fun run" on the new campus Bulldog Mile starting around 11:15 a.m. (Dean Richardson will lead the walking group!) The SJMC is known for Pacemaker awards; use this opportunity to set your own pace. Stop by Meredith's north lobby to borrow jump ropes, Frisbees, kites, and bubbles to use outside.
Oct. 22: Thankful Thursday – Tell us what you're thankful for on a lobby whiteboard or online.
Oct. 23: Fun Friday – Visit the table in Meredith Hall's north lobby and/or outside Meredith's west door for fun options. Share photos of your distanced Friday fun tagging #drakejmc.
Oct. 24: Spontaneous Saturday – You're on your own today. Be creative!
Oct. 25: Selfless Sunday – Encourage a roommate, neighbor, or friend. Participate in virtual volunteer opportunities (See https://www.drake.edu/community/volunteer/) or join Drake alumni and enter your volunteerism as part of #DUGoodMonth at https://alumni.drake.edu/du-good-month.
Times-Delphic is hiring
Looking to add an impressive line to your resume? The Times-Delphic is looking for a new finance manager. This is a paid position. If you are interested, email editor-in-chief Rachel James rachel.james@drake.edu and/or managing editor Taryn Ripple taryn.ripple@drake.edu.
Character Counts for the Ray Center and SJMC

The SJMC's emphases on both service and collaboration are demonstrated in a project with CHARACTER COUNTS!, a global initiative housed at The Robert D. and Billie Ray Center.  CHARACTER COUNTS! supports The Ray Center's mission to improve civility through character development and ethical leadership and serves an estimated 8 million youth worldwide through educators, youth organization leaders, and parents.
Every year, officials around the world proclaim the third week in October CHARACTER COUNTS! Week and millions of kids in dozens of countries participate. Drake students contributed by creating videos of children's stories that will be posted to The Ray Center's YouTube channel this week and promoted for educator and parent use throughout the school year. Thank you to SOE student Taylor Smith and SJMC students Karin Berdahl, Rachel James and Greta Haas for taking this opportunity to share their time and talent! Check out their videos and other CHARACTER COUNTS! Week posts on
Instagram: @the_ray_center  (no Instagram for CC!)
Facebook: @CharacterCounts and @TheRayCenter
Twitter: @CHARACTERCOUNTS! and @TheRayCenter
Explore and create in the Innovation Studio
Are you interested in learning to use the tools in the Innovation Studio (Meredith Hall 124C)?
Join professors Chris Porter and Chris Snider for Innovation Hours every Wednesday starting Oct. 21 from 11 a.m. to 1 p.m. Sign up here!
Porter and Snider will be available to show you how to use any of the Innovation Studio equipment, including:
3D printing
Carvey wood/tile carving machine
Button making
Sticker making
Heat press t-shirt making
Sign up alone or in pairs to help with social distancing. They will show you how to use equipment, and you can come back later to finish your projects.
NPR podcast challenge expands to college
NPR is opening its 3-year-old "podcast challenge" to college students. Students can create an 8-minute podcast about any topic they want to explore. Entries for the Student Podcast Challenge: College Edition will open on Dec. 1, with a final deadline of Feb 15, 2021.
For more information see: https://www.npr.org/2020/10/14/923458203/announcing-the-third-annual-npr-student-podcast-challenge
Alumni news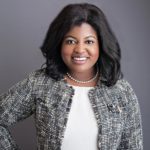 Deidre DeJear, JO'13, left, is a local entrepreneur and politician. (She ran for Iowa secretary of state and was Iowa chair of now-vice presidential candidate Kamala Harris' presidential campaign.) Her interview with a young local social justice activist, Sandrah Nasimiyu, for the United Way of Central Iowa's 21-Day Equity Challenge is powerful and moving: https://unitedwaydsm.wistia.com/medias/ks0l4fjjrn
Scott Gojkovich, JO'97, has been promoted to senior vice president of marketing at NCMIC Group insurance company. Gojkovich previously worked for 25 years at Des Moines Radio Group.
David Nelmark, JO'99, is an Iowa district court judge who is up for retention in the Nov. 3 election. He received his law degree from Stanford and is past president of the American Mock Trial Association and Polk County Bar Association.
Interested in living in Dallas?
Meet a panel of alumni living in the Dallas/Fort Worth area, including SJMC PR alum Adam Graves, JO'16. This panel on Tuesday, Oct. 27 at 5 p.m. CDT will meet on Blackboard Collaborate. Sign up on Handshake here  https://app.joinhandshake.com/events/575054
Scholarships available
Pettable Pet Lovers Scholarship: Pettable is awarding $1,000, every quarter. Eligibility: College students who have had a meaningful relationship with a pet.  Must be a U.S. Citizen or permanent legal resident.  All GPAs and majors are encouraged to apply. Application Deadline: Dec. 15, 2020. Apply: https://pettable.com/scholarship#pet-lovers
Women in Media Scholarship: The Alliance for Women in Media Foundation and ESPN are offering a scholarship to provide Black women a path into careers in sports media by assisting one female undergraduate student and one female graduate student in the United States, pursuing careers in sports media. The selection of the student winners will be based on applicants developing an essay of 750 to 1,000 words, highlighting the importance of Black women in sports media. Scholarship applications are due on Nov. 20, 2020. Each winner will also receive one complimentary ticket to the Gracie Awards Luncheon in New York City in June 2021. Learn more and apply on the AWMF website.
Have a news item for the Memo?
The SJMC Monday Memo (and other days of the week as needed) is a newsletter to keep members of the wider SJMC community updated on School news, achievements, events and opportunities. If you have an item for the Memo, please send it to Dean Kathleen Richardson (kathleen.richardson@drake.edu) or SJMC webmaster and multimedia professor Chris Snider (christopher.snider@drake.edu). SJMC alums and other professionals can also subscribe to the Monday Memo via email here: http://eepurl.com/bPNbxn