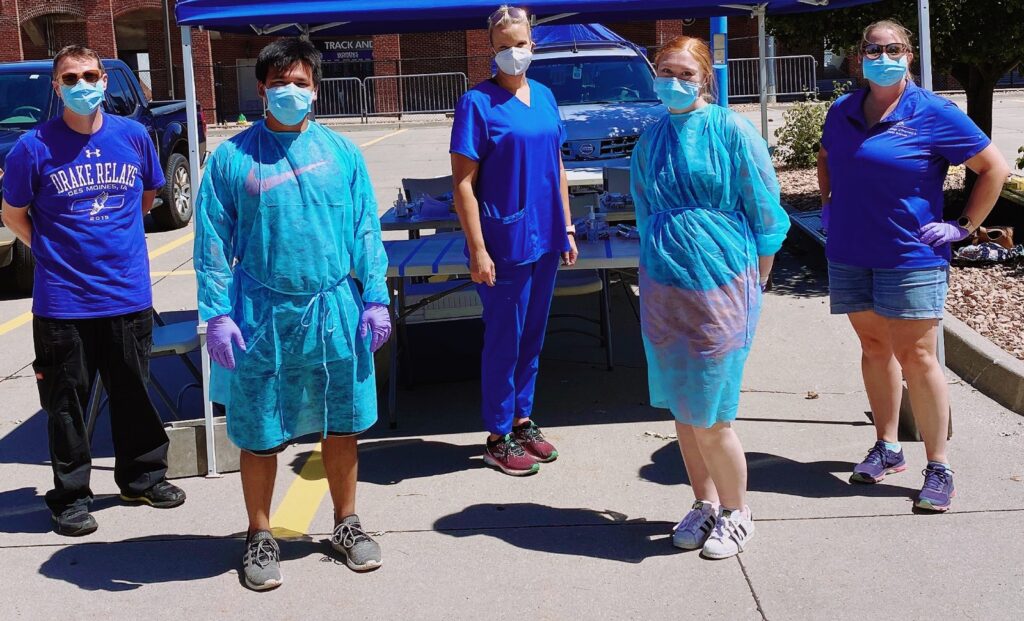 As part of Drake University's plan to safely move students back to campus for the Fall 2020 semester, all students were tested for COVID-19. While that was commonplace among colleges, Drake was unique in having the involvement of an engaged health professional college that took on the task of organizing the testing and collecting the samples. The College of Pharmacy and Health Sciences (CPHS) stepped up to organize and carry out the tests for the 1400 students who needed to be tested before moving into their residence halls. Spearheaded by CPHS Clinical Sciences Department Chair Erik Maki, testing took place at designated sites on campus during the move-in period. It was no small task filling 117 volunteer slots, but the Drake community came together. Volunteers, provided with personal protection equipment, assisted with labeling, collecting, and pipetting the saliva samples.
A growing trend in the pharmacy profession is to offer rapid, on-site testing and treatment, often referred to as point-of-care testing (POCT.) A few years ago, Drake's pharmacy program became one of the first programs to require that all pharmacy students complete a nationally recognized Point Of Care Testing (POCT) certificate program through the National Association of Chain Drug Stores. The campus testing was an opportunity for students to gain experience with POCT.
"When I found out that Drake University was doing COVID-19 tests for students, I signed up for all the shifts I could," said first-year doctor of pharmacy student Gustavo Flores, who volunteered for seven shifts. "I wanted to help out in this process so I could learn more about COVID-19 testing and give back to the Drake community."
But the volunteering was not limited to pharmacy students. A wide range of volunteers participated, from first-year health sciences students who signed up for shifts after moving into their residence halls earlier that week, to students in their final year of the PharmD program. Faculty and staff within CPHS and across the University volunteered as well. 
"When the university was looking for a solution for campus testing, we knew our faculty and students could deliver," said Maki. "Drake faculty, staff, and students have demonstrated our core value of "all in this together" with generously volunteering their time on days, nights, and weekends to meet the needs of the campus community."