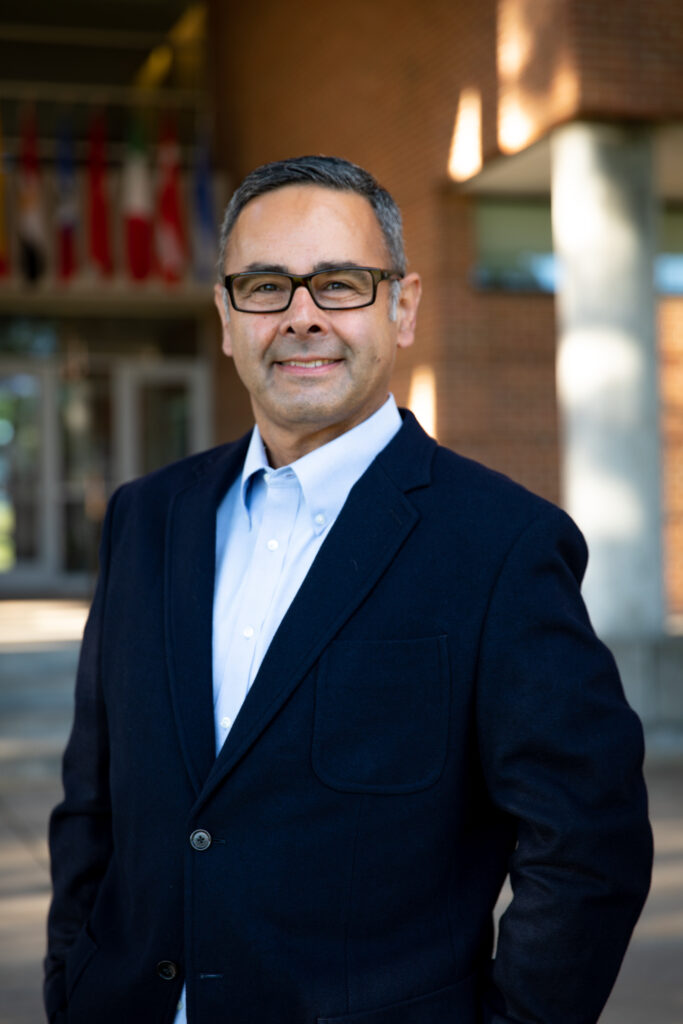 Drake University Provost Sue Mattison announced today that Alejandro Hernandez has been named dean of the College of Business and Public Administration, effective Aug. 14, 2020. Hernandez joins Drake from Wells Fargo & Company, where he most recently served as senior vice president responsible for corporate social responsibility strategy and reporting. A native of Chile, Hernandez will become the first Latino to serve as a dean in Drake's 139-year history, and he will lead an academic unit with among the greatest diversity of faculty, staff and students.
"Alejandro is a proven business and non-profit leader," said Mattison. "He sees business and public administration as forces for good, and that reflects so powerfully our mission at Drake. As dean, Alejandro will be an exceptional leader and role model for our business and public administration students, the broader campus community, and our many partners in central Iowa and beyond."
Hernandez has more than 30 years of corporate and consulting experience. He joined Wells Fargo in 2002 to lead external communications for the company's consumer lending businesses based in Des Moines, then went on to serve as national alliance manager, building relationships with national nonprofit organizations, before ascending to a senior leadership position in the company's corporate social responsibility function. During his time at Wells Fargo, Hernandez spearheaded the publication of Wells Fargo's first-ever human rights statement. He had previously managed the national and international operations of Porter Novelli's Florida office, the culmination of more than a decade in management and consultant roles at several global public relations agencies.
"I see opportunities for Drake to have meaningful impact due to its scale, location, and reach," said Hernandez. "We are the right size to enable us to engage with each student as an individual, we are situated at the crossroads of important business and policy vectors, and our influence stretches across central Iowa and around the world."
Hernandez earned his bachelor's degree in journalism from California State University, Long Beach. In 2015, he completed a master's degree in social responsibility and sustainable communities at Western Kentucky University. Hernandez has been an adjunct instructor for Drake University since 2017, teaching corporate social responsibility and socially responsible investing. He has also served on the University's Board of Trustees.
"The many successful business and government leaders who have graduated from Drake are evidence of the quality education offered here," said Hernandez. "I intend build on this strength to move the university forward towards outcomes that generate positive economic, social, and environmental outcomes."
The College of Business and Public Administration at Drake University is an accredited member of AACSB International (Association to Advance Collegiate Schools of Business). More than 1,000 students are enrolled across 11 undergraduate degree and four graduate degree programs, all of which are enhanced by relationships with leading executives, public officials, and nonprofit directors. Certificate programs, tailored executive programs, and continuing professional education are offered through the Center for Professional Studies. Drake is one of only 16 universities in the United States to be recognized as a Center for Excellence by the Society of Actuaries, and one of just 36 schools in the U.S. to have earned endorsement by the Institute of Management Accountants. Drake's part-time MBA program is ranked 89th nationally and second in Iowa by U.S. News & World Report. Drake University is a midsize, private university in Des Moines, Iowa, enrolling nearly 3,000 undergraduate and more than 1,800 graduate students. Students choose from over 70 majors, minors, and concentrations and 20 graduate degrees offered through six colleges and schools. Drake students, faculty, and staff take advantage of the wealth of cultural, recreational, and business opportunities found in Iowa's capital city. In return, Drake enriches the city through its own cultural offerings, considerable economic impact, and many service-learning endeavors, which channel the talent and energy of the Drake students toward meeting the needs of the community.